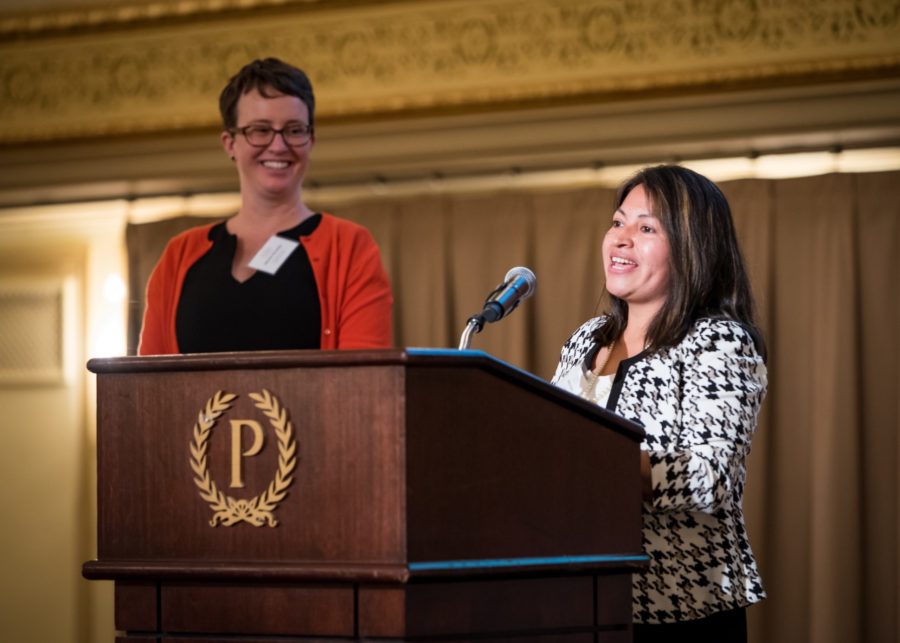 "THIS PROGRAM IS HOPE, FOR A NEW FUTURE, FOR A  NEW LIFE."
Empower survivors like Maria! Mpower the Night is all virtual and free to attend. Join us Thursday, November 12
"Maria's case is a perfect example of the comprehensive, diverse wraparound services that LAS and Metropolitan can provide for victims of domestic violence," said Legal Aid Society Managing Attorney Melanie MacBride, as she introduced Maria at the 2019 Equal Access to Justice Awards Luncheon.
Maria originally came to LAS through our University of Chicago Domestic Violence Project, where an LAS staff attorney supervises University of Chicago law students as they assist victims of domestic violence in obtaining orders of protection. In order to find clients, the attorney and the students just hang out at the domestic violence courthouse, hoping to meet someone in need of help.
And they did.
"For years I lived with domestic violence, with not knowing what to do, where to go, as I had no money, no family … so I just kept living with this domestic violence situation," Maria shared. "One day I just said, no more. My kids need me, they cannot keep seeing this situation. That's the first time I came to the court."
Upon arriving at the courthouse by herself to try to obtain an order of protection, Maria was interviewed by a University of Chicago law student who then accepted her case for representation.
"She didn't say, oh you'd better go to that office, or you've got to do this first," Maria remembered. "She just said, 'How can I help you?' She listened to me."
Maria had come to the domestic violence courthouse because her husband, in an attempt to control and manipulate Maria, threatened to kill himself and took pills and was subsequently hospitalized. A few days earlier when Maria refused to give him money, he became enraged and got on top of her and began strangling her and slapped her across her face. He also threatened to kill her and himself, among other things.
Through LAS's representation, Maria obtained a long term order of protection.
"Finally my husband is not going to come back to my home, he's not going to be bothering me anymore. I was so happy that they started my new life," she shared.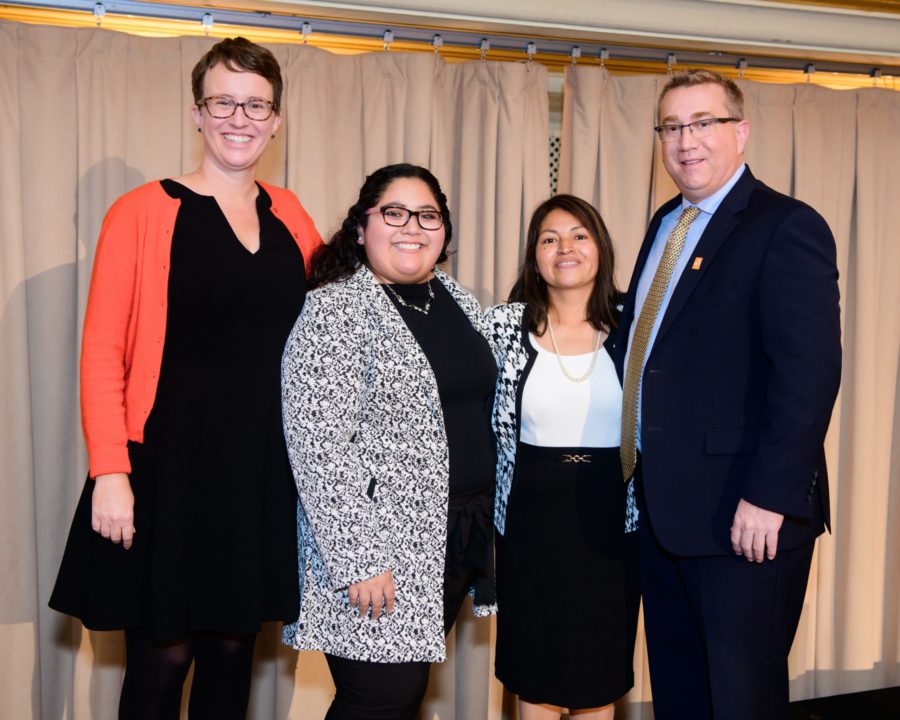 In addition to the typical protections of ordering her abuser to stay away from her and giving her possession of her children, the order actually allowed her to stay in a residence owned by the abuser's family, where she had been residing, and required him to pay all expenses associated with the residence, in addition to child support. This stability and financial support allowed Maria the structure she needed to secure new housing for herself and her children.
Assistance with obtaining a long term order of protection was really just the start to Maria's journey with Metropolitan. The staff attorney who supervises the University of Chicago Project, Angie Eden, accepted Maria's case for divorce representation, where Maria will finalize her separation from her abuser.
When Maria's husband violated the order of protection, LAS connected Maria with Metropolitan's court advocacy program. A court advocate, Alex, walked her through the process of requesting that the state file criminal charges and was by her side throughout the criminal court dates, ensuring that she understood her rights and what was going on with the case.
"Everybody was there to help me," Maria said.
At the conclusion of the criminal case the abuser plead guilty to the violation. As part of his plea, he was ordered to attend domestic violence counseling, undergo an alcohol and drug evaluation, and undergo a mental health evaluation.
Maria is also now an important part of Metropolitan's North Center location, regularly participating in the popular support group held there for Spanish speaking survivors of domestic violence. Her children also receive counseling at North Center.
In introducing Maria, Melanie shared that Maria's energy is a welcome and appreciated contribution at North Center.
"As you see me now? I wasn't like that when I got here [to LAS]," Maria shared to a room full of supporters at the luncheon. "Now, I'm getting stronger and stronger and I know I can do it. And all of this happened because of the nice people [at the Legal Aid Society and Metropolitan Family Services], all of them were there, making my life easier and helping me. Without them, I don't think I could make it. But I want do the right thing so the future can be better for me and my kids."
"When I was so lost, thinking that no one's going to help me, they were there for me," Maria said. "I know there's a lot of people like me, suffering, and they don't know what to do, but this program helps. This program is hope, for a new future, for a new life for a woman like me."
The standing ovation she received from the room is just one testament to the power of Maria's courage and determination.
"Maria is a valued member of the Metropolitan family," Melanie said, "and we feel just as lucky as she does that we happened to be there on the day she walked into the domestic violence courthouse."
View a part of Maria's remarks below: