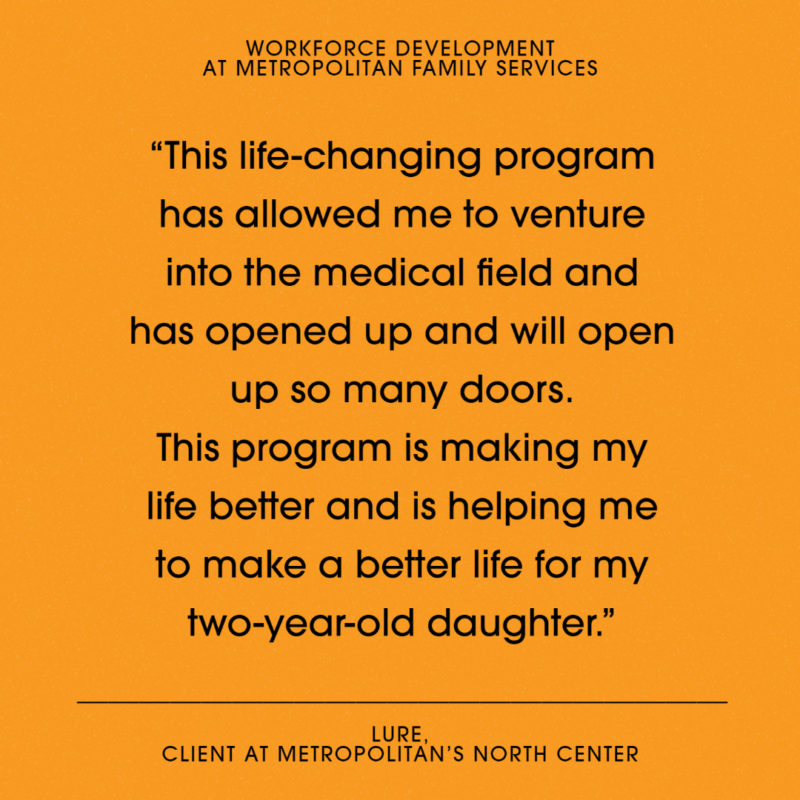 LURE
Lure is a single mom who needed to start a new career in order to support her daughter. First, she needed to earn a new skill, and our North Center's WIOA (Workforce Investment Opportunity Act) program was there to help.
Through our partners at Chicago Community Learning Center, our staff connected Lure with a Patient Care Technician (PCT) training program.
While still working at her full-time job as a Document Control Administrator, Lure completed the PCT training program, passed the national PCT exam, and gained employment at Presence Amita Health St. Mary's.
The Patient Care Technician program is the first step for Lure in becoming an Operating Room Nurse, which is her ultimate goal.
Astrid Maldonado-Martinez, a Career Coach with our North Center, shares a bit about how our WIOA (Workforce Innovation Opportunity Act) program empowers participants like Lure:
A patient care technician program can range from $6,500 to $7,000; with funding support from Metropolitan, Lure attended for free
We helped her with transportation to get to and from her training
Once she completed her training, we assisted her with job search, resume writing and help with her interview skills
Once she was hired, we helped her pay for her uniform
Our staff also follow up with all clients, like Lure, for a full year after they complete a training or program.
ABOUT THE WIOA (WORKFORCE INVESTMENT & OPPORTUNITY ACT) PROGRAM
Workforce Investment Opportunity Act (WIOA) is an innovative workforce program for individuals ages 18 – 24. The program empowers youth to find and sustain employment and certification through services including pre-apprenticeship, alternative education paths, job coaching and placement, and hands-on training. Certifications include First Aid/CPR, NCCER Core, OSHA 10, and NCCER Carpentry.