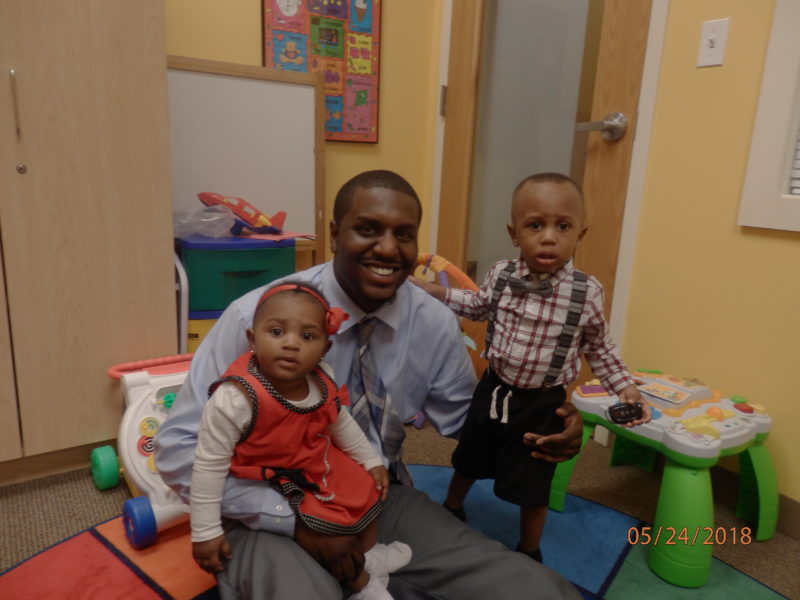 YOUNG FATHERS
"I had been trying to create a greater opportunity for myself, and I felt this program could offer that."
"I would like for all fathers to know that they are all fathers of the year," says Kyle, a Young Fathers Program participant and one of the award recipients at this year's Gerst Family Young Fathers Program annual banquet. "Everyone should have the mentality that you're doing a great job as a dad, because you're trying. Even if you fail to meet some ends, you're still trying. That's what being a father means, is trying."
Kyle's son, age two, and his daughter, age one, benefit every day from the job readiness and parenting trainings Kyle participated in through Young Fathers. "I've been way more positive, not settling for less," he says.
When he began the two-week program, Kyle was working a part-time job he describes as "pretty dead-end." Case Manager Nathan Wright had mentioned the program to Kyle's brother, but it wasn't until Kyle overheard Nathan talking about the program at another event that he was sold on the program. Nathan's passion for the work spurred Kyle into action, and he called the next morning.
"It was an opportunity. I had been trying to create a greater opportunity for myself, and I felt this program could offer that," he says. "When I went to meet Nathan, I had already made up my mind."
Nathan says he was impressed with Kyle's commitment to improving his situation. Entering the Young Fathers program, Kyle's difficult living situation – moving, and sharing a home with his mother and his wife – left him feeling isolated and overwhelmed; but, Nathan says, talking through his issues with other men who understood helped bring Kyle out of his shell. He relaxed a little more, using the support offered by the program as a springboard to go above and beyond in balancing his family, housing, and employment. "The program really rubbed off on him," Nathan says. "His frame of mind changed."
Now, Kyle has a better job, a full-time job. His progress shows; given the guidance offered in the program, he didn't quit his "pretty dead-end" part-time job until he had found another job, and although he didn't like that job either, through Young Fathers he found a better job. He's going through a medical admissions program at Rosalind Franklin University alongside his wife, who is studying there to be a Registered Nurse.
More importantly to Kyle, through Young Fathers he learned parenting skills, and the importance of striking a balance between providing for his kids and spending time with them. He says he was most engaged in the sessions on building a relationship with his kids through prioritizing time with them over financial gain, and how to discipline them constructively.
"I've been way more positive, not settling for less," Kyle says of his outlook having completed the program. "I'm trying to keep the progress going."