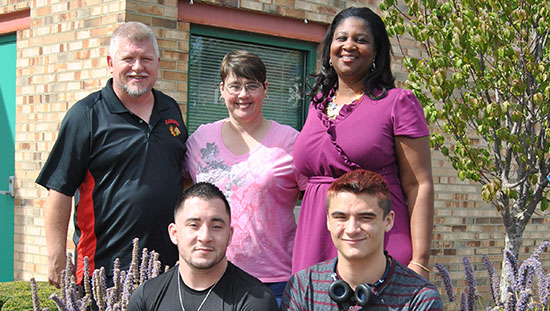 Building Emotional Resilience
Pauline and Paul Wojcik wanted a family but couldn't have children of their own. When they adopted their second son Mark as a toddler, they knew he had challenges. Yet like all parents, they saw his potential. Helping Mark unlock his potential was a decade-long journey that required a family's enduring love, support and devotion, plus the help of committed professionals from Metropolitan Family Services.
"We're not a traditional family," explains Paul. "Both our sons are adopted, but we are family in every sense of the word. I don't know if we could have made it without Metropolitan."
As a baby, Mark suffered severe abuse and neglect. He'd been in seven foster homes before he was three, and saw his first psychiatrist before he was four. Anger and self-destructive behavior led to several hospitalizations, along with misdiagnoses and medication that sometimes only exacerbated his issues.
Mark was in the fourth grade when Pauline learned about the Child and Adolescent Mental Health program at Metropolitan's Palos Hills Center. He began receiving individual and group therapy there. "He loved his social worker," says Pauline, "If he got angry, he would call her to talk, to calm down."
It wasn't always Mark who needed help, remembers Paul. "We did too. Whether it was a break, a hand or an ear to listen — Metropolitan was always there."
With hard work and support, Mark began to change his patterns.
"I noticed that he wasn't getting angry as often," said Pauline. Support brought steady improvement, and by his freshman year in high school, his doctor was able to take him off medications. "He just thrived from that day on," said Pauline. "He was a whole different person. His grades sparked up to straight A's." By the end of the year, he was able to discontinue therapy.
"The credit goes to this family. They never gave up — ever," says Melissa Coleman, a SASS crisis counselor at Metropolitan, about the Wojciks. "Mark was a success. Once he got into mainstream school, he never looked back."
"She never lost faith in me," says Mark about Melissa. He is now 18, and a freshman in computer science at Chicago's St. Xavier University. He doesn't talk much about the past — his focus is on the future. He's earned multiple scholarships, and challenges himself in his school work daily and is involved with numerous activities, including starting an anime club. His dream is to become an FBI profiler.
"Honestly, I don't know what we would have done without Metropolitan," says Pauline. "The journey was hard at times, but the payoff was real — a wonderful son with a very big heart."