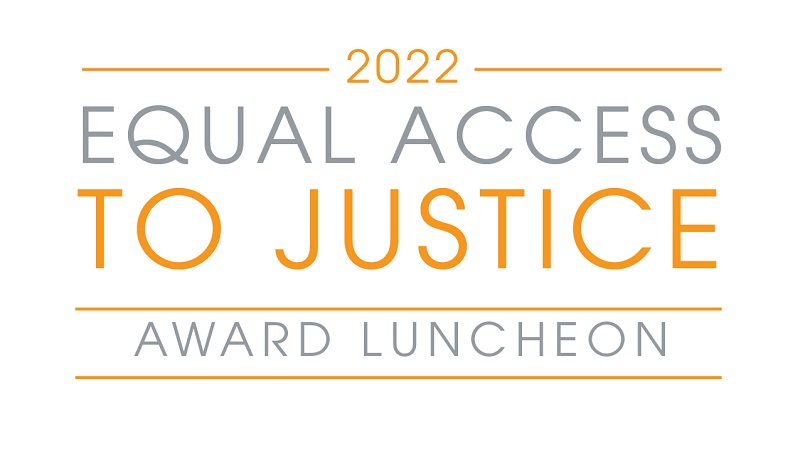 The Legal Aid Society Board of Directors presents …
the Equal Access to Justice Award Luncheon
Thank you to all who contributed to the success of the Legal Aid Society's Equal Access to Justice Award Luncheon! The Luncheon supports the critical legal services LAS provides, and celebrates the pro bono contributions that make those services possible. Together, we raised more than $425,000 to benefit LAS's programs and the 13,000+ clients we serve.
During our presentation and networking reception, we highlighted LAS's Communities Partnering 4 Peace (CP4P) Justice Corps program; honored AbbVie and Laura Schumacher, Vice Chairman, External Affairs and Chief Legal Officer at AbbVie with our William H. Avery Award for Equal Access to Justice; and recognized Discover with our Scott C. Solberg Pro Bono Award for a corporate partner.
Thank you to Laura Schumacher and AbbVie for your commitment to pro bono, and to Discover's team, particularly LAS Board Member Chantal Kazay and Renae Hernandez, for your partnership with LAS' programs.
Attendees heard from Felicia, a CP4P Justice Corps client who worked with LAS to gain custody of her grandson, and with Metropolitan Family Services to ensure he received the counseling he needed.
"They were leading me through all the doors that I needed to get through and opening up doors for me," shared Felicia in her video feature. "I just don't know what I would have did without their services." Watch Felicia's story here.
Hear from LAS staff about the impact that inspires them to work toward equal access to justice for all, regardless of ability to pay for quality legal representation:
"It's huge to us because we know the faces behind those victories," shares Catherine Longkumer, Managing Attorney of our Individual Rights and Social Justice Practice Group. "To have those moments where we can call up a client and say, your t-visa has been approved, your judgment status has been approved, we're able to reunite you with your family, you're going to get to see your kids again? That is what keeps us going and doing this work."
To support this work and LAS's transformational impact, make a contribution or get involved today.
THANK YOU TO OUR HOST COMMITTEE
Christopher Wilmes, Co-Chair
Hughes Socol Piers Resnick Dym Ltd.
John M. Richardson, Co-Chair
McDonalds Corporation
Matt Walch, Board Chair
Latham & Watkins, LLP
Amanda Amert, Board Vice-Chair
Willkie Farr & Gallagher LLP
Miguel Keblerlein, Executive Director
Legal Aid Society
Bob Regan
AAR Corp (retired)
Jeff Handwerker
Arnold & Porter LLP
Olivia Tyrrell
Baker & McKenzie
Kristofer Swanson
Charles River Associates
John Hurvitz
Covington & Burling LLP
Michael Labson
Covington & Burling LLP
Chantal Kazay
Discover Financial Services
Bill Raich
Finnegan, Henderson, Farabow, Garrett & Dunner
Sarah E. Reynolds
Goldman Ismail Tomaselli Brennan & Baum LLP
Tarek Ismail
Goldman Ismail Tomaselli Brennan & Baum LLP
Steven R. Gilford
JAMS Chicago
Anthony Insogna
Jones Day
Zach Fardon
King & Spalding, LLP
Ashley Parrish
King & Spalding, LLP
Mark Filip
Kirkland & Ellis LLP
Elizabeth Hess
Kirkland & Ellis LLP
James F. Hurst
Kirkland & Ellis LLP
Andrew Kassof
Kirland & Ellis LLP
Leslie Smith
Kirkland & Ellis LLP
Mike Morin
Latham & Watkins LLP
Nathan S. Smith
Morgan, Lewis & Bockius LLP
Lisa Pensabene
OMelveny & Myers LLP
Mark Deming
Polsinelli
Jonathan Bunge
Quinn Emanuel Urquhart & Sullivan, LLP
Noah Finkel
Seyfarth Shaw LLP
Lori McGroder
Shook, Hardy & Bacon LLP
Michelle Ramirez
Sidley Austin LLP
Ha Kung Wong
Venable LLP
Angela Frye
Verizon Wireless
Mark Gidley
White and Case LLP
Michael Roche
Winston & Strawn
---
ABOUT THE LEGAL AID SOCIETY
LAS provides quality legal representation to victims of human trafficking and other crimes, including domestic violence, abused and exploited seniors or disabled adults, homeowners in foreclosure, tenants faced with unlawful eviction and victims of financial exploitation and consumer fraud. Today LAS impacts more than 20,000 people each year.
Visit www.laschicago.org to learn more