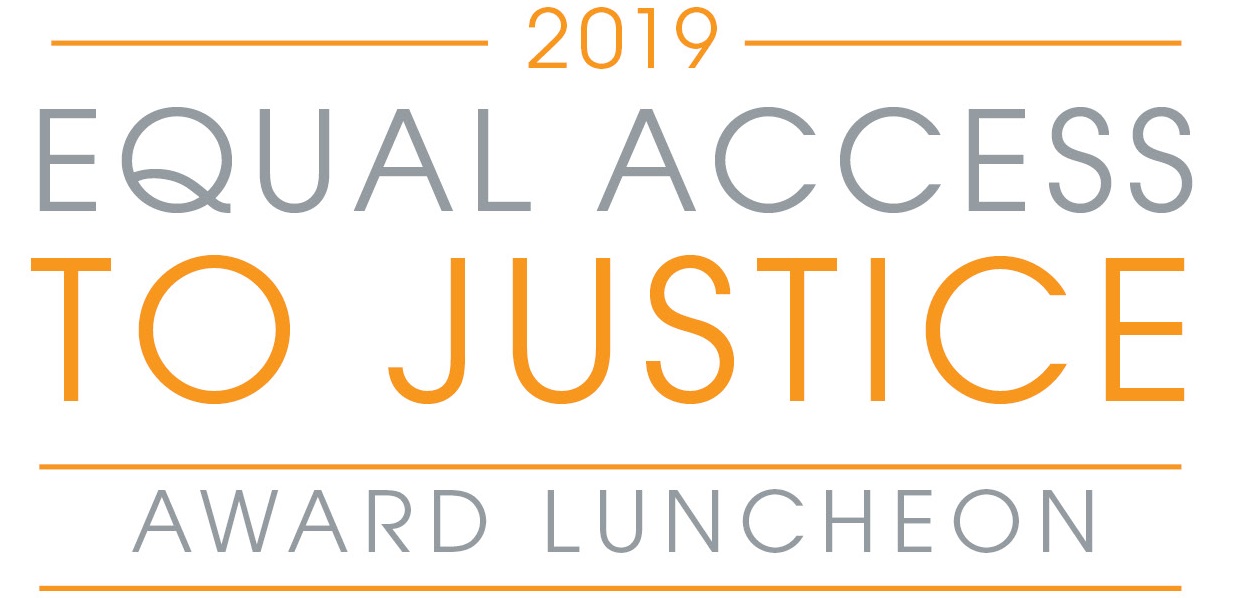 The Legal Aid Society's Equal Access to Justice Award Luncheon was a success! Thank you to all the more than 320 legal professionals who came together to raise more than $344,000 to support legal aid services in Chicago, and to celebrate the pro bono contributions that make those services possible.
LAS honored Jerry Krulewitch, Metropolitan board member and Executive Vice President, General Counsel & Secretary of McDonald's Corporation with our William H Avery Award for Equal Access to Justice. In a conversation with luncheon co-chair Jonathan Bunge, Jerry shared why he supports the Legal Aid Society and Metropolitan Family Services: "It provides true wraparound services," he said. "It's one-stop shopping for people in need."
For outstanding contributions in pro bono from an individual and an organization, LAS honored Malou Roth and Aon, respectively, with its Scott C. Solberg Awards. Malou Roth, Principal at People First HR Services, has worked closely with LAS attorneys to offer guidance, while Aon, a key supporter of LAS's Elder Help Desk at the Daley Center, provides attorneys to staff the desk weekly in offering legal assistance to clients over age 60 in a variety of matters.
Learn more about our honorees here.
Metropolitan board member Audrey Rubin, Vice President and Chief Operating Officer of Aon's Law Department, in accepting the organization award, shared, "we believe in pro bono everywhere it is needed. That has really helped our cause, helped the world, and frankly it's also helped engagement." Audrey introduced Kristen Lunny, Pro Bono Coordinator at Aon's Chicago office, who spoke about the company's engagement with the Elder Help Desk. She said volunteering is attractive to the in-house generalists at Aon. "While you never really know what issues you will tackle in any given day at the help desk," she said, "you will almost certainly have the opportunity to listen to the needs of the individual sitting before you and assist them by identifying a path forward."
Our guest of honor, Maria, shared her story about her experiences with LAS's Domestic Violence team. "When I was so lost, thinking that no one was going to help me, they were there for me," she said. "And I know there are a lot of people like me, stuck, and they don't know what to do, but this program helps. This program is hope. For a new future, for a new life, for a woman like me."
The Legal Aid Society thanks all who joined us in supporting access to justice through the Equal Access to Justice Award Luncheon, for people like Maria and the nearly 13,000 clients we serve.
HOST COMMITTEE
Jonathan C. Bunge, Co-Chair
Quinn Emanuel Urquhart & Sullivan
Brenda McNamara, Co-Chair
Amanda Amert
Jenner & Block LLP
Ric Estrada
Metropolitan Family Services
Angela Frye
Verizon Wireless
Steve Gilford
JAMS
Kyle Harvey
Baird & Warner
Samera S. Ludwig
Lowis & Gellen LLP
Craig Martin
Jenner & Block LLP
Michael G. McQuillen
Adler Murphy & McQuillen LLP
Linda K. Myers
Kirkland & Ellis LLP
Ron Provenzano
InnerWorkings, Inc.
Michelle Ramirez
Sidley Austin LLP
Robert J. Regan
AAR Corp.
Michael Roche
Winston & Strawn

Ron Safer
Riley Safer Holmes & Cancila LLP
Ethan Samson
Lettuce Entertain You Enterprises
Leslie Smith
Kirkland & Ellis LLP
Scott Solberg
Eimer Stahl LLP
Kristofer Swanson
Charles River & Associates
Anton R. Valukas
Jenner & Block LLP
Matthew Walch
Latham & Watkins LLP
Andrea Zopp
World Business Chicago