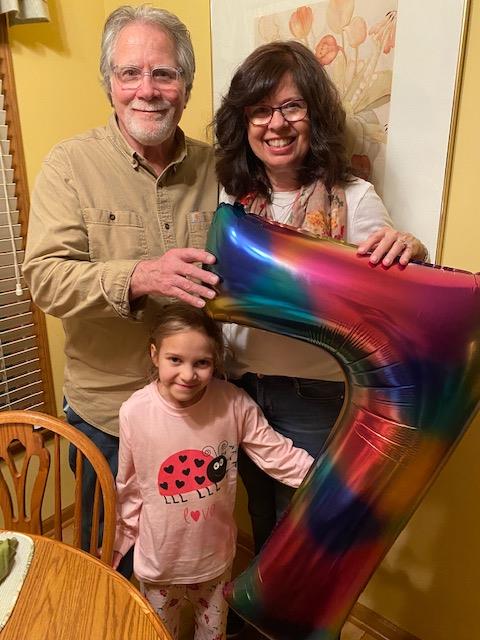 "OPENNESS AND STRENGTH"
"Lee and Kate are older adult caregivers in our program who have shown an openness and strength in caring for their daughter," shares Teresa, Lee and Kate's clinician and a Mental Health Practitioner our DuPage Center's Adoption Support and Preservation program.
Lee and Kate initially met their daughter, Lexi, through Safe Families for Children, an organization supporting families facing a crisis by hosting children and creating extended family-like supports. They then fostered Lexi, and adopted her when she was three years old.
Four years later, Lee and Kate describe now seven-year-old Lexi as smart, loving, and active! Lexi loves the family dogs, playing with her friends, reading, and riding her bike.
Lee owns his own business, and Kate is a stay at home mom who also homeschools Lexi.
The Sharmans sought Adoption Support and Preservation services in September 2020 due to concerns about Lexi's behaviors.
The family has received individual therapy for Lexi, to help in processing her trauma and in communicating her feelings and emotions in a healthy way, as well as family therapy for Lee and Kate, to grow in their therapeutic parenting. Lee and Kate have also participated in our Parent Support Group, to connect with other parents.
Teresa shares Lee and Kate have made progress in understanding the affects of trauma, and how Lexi's trauma impacts her behaviors.
"Their willingness to be transparent has enabled them to utilize the coping skills needed to nurture their relationship with Lexi in a healthy, positive way," shares Teresa.
Join us in celebrating the commitment and progress of the Sharman family!
ADOPTION SUPPORT AND PRESERVATION provides home-based intervention to families formed through adoption or subsidized guardianship. Counseling, crisis intervention and 24-hour on-call assistance help address adjustment, grief/loss resolution, attachment, educational and emotional issues. This DCFS-supported program also provides therapeutic respite services, psycho-educational and support groups, workshops, and help securing resources.