Saving Lives and Homes
"I called all three of them numbers, and two turned me away. I tried one more number, and that number led me to [Legal Aid Society Attorney] Mike Dickman. Thank God for him. Thank God for him."
Jackie, Legal Aid Society Client
"There had been an incident involving my client, Jackie, and one of her neighbors, which led to the Robbins housing authority seeking to evict Jackie," says Mike Dickman, Attorney with the Legal Aid Society's Poverty Law Project. "Jackie and the neighbor were required to have an informal hearing, which Jackie attended unrepresented. The only evidence against her came through police reports that recounted what people on the scene told them."
"It was double hearsay," Mike says. "There were no witnesses who actually testified against her."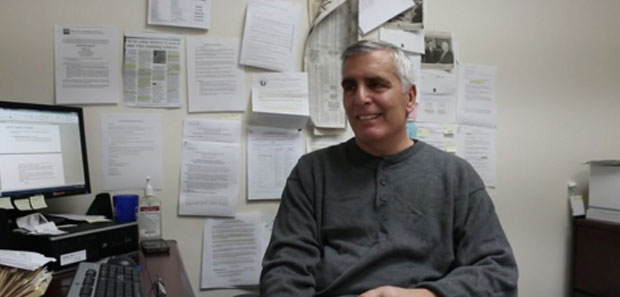 Despite the lack of evidence, the hearing officer found the reports sufficient and revoked Jackie's housing voucher. The agency also convinced the Robbins Police Department to file charges against Jackie, so there were three legal cases happening at once – one that was criminal, another involving the housing voucher, and the last related to the wrongful eviction.
At the same time Jackie, a grandmother of one and mother of two children, including a disabled son, was fighting for her life, enduring chemotherapy treatments for cancer.
"I wanted to be there [in court] … to stand beside my lawyer that's defending me," Jackie says. "The judge respected every bit of that … He said, 'Miss Sharp, we know what you're going through, you're a strong woman, you know, because you're battling cancer, you had surgery.' "I'm standing there with staples, you know, everything."
The fight was difficult, and took more than a year, but Mike's dogged efforts resulted in the criminal case against Jackie being dismissed, the housing revocation finding being reversed, and the housing authority ultimately offering to drop the case.
Speaking of Mike, Jackie says, "He was understanding, he was supportive of me, he respected everything I said. He did everything that I asked of him, I did everything he asked of me. I wouldn't ask for a better person … or a better lawyer."
Mike adds, "We have dozens, perhaps hundreds of these cases we've taken over the years where people's health issues are at stake because of the loss of housing. These would be folks walking the street … with their possessions in a shopping cart and nowhere to go. So it literally becomes a matter of life or death."