The Legal Aid Society protects families by providing safety and security for victims of domestic violence, protecting the elderly from abuse and exploitation and helping prevent homelessness and unlawful evictions.
Being part of Metropolitan Family Services enables us to provide comprehensive services to compliment legal aid. Clients have access to community-based services such as counseling, financial support and child care programs.

The Legal Aid Society served clients last year in areas including health, housing, and economic stability; safety and family; and individual rights and social justice. Your support of the Legal Aid Society benefits vulnerable people across greater Chicagoland by providing critical services they deserve but would not otherwise be able to afford.

Proceeds from the Legal Aid Society's Equal Access to Justice Award Luncheon benefit critical legal services for low income families in the Chicago area, and recognizes the outstanding pro bono work supporting those services. Through sponsorship or attendance, your support of the Luncheon supports the Legal Aid Society.
Learn more about the Luncheon here.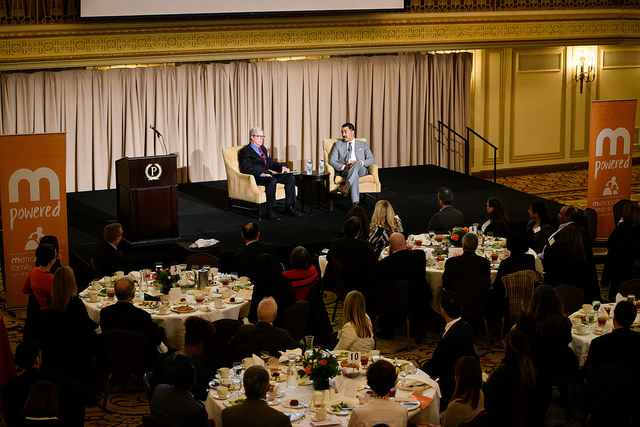 Cy Pres & Class Action Residual Funds
Cy pres awards are residual funds arising from damages awarded in successful class action cases that, for any number of reasons, are unclaimed or cannot be distributed to all the class members or beneficiaries who were the intended recipients. Although Cy pres awards most often arise in class action cases, these funds also occasionally arise in other types of proceedings like bankruptcy and probate matters.
Trial judges in Illinois have the explicit authority to distribute any residual funds arising from damage awards to one or more eligible not-for-profit organizations that promote access to justice for low income Illinois residents.
Directing residual funds to the Legal Aid Society
The Chicago Bar Foundation has determined that the Legal Aid Society of Metropolitan Family Services is an eligible organization for the purpose of the statute. Since 1886, the Legal Aid Bureau has been active in the Chicago legal community in promoting access to justice by offering legal representation and assistance in domestic violence, family law, consumer and housing issues, elder abuse and financial exploitation.
For more information
If you are interested in learning more about cy pres residual funds and how you can request that these funds be directed to the Legal Aid Society, please contact Miguel Keberlein, Executive Director, at keberleinm@metrofamily.org.