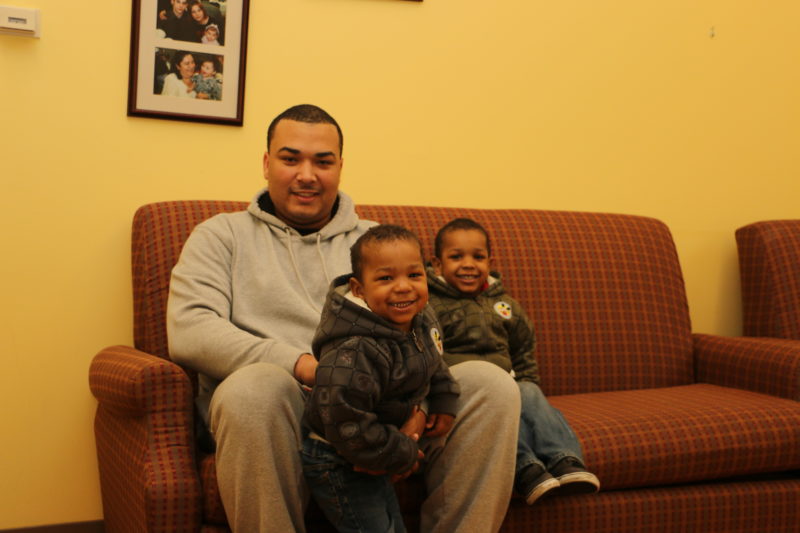 Young Fathers
"You can open up and be yourself."
Stacey was standing in line at the DMV when he decided to participate in the Gerst Family Young Fathers Program. He found out through his father, a graduate of the program, but it wasn't until Case Manager Nathan Wright called him to talk about the program than Stacey knew it was for him.
"It's geared toward men and fathers," Stacey explains. "There are so many programs for women, so when you have a program for fathers … let me listen."
Stacey listened.
The Young Fathers staff recently recognized Stacey as Father of the Year at its annual awards banquet, celebrating his special dedication, despite his everyday trials and tribulations, to improving the lives of his children. Stacey says he's more motivated now to work hard, for his kids and for himself.
He works two jobs, one of which he found through Young Fathers. His co-workers at both jobs call him "Superman" because of his superhuman commitment to going above and beyond in spite of everything going on in his life. "I've got kids to provide for," he says. "That's what keeps me going."
"He is a teddy bear with those kids," Nathan says.
The parenting classes, especially the element of fellowship among the fathers in the program, meant the most to Stacey. Likening it to a therapy session, Stacey says talking with other fathers who have been through the same things he's experiencing helps relieve a lot of stress. "You can open up and be yourself."
Stacey says he's generally more friendly and social now, after going through Young Fathers. He appreciated the level of involvement in the program, from resume help and job readiness training to providing the suit he wore to his job interviews – and to accept his Father of the Year award.
Nathan calls Stacey "a completely different man" now that he's been through the program. Initially, Stacey – "a big guy, an intimidating presence" – was subdued and didn't talk much in the sessions. As he began to relax, he began to foster a better connection with one fellow participant in particular – his father. Nathan believes working on their relationship, finding common ground as fathers, helped contribute to Stacey's transformation.
"It's a lot of being involved as a father," he says of his commitment to fatherhood. "It's not the answer of just buying, you have to spend time and build a relationship. You sit down and spend time with your kids, you get to build a bond with them. You talk to them and they know what's going on."
Stacey's advice for other fathers? "Stay motivated," he says. "Just teach them how to grow up right."