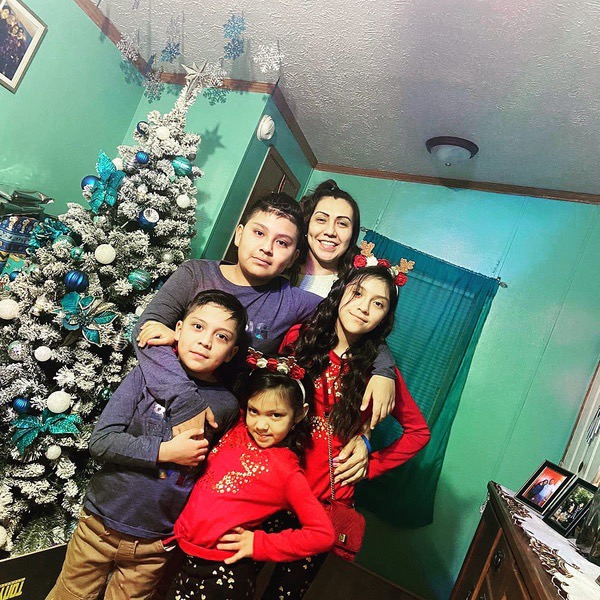 THE RUIDIAS FAMILY
Ms. Ruidias, a single mother of four whose two youngest children go to our North Children's Center, lost her job in the restaurant industry when the pandemic hit, and due to various complications, did not qualify for unemployment. She wasn't alone.
"North Children's Center parents were suffering from loss of employment, loss of in-person childcare, falling behind on rent and of course the stress of not being able to provide for their families," shares Natalie Quintanilla, a Family Support Worker. "[Ms. Ruidias] stood out the most, as she came directly to staff about her loss of employment and family members."
As the North Children's Center staff quickly came together and began distributing food on to parents, Natalie says, "Ms. Ruidias came to all food distribution dates and collected any amount of food possible to help feed her family."
Natalie has worked with the Ruidias family for about two years now, since Ms. Ruidias came into our North Center looking for a school that would make sense for her young children to grow and learn.
"Since the first time I met and talked with Ms. Ruidias, it was very evident her children where her number one priority," Natalie shares.
All families received daily text messages with resources including food distributions, assistance with bills and rent, PPE distribution, free internet from Comcast, and so on. Ms. Ruidias took advantage, looking into every opportunity and benefiting from many of them, including applying for and receiving rental assistance through the City of Chicago Housing program.
Family Support Workers continued to check in with families on a weekly basis. "Ms. Ruidias has always kept a positive mind, even though she was going through personal health issues within her family," Natalie says.
When Ms. Ruidias got the opportunity of a part-time job with her previous employer, she decided to bring her children back to in-person learning, and Natalie shares she was very excited that things were getting back to "normal".
While she's shared that she's worried about finding a new job with the flexibility she needs in order to accommodate her children's school schedules, Ms. Ruidias is hopeful about this upcoming school year.
"Ms. Ruidias again asked me to thank everyone at the center for helping her throughout the whole pandemic with resources and the food distributions provided by MFS," Natalie says. "She couldn't express enough gratitude over this! As of now Ms. Ruidias is continuing to apply for any financial assistance and looks into every resource we FSWs send out to families."
ABOUT THE NORTH CHILDREN'S CENTER
The North Children's Center provides Head Start and child care for children ages 2-5 in the Belmont Cragin, Portage Park and Hermosa communities. Activities engage thinking skills with play and lay the foundations for self-esteem and social skills. Parents participate in workshops, classes and family events to enhance their supportive and nurturing abilities.