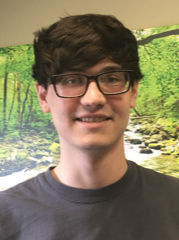 "WHEN I THINK OF JOE, THE WORDS 'RESILIENCE' AND 'COURAGE' COME TO MIND"
"The ACS [Acute Community Services] program at Metropolitan Family Services – offered for free to uninsured individuals and others alike – is very important to the wellness of the community and society as a whole," says Joseph, a client of the program at Metropolitan's Southwest Center.
"In my experience there, I worked with compassionate individuals, participated in extensive treatment plans, and learned highly important information to be a functioning and contributing member of society."
Acute Community Services provides intensive outpatient mental health and psychiatric services to adults being discharged from a hospital emergency room, psychiatric hospital or crisis residential facility. The program also offers crisis intervention and recovery services.
For clients like Joseph, whose lack of income or insurance would otherwise be a barrier to accessing these critical services, the opportunity to improve their global functioning – at no cost to them – is transformative.
"This program motivated me to get insured, taught me occupational skills like being assertive in the workplace and even how to manage when I'm triggered," Joseph says.
In assisting individuals to experience positive change and growth, the ACS program builds on each client's own strengths and capacity for change. It supports independent and productive living through services including individual and group therapy, skill building and community support, crisis intervention and symptom management, psychiatry services and medication management, and linkage to resources in the community.
"Working with Joe has been an enlightening and rewarding experience for me," says Sandra Radja, Joseph's counselor in the ACS program. "When I think of Joe, the words "resilience" and "courage" come to mind.  He has empowered himself by using his strengths/creativity/skills to advocate for himself, learn, and succeed in his goals and become a productive member of our society."
Sandra continues that Joseph's abilities go well beyond achieving his own goals.
"He has an ability and willingness to advocate/empower others by sharing his story to stop the stigma of mental illness and developing an awareness of the need for mental health services," Sandra says.
Joseph doesn't miss an opportunity to share his experience, or the importance of the ACS program. In his own words:
"Services like this should be available to everyone who is in need and the appropriate funding should be provided to maintain and even expand programs like this. There are thousands of people who benefit from free mental healthcare programs in Illinois, but there will also be mutual benefit to society by increasing the individuals' functioning and ability to contribute."
Learn more about the Acute Community Services program at Metropolitan Southwest.