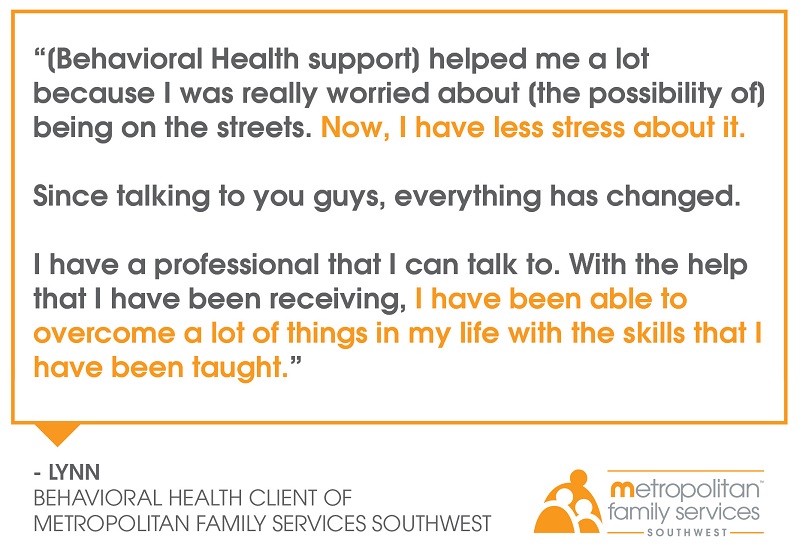 LYNN
Lynn knew it was time to reach out for help with her mental health when she noticed herself struggling the same way she had seen her sister struggle.
"She didn't talk to anyone, and I saw how it affected her," Lynn shares.
She searched online for a Spanish-speaking agency, and found Metropolitan Family Services Southwest, where Katie Reyes, a Social Worker, supported her through not only her mental health concerns, but also her financial challenges.
The pandemic hit Lynn's family hard, and especially given the links between mental and physical safety, she says receiving financial support for her rent, gas, and electric bills made a difference.
"It helped me a lot because I was really worried about being on the streets," Lynn shares. "Now, I have less stress about it."
"Since talking to you guys, everything has changed," she says. "I have a professional that I can talk to. With the help that I have been receiving, I have been able to overcome a lot of things in my life with the skills that I have been taught."
One of the most important skills Lynn has learned, she says, is self care. Things like cooking, medication, reading, yoga, relaxation, and music all help her feel mentally healthy.
Another thing Lynn has learned helps her is therapy: "If someone is struggling with their mental health, get professional help," she advises. "You don't have to go through it alone."
ABOUT BEHAVIORAL HEALTH
Behavioral Mental Health offers recovery-based individual and group therapy services, case management, crisis intervention, community support and psychiatry. MFS Behavioral Mental Health services promote psychological, social and emotional development which helps to achieve and maintain recovery. MFS offers Behavioral Health Programs to Children, Adolescents and Adults. Outpatient counseling, psychiatric and support services are available for Veterans and their families.