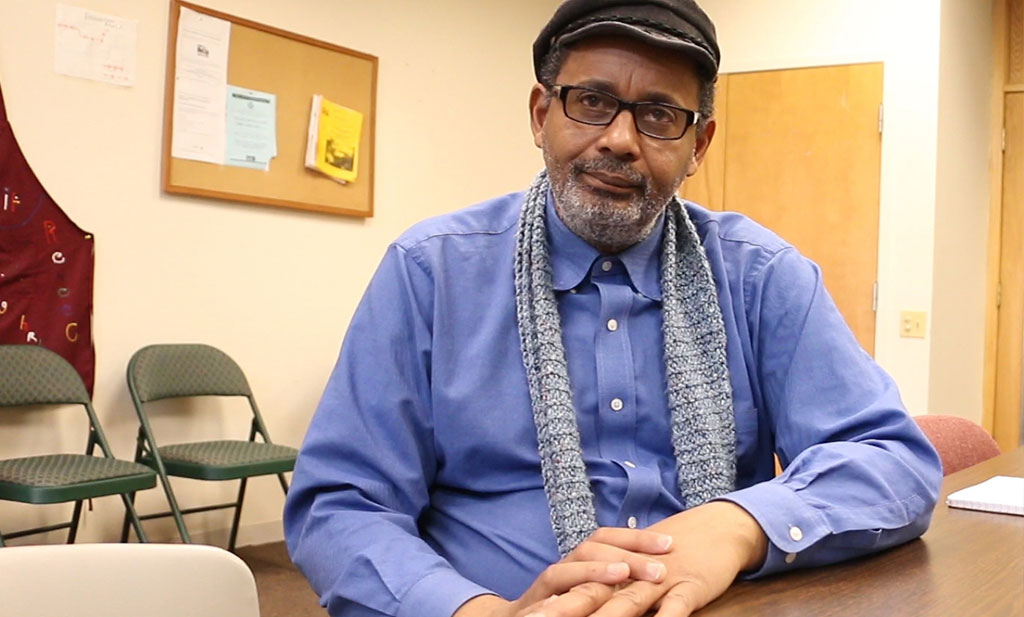 James
"If my life were a fight, they would have stopped it," James said. "Last year I was a mess. I can see a lot more clearly because of help from Metropolitan."
James lived with his mother for more than 50 years, and when she died last year he found a home with Metropolitan's CILA program. This community-based shared living environment for adults with mental illness has staff on site 24 hours a day providing case management, medication monitoring, transportation to medical appointments, and training to learn daily living skills.
Transitioning to live on his own was "complete culture shock" for James, who had never lived independently and didn't know how to use a cell phone or computer. Now he is learning skills such as budgeting and cooking, and lives in a sunny studio in South Chicago decorated with art he has made in therapy and collections from his childhood home.
"The staff are wonderful. They show more patience with me than I have with myself," he said. Everyone, from the staff to the clients to the doctors, "they all seem to be on my side. They're not just in it 9-to-5."
The supportive group atmosphere is what James feels has helped him the most in his time with CILA. The groups provide not only support, but compassion, and those that combine therapy with creativity – such as writing group and art therapy – are his favorites.
"Before you come to these groups, you're like an island unto yourself," he said. "You see all the other people here and you realize 'I'm not the only one.'"
James found a similar supportive group atmosphere at the rally in Springfield. "It was a thrilling thing to see all these people coming together," he said. Now that the groups have inspired him to nurture his interest in writing, he took notes on the backs of flyers during the rally so he could write his essay on the way back home.
"I felt a sense of mass therapy with so many groups converging on Springfield showing that we care enough to come to the heart of the state to let our feelings be heard," he wrote.
"Whether or not [lawmakers] do anything legislatively, they can't say they didn't hear our voices loud and clear."
CILA staff Angela Russell and Anita Lewis say their clients feel the impact of the budget crisis. There's no budget for furniture for the apartments; staff has to scale down celebrations for holidays and client birthdays; and they are unable to provide one client with financial assistance so he can buy food.
The state owes Metropolitan almost $3 million in unpaid bills since July 1 – that's on top of the additional $1.8 million our mental health practice needs each year to cover costs not reimbursed by Medicaid, such as nurses, facility costs, and other overhead. James says this is unacceptable to people like him, for whom mental health services are a necessity.
"These are still human beings. They need all the help these programs provide. Families can only do so much," he said. "We can't go down without a fight."
Read James' essays about his advocacy work: Alliance in Action; On the Road Again; and Third Time's a Charm.