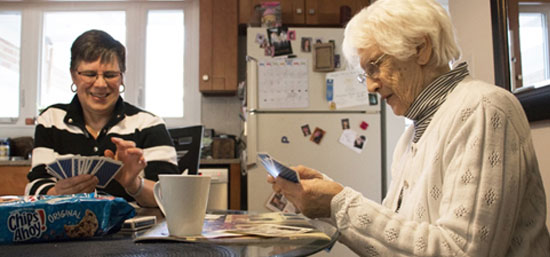 Volunteering Does You Good
Senior Respite Volunteer on the Benefits of Giving Back
Joy Hudson spends three hours every Saturday losing at cards to 98-year-old Josephine Dismore – and both look forward to those three hours each week.
As a volunteer with the In-Home Senior Respite program, Joy is just one of the many volunteers who help Metropolitan provide invaluable services to Chicagoland families.
"I think everyone should volunteer. It does you good," Joy said. "It takes you out of yourself; you're thinking about someone else."
After hearing about Metropolitan from a staff member at her church, Joy applied online to Senior Respite in early 2015 and was soon matched with the Dismore family. Only about a month previously, Josephine had moved into her granddaughter Mary's house.
"I knew I was going to be desperate for some help," Mary said. "I was on a mad hunt to see what I could find. I work all the time."
Though she works from home, Mary relies on a network of friends and neighbors to stay with Josephine when she runs errands or drives her daughter to dance practice.
Joy said she enjoys the stories Josephine tells, particularly about growing up in the Heart of Chicago neighborhood as the seventh of 10 children in a large Italian family.
"I just enjoy being with older people. I learn so much about life, their families, their history," Joy said.
Josephine says she liked Joy the first time they met, and now the two exchange gifts and bring each other treats.
"You can't do no wrong with me," Josephine told Joy. "I thank God every day for the people who help me, and you're one of them."
Mary says the benefits of respite are enormous for her as well, particularly since Joy provides the only help she gets on Saturdays.
"I don't even know how there's someone so amazing in this world, and she's doing this out of the kindness of her heart," Mary said.