North Center
3249 North Central Avenue
Chicago, Illinois 60634
Phone: 773-371-3700
Fax: 773-282-6698
Since 1982, Metropolitan Family Services North Center has been helping families navigate life's obstacles while growing and changing with the communities it serves on Chicago's Northwest Side. Metropolitan North is part of Metropolitan Family Services, which has been empowering Chicago-area families to reach their greatest potential and positively impact their communities since 1857.
Areas Served
Serving Belmont Cragin, Hermosa, Irving Park and Portage Park communities.
Hours of Operation:
Monday – Friday: 8:30 A.M. – 5:00 P.M.
Extended hours on Tuesday and Thursday until 8:00 P.M. by appointment only
Find out more about Metropolitan Family Services North Center
Programs & Services | Community Board
Additional Location:
North Children's Center
(North Children's Center serves children ages 2-5)
3255 North Central Avenue
Chicago, IL 60634
Phone: 773-371-3770
Hours of Operation:
Monday through Friday: 7:00 A.M. – 6:00 P.M.
---
Executive Director
Roxanne Nava
Roxanne Nava is the Executive Director of Metropolitan Family Services North Center and Evanston/Skokie Valley Center, She brings more than 25 years of business expertise to Metropolitan Family Services.
Prior to joining the agency Nava was Chief Small Business Officer for the City of Chicago, where she helped to support and grow more than 70,000 small businesses. In that role she also helped create the City's Neighborhood Small Business Strategy, which worked with 90 chambers of commerce to provide services to small businesses and launch programs that helped businesses access more than $8 million of affordable capital. Nava's prior roles include serving as Director of the State of Illinois Division of Financial Institutions, Assistant Director for the Illinois Department of Commerce and Economic Opportunity, and Vice President with The Northern Trust Company.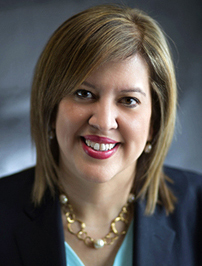 Roxanne Nava
Executive Director, North Region
Her board memberships include Leadership Greater Chicago, the Cook County State's Attorney Latino Advisory Council, the Illinois Latino Family Commission and the Illinois Legislative Latino Caucus Foundation. Civic recognitions include the Illinois Hispanic Chamber of Commerce Leadership Award and the Illinois Legislative Latino Caucus Foundation Leadership Award. Nava also is a 2010 Fellow of Leadership Greater Chicago.
Nava earned a Bachelor of Science Degree in Finance from DePaul University and an MBA from National Louis University.