Meet Sunni, the Englewood barber who helps our Young Fathers present themselves to the world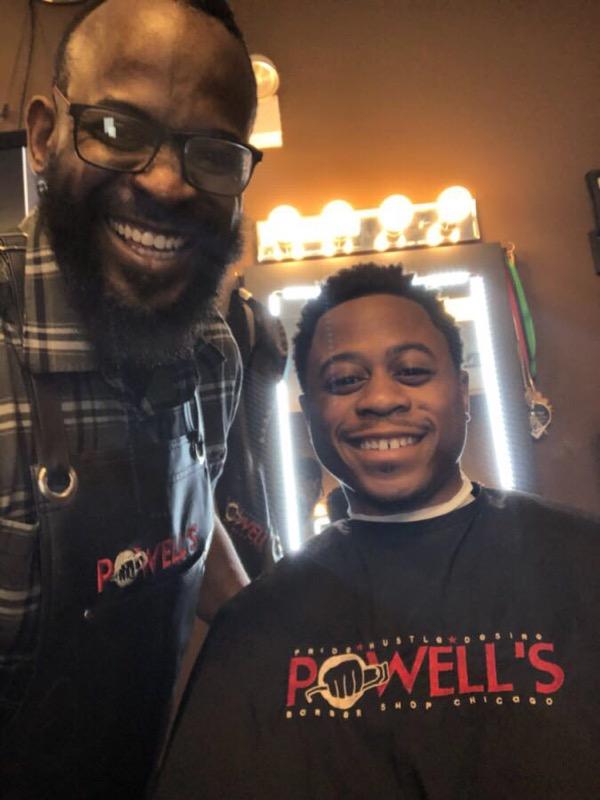 "A lot of people do a lot of posturing," says Sunni Powell, a barber who partners with Metropolitan's Gerst Family Young Fathers Program. "[Young Fathers] is the only program that actually offers what these kids need."
Sunni doesn't do any posturing himself. He provides one of the key elements of the Young Fathers program offering what its participants need: haircuts. "A good barber makes you feel good when you present yourself to the world," he says.
The men in the Young Fathers program need just that as they work to find employment. Sunni gives haircuts to each participant who comes through the Young Fathers program; one day during each session, the men come into Powell's Barber Shop for conversation, R&B music, and a haircut. They leave feeling fresh and ready to make a good impression.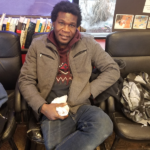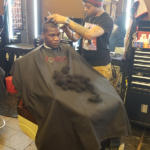 One of our young fathers before and during his haircut
The follow-through inherent in this idea attracted Sunni to the Young Fathers, and as he's gotten to know Case Manager Nathan Wright and the program better in the years since a friend referred Nathan to Sunni's shop. "It gives them a different perspective," Sunni says. "They give you the opportunity to put a suit on, to dress up and get a decent haircut, get a job … all you gotta do is keep that job."
Sunni respects the hands-on approach to supporting the men in the program. "The program is real," he says. He points to the various ways in which Young Fathers empowers its participants; offering job-hunting tools and connecting them with job interviews, helping them find stable housing, facilitating discussions with their kids' mothers and encouraging positive parenting. "If you don't have an ID? Nathan will take you to the ID place and get you an ID," Sunni laughs.
Singing Nathan's praises in particular, Sunni says showing the young men he cares is key to the program. "It's not just a job for him, he's doing way more than he has to."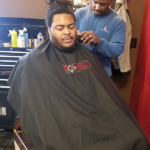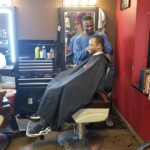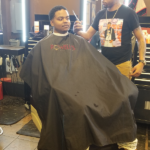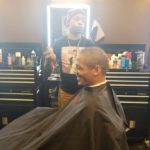 A few of our young fathers mid-haircut, during a group visit to Powell's Barber Shop
As a business owner in Englewood, Sunni understands the impact a role model like Nathan and a program like Young Fathers can make.
Sunni grew up in Englewood, his parents grew up in Englewood, about a block away from where Powell's Barber Shop currently stands. He spent some time in Los Angeles in the entertainment industry before moving back to Chicago – initially to the suburbs, then to Hyde Park, then back to Englewood. One of the first things he did when he was back in the neighborhood was to go get a haircut. "It was total negativity," he says. "They didn't want to talk to me, they didn't care."
That's when Sunni decided to open up his own barber shop. But that's also when he realized it was going to be more difficult than he realized. He saw shops without licenses, shops selling drugs. "There were no ethics, no morals," he says. So Sunni went to barber school and earned his license, and set about establishing his shop as a safe haven in the neighborhood.
"People don't see anything positive whatsoever," Sunni says. "A lot of kids don't have educational or employment opportunities, they don't know more than what their parents are. They're fully on survival mode."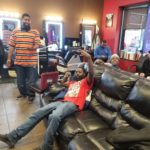 The barber shop is a place for socializing as much as haircuts.
When there was a shooting in his shop in 2016, Sunni reacted with positivity. "I should have shut down, but I didn't know any better," he reflects. To show the community he wasn't going anywhere, Sunni organized barbers – professionals and students – from several barber schools in the area for a community gathering he called the Brotherhood of Barbers Cease Fire event. Together, he and the other barbers gathered to "display barber love and community support, stopping gun violence one haircut at a time." They gave more than 500 free haircuts, and the Brotherhood of Barbers Cease Fire event became an annual gathering.
Setting a good example can make all the difference. "Having this business, I can employ other black men, beautify the neighborhood, be an example of what a good man is."
This idea, to Sunni, is what makes the Young Fathers program special. It helps young men develop into role models for their children and their community.
"It gives them an opportunity to really be something," he says.
Sunni, honored last year by Metropolitan's Southeast Chicago Center for his work as a community partner, continues to find ways to use his strengths for good in his home neighborhood.
"When you're able to affect your neighborhood, and make your neighborhood look good? A kid's father is just cutting half his hair off, but he comes into the barbershop, and now he's got style. That can help somebody, help their soul. Being able to offer that is magical."
Learn more about our Gerst Family Young Fathers Program here.