Communities Partnering 4 Peace (CP4P), convened by Metropolitan Family Services, is a framework that provides a comprehensive, long-term approach to reducing violence and gang activity among the individuals and communities it serves.
Its work is rooted in nonviolence, trauma-informed care, hyper-local collaboration and restorative justice practices.
CP4P features nine of Chicago's leading outreach organizations who have combined their expertise to jointly impact nine Chicago communities most affected by gun violence. This marks the first time that such efforts have been locally implemented on such a broad level.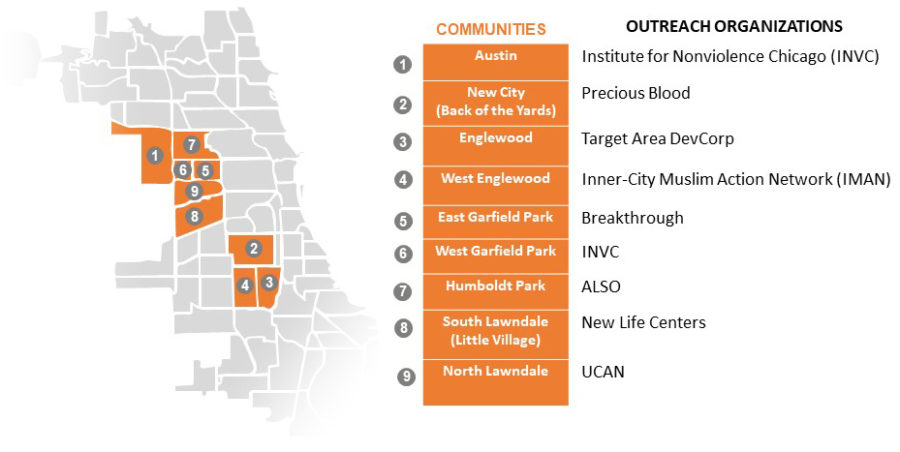 ---
Program Pillars

CP4P coordinates with the Chicago Police (CPD), Chicago Public Schools (CPS), the Illinois Department of Corrections (IDOC) and the Cook County Sheriff's Office (CCSO), along with other public and community partners, to implement an anti-violence infrastructure in their communities and demonstrate how they will deliver the following components:

VIOLENCE PREVENTION
Prevents and intervenes in violence
De-escalation through:
Re-entry services
Family support
Employment
Trauma-informed services
Restorative justice
Legal services

LIGHT IN THE NIGHT
Empowers Communities to reclaim safe spaces
Events for four nights a week:
Free food
Activities
Public spaces such as parks
Targeted to all community members

METROPOLITAN PEACE ACADEMY
Professionalizes outreach
Outreach training from the Metropolitan Peace Academy:
Intensive and mandatory
Designed by a multi-disciplinary team
Best practices sharing
|
|

PARTNERING ORGANIZATIONS
Coordinates services and builds capacity
Coordination of organizations and individuals:
Organizes Light in the Night and the Metropolitan Peace Academy
Builds community capacity
TOGETHER, WE CAN MAKE A DIFFERENCE.
CP4P is delivering strong and early gains due to Metropolitan's leadership in organizing this vital collective impact effort.
Help support CP4P's work in reducing violence and saving lives in Chicago.