Together, we Mpowered lives on Giving Tuesday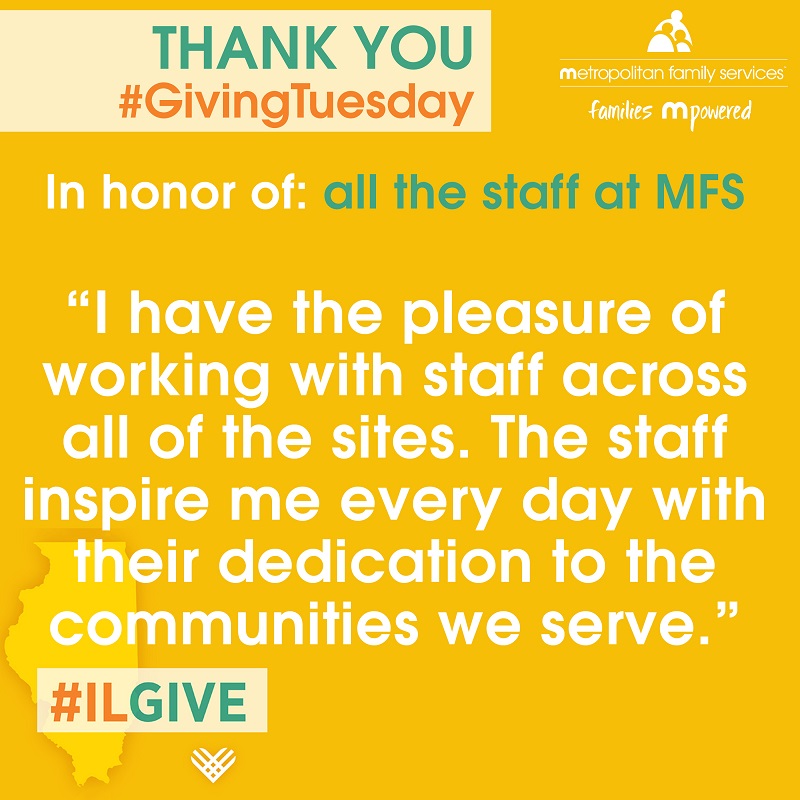 For Giving Tuesday on November 27, we at Metropolitan gave thanks for the people who Mpower us. Supporters helped Mpower our Metropolitan family, giving more than $5,500 in honor of people and programs across the agency from staff to board members to Centers.
We gave thanks for the person on our team or our board who always goes above and beyond; the person who inspires others with their attitude, their ability, their commitment; the people we admire, who make us proud to work alongside them, who for whatever reason – big or small – encourage us; these people Mpower us every day.
Thank you to all who participated! Giving Tuesday may be over, but we're always thankful for those who make our work possible. You can still make a contribution in honor of someone who Mpowers you.
A few of our favorite dedications:
In honor of: Jennifer Alexander, Director of Early Learning – Chicago
"I celebrate the leadership of Jennifer Alexander in the early learning field as well as within the agency. In appreciation for all that you do!"
In honor of: Elena Calafell, Clinical Program Manager – Metropolitan Midway
"I celebrate the leadership of Elena Calafell in the violence prevention and domestic violence fields as well as her leadership within the agency. In appreciation for all that you do!"
In honor of: all the staff at Metropolitan Family Services
"I have the pleaseure of working with staff across all of the sites. The staff inspire me every day with their dedication to the communities we serve."