Speaker Madigan & Rep. Burke Secure $825K to Benefit Midway Center Facilities
Illinois Speaker of the House Michael J. Madigan and State Rep. Daniel J. Burke were honored by Metropolitan Family Services for their leadership in securing $825,000 in state funds to improve the agency's Southwest Side facilities. Metropolitan Family Services has been a support system for Southwest Side families since 1988, and employs 90 staff serving over 6,900 residents last year.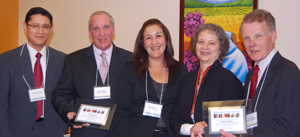 A difficult economy and demographic changes have substantially increased the need for high quality family services across the Southwest Side, placing a strain on Metropolitan's three local facilities. State funds secured by Speaker Madigan and Rep. Burke enabled significant structural improvements at MFS' multi-purpose community center on63rd Streetand its Kedzie Avenue Head Start Center.
"These leaders understand that these facilities are a symbol of the importance of family and this community," said Metropolitan Family Services President and CEO Ricardo Estrada at the October 18 event. "Whether they are young children, teenagers, parents or older adults, people need places that are safe, calming, and full of warmth."
"This is an important step forward, but the needs on the Southwest Side are far from met," Estrada continued, describing the severe shortage of quality early childhood services in the area. The Brighton Park/Gage Park area alone has 6,152 un-served 0 to 5 years olds, placing the area near the top of statewide rankings for need, according to a 2011 IFF analysis. Metropolitan is working with IFF, a not-for-profit developer with expertise in early childhood facilities, to seek funding to expand its facilities to address this need.
About Metropolitan Family Services
Metropolitan Family Services is a human services agency with a passion for strengthening families by providing them with expert guidance and a broad array of problem-solving tools to help them overcome the challenges they face.
With seven centers throughout Chicagoand the suburbs, Metropolitan is one of the area's most established and experienced human-services providers. We are recognized as a collaborative partner in each of our communities and as a leader in our use of metrics to improve the effectiveness and efficiency of our programs.