Pam Terrell named Executive Director of Metropolitan Family Services Southwest
Contact:
Adel Johnson | Metropolitan Family Services | 312.986.4099 | johnsonadel@metrofamily.org
Ann Pinkney l Metropolitan Family Services l 312.986.4032 l pinkneya@metrofamily.org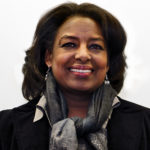 Click here to download Pam's head shot
Chicago, Ill. (December 3, 2018) – Pam Terrell, MSW, formerly Division Director of Community Services at Catholic Charities, Diocese of Joliet, has been named the new Executive Director of Metropolitan Family Services Southwest, serving the southwest suburban communities of the Chicago area.
Terrell officially resumes her position December 3. She will oversee Metropolitan Family Services' locations in Blue Island, Ill. and Palos Hills, Ill., which last year served nearly 9,700 children, teens, adults, seniors and families in 11 area communities. Metropolitan Southwest offers extensive mental health services including counseling and adoption support, as well as legal aid services including domestic violence and housing/tenant issues.
"Pam's breadth of experience in community outreach and social work is an ideal fit for our Southwest Center," says Metropolitan's Chief Operations Officer, Theresa Nihill. "She's a strategic thinker with an open and collaborative leadership style, and we're looking forward to building on our strengths together as we empower children and families across these key communities."
In her 21 years at Catholic Charities, Diocese of Joliet, first as Community Services Program Director in Lombard and then as Division Director, Terrell cultivated collaborative relationships across seven counties and coordinated community initiatives geared toward supporting low-income children and their families. Under Terrell's leadership and direction in program development and execution of outreach services, her team is considered an exemplary model of high-performing best practices for community services.
Prior to her work at Catholic Charities, Diocese of Joliet, Terrell spent 11 years working in housing services at Little Friends, Inc., a nonprofit community agency for adults and children with disabilities.
Terrell earned her Masters of Social Work from University of North Carolina Chapel Hill, and her Bachelor of Science from East Carolina University.
About Metropolitan Family Services Southwest
Families dealing with mental health challenges find caring counsel and supportive services at Metropolitan Family Services Southwest, which has been serving southwest suburban communities since 1966. Metropolitan Southwest is part of Metropolitan Family Services, which empowers families to learn, to earn, to heal, to thrive. Part mentor, part motivator, part advocate, since 1857 Metropolitan Family Services has been the engine of change that empowers Chicago-area families to reach their greatest potential and positively impact their communities. www.metrofamily.org
# # #