Meet the students and teachers of our Hernandez Community Schools program!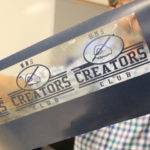 Metropolitan's Community Schools Program at Irene C. Hernandez Middle School is thriving, providing our students with a space and opportunity to design and create regardless of the program they choose. We emphasize SEL (Social Emotional Learning) and our staff take the time to encourage and work with individual students. Our programs vary from academic to recreational. You can find students taking pictures for yearbook club as others run around the school in our run clubs. Music might fill the 3rd floor hallway as Ritmo Latino rehearses. The smell of chicken from the cooking programs might reach the chess club on the first floor. Parents drop off their students and stay for GED, English as a Second Language, or Zumba classes.
Jose Gutierrez, Resource Coordinator for Hernandez Middle School, shares a few photos of the program in action: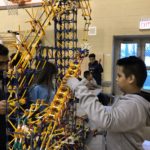 Salvador at our winter showcase explaining how the machine he built during K'NEX Build Up works. K'NEX Build Up is a program in which students express their creativity as well as their building skills. Other projects include vehicles, towers and a 3-foot Ferris wheel.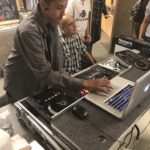 Marco showcasing what he's learned in the DJ Program. His mixes are lit and if you want to hear some of this stuff, stop by the 4th Annual 5k Summer Dash! We have been working with Mr. Martinez (DJ Yogi) for the last 2 years to enhance student's love for music.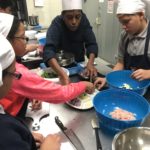 The Advance Cooking Skills & World Cuisine group preparing a delicious meal to enjoy! This is possible thanks to Common Threads and their partnership with us here at Hernandez Middle School.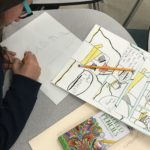 My Comics club hard at work creating their comics. Here is Samara working diligently on the cover page for her comic.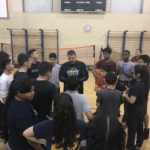 Bringing it in for the coach's final words! Mr. Benkovich, math teacher, has been providing Basketball Enrichment sessions for the last 4 years here at Hernandez Middle School, and he always finishes with a cheer! 1…2…3… Lets Go Huskies!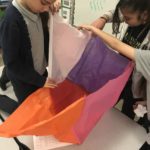 Our young ladies hard at work creating hot air balloons out of tissue paper and glue sticks during their science club after school program. Science club incorporates lots of hands on activities to enhance the students' learning not only through reading but also by doing.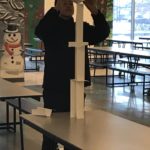 How tall can you build a tower with 5 sheets of paper and only paper? Marco challenges you to beat … 48 feet! During S.T.E.A.M short for Science,Technology, Engineering, Art and Mathematics club, students are challenged to design and create with minimal supplies.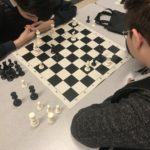 Black Knight to A7 for the check! Would you like to learn how to play chess or looking for a challenge? Join chess club! You will find students ranging in skill levels ready to challenge you. Concentration and strategy put to the test.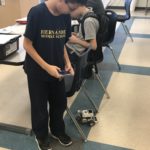 Our most popular program, LEGO Robotics, never disappoints. Meet Alex, who in this picture is working on programming and controlling his robot with his phone.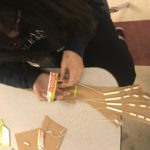 Ever wonder how your muscles, tendons and ligaments work? Ask Maria! She created a robotic arm out of cardboard and yarn to simulate the work it takes to move your fingers. S.T.E.A.M. club challenge students to design, create and innovate.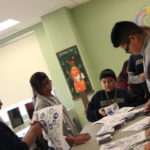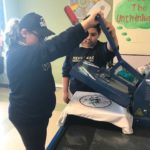 The Creators club hard at work cutting all the stencils that will be hot press into the 8th grade retreat t-shirts. The Creators club is a combination of digital media and screen printing. It runs as a business with secretaries, treasurer, chair and co-chair. They made the 4th Annual 5k Summer Dash t-shirts, so be sure to come out on June 16th to support our students' work and see the t-shirts in action!