Good News: May 11, 2018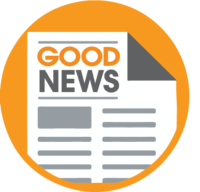 Welcome to Good News! In this space we feature positive stories of community impact and development, relevant to the areas Metropolitan serves or the programs we offer.
It's Teacher Appreciation Week!
Check out the #TeacherAppreciationWeek hashtag on Twitter for a smile and many messages of gratitude.
'We all need to help our neighbors': Lewis program connects students with Fairmont community
Daily Southtown
In a program in Lewis University's Office of Community Engaged Learning, students are actively connected with residents in Fairmont; they spend time in the community and put their skills toward making a positive difference.
North Lawndale residents weigh in on plan to enrich neighborhood
Curbed Chicago
At the North Lawndale Community Coordinating Council's Community Planning Conference, residents learned about the council's development plan for the area. Spread across seven different topics, from public safety to arts and culture, the plan paints a picture of current conditions, and presents a set of short and long-term goals aimed at improving quality of life during the next 10 to 15 years.
He was a Walter Payton senior with college dreams. Two years after being paralyzed by gunfire, Jonathan Annicks pushes forward.
Chicago Tribune
Who shot Jonathan Annicks and why remain a mystery, not one he dwells on, and he chooses not to be afraid of where he lives. He plans to spend a lot of the summer on the porch with his brothers. "I haven't had time to think of what ifs," he said, "because I'm so busy still learning. It's only been two years. I'm still acquiring knowledge."