Good News: April 20, 2018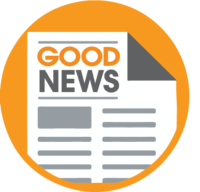 Welcome to Good News! In this space we feature positive stories of community impact and development, relevant to the areas Metropolitan serves or the programs we offer.
New Moms breaks ground on affordable housing project
Austin Weekly News
Austin-based organization New Moms will open a new facility, providing permanent housing for 18 families. The building will include a children's play area, laundry room, resident meeting space, and access to services from New Moms that help families achieve stability and self-sufficiency.
Caregivers support expanding alerts to include people with disabilities
Daily Southtown
A proposed new law sponsored by state Sen. Michael Hastings, D-Tinley Park, would allow authorities to issue emergency alerts and enlist the public's help in locating people with developmental disabilities who are missing. This is an encouraging step toward inclusivity for a vulnerable population, toward empowering adults with developmental disabilities to live as independently as possible.
Mother of Gun Violence Victim Wants to Help Communities Heal
Chicago Citizen
After losing her son to gun violence, Lisa Daniels founded the Darren B. Easterling Center for Restorative Practices to redefine her son's legacy and foster healing for communities, like Englewood, that are hit the hardest by gun violence and incarceration. The Good News Experiment, a Boston-based initiative that recognizes neighborhood innovators with stories that are publicly distributed, has named Daniels as an honoree.
Two Chicago civic innovators have been chosen to serve as Obama Fellows in the inaugural class
Chicago Tribune
Twenty civic innovators have been selected as the first class of Obama Fellows, including two from Chicago. Tiana Epps-Johnson founded Center for Technology and Civic Life, which creates digital tools to modernize the voting process. Dominique Jordan Turner, CEO of the college access program Chicago Scholars, guides high school juniors from under-resourced backgrounds through college and beyond.