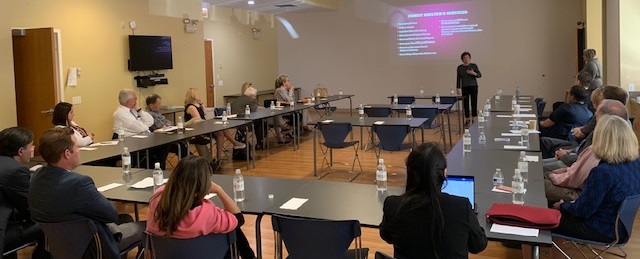 40-HOUR DOMESTIC VIOLENCE TRAINING
Family Shelter Service of Metropolitan Family Services DuPage appreciates your interest in our 40-Hour Domestic Violence Training session.
Domestic violence is a very complex issue that affects one out of three women in her lifetime.  The Illinois Coalition Against Domestic Violence (ICDVP) therefore requires that all domestic violence staff, interns and volunteers who wish to provide direct services to survivors complete a minimum of 40 hours of training.
Family Shelter Service of Metropolitan Family Services DuPage (FSS of MFSD) has been approved by the ICDVP Board of Directors to offer this training.  Our professional facilitators offer this training two to three times a year, and trainings are open to professionals and community members who wish to learn more about this devastating societal problem.
The topics covered are all essential to a true understanding of domestic abuse and include, but are not limited to:
Violence: An American Tradition

Impact of violence on the victim

Profile of the batterer

Effects of domestic violence on children

Substance abuse and domestic violence

Orders of Protection and the legal response

Cultural Competence (including  better understanding of varying communities; ie LGBTQIA+, Immigrants, racism, and more)
No matter what your reason for attending this training, you will find it to be a life-altering education experience, and the knowledge you gain will enable you to advocate in your community on behalf of all survivors.
ABOUT THE TRAINING
FSS of MFSD offers the 40-hour domestic violence training's almost monthly (none in December). Details and training schedule will vary by training.
We offer discounts for students, MFS volunteers, sliding scale, and group rates (5 or more).
Please email FSS-training@metrofamily.org for more information.
All our trainings are eligible for ceu's for LSW, LCSW, LPC, LCPC, and LMFT'S.
NOTE: 

ALL trainings can be used for (volunteers, interns, staff, & community) and will allow you to work, volunteer, or intern at DV programs. However, ONLY the full IN PERSON or 20/20 trainings can be used

for anyone who wants to pursue their CDVP OR PAIP CERTIFICATIONS.

This is a specialized certification for professional DV employees, most DV agencies do not require this certification for entry level DV positions. For information on the CDVP/PAIP certifications see

https://bit.ly/3PZ2Jqu

.
There are no scheduled trainings at this time. If you are interested in training, please sign up on our waitlist and we will contact you when the next training becomes available starting in the new year for January.
WAIT LIST
DON'T SEE A TRAINING THAT FITS YOUR SCHEDULE, THEN SIGN UP TO OUR WAIT LIST
In order to ensure you receive all training-related emails, please add
fss-training@metrofamily.org to your allowed emails list.
STAFF, please use your @metrofamily.org email when filling out the below form to ensure you receive training communications. Staff who use a private email will NOT be sent registration emails.
Join the waitlist for our upcoming trainings here
Questions?
Email fss-training@metrofamily.org
---
Family Shelter Service of Metropolitan Family Services DuPage
605 E Roosevelt Rd, Wheaton, Illinois 60187
Tel: 630-221-8290 | Fax: 630-221-8098