Spotlight On: Parenting Fundamentals
For Women's History Month, we're featuring a few of the women who make our programs possible.
Meet our Parenting Fundamentals staff!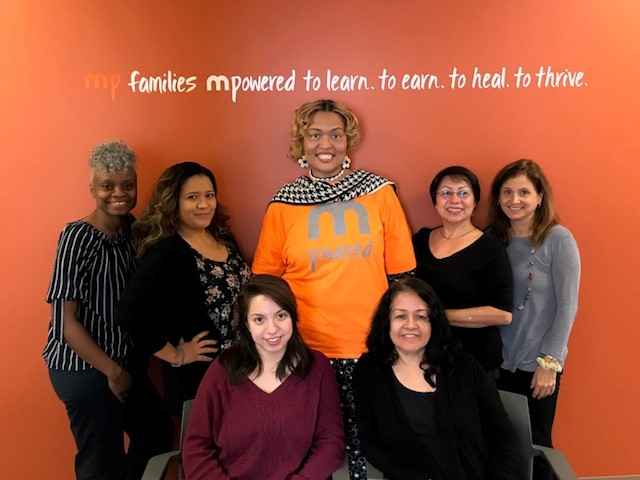 Top row, left to right: Warsheka Griffin, Parent Educator; Alejandra Ortiz, Program Coordinator; CJ Pruitt, Parent Educator; Maria Andrino-Perez, Parent Educator; Katharine Bensinger, Program Director and Supervisor of Parenting Fundamentals
Bottom row, left to right: Noemi Roldan, Program Intern; Myriam Gonzalez, Parent Educator and Master Teacher
Photographer: Robert Augustin, Parent Educator
Parenting Fundamentals gives parents tools to help their children live fulfilling, productive lives. This evidence-based course with comprehensive support empowers parents to improve school performance and strengthen families.
Click a staff member's name below to hear from them on their work with the program, its impact, and what empowerment means to them.
Katharine Bensinger, Program Director
Katharine Bensinger founded the Parenting Fundamentals program two decades ago, having worked as a mental health clinician and seeing firsthand how family trauma compounds as a result of unhealthy parenting practices. She saw stressed-out parents who didn't have the tools they needed to raise their children; not because they didn't want to be good parents, but because they were never taught how by their own parents.
Parenting Fundamentals increases parental involvement in their children's education and strengthens families through a research-based curriculum. Equipped with the findings of the  Kaiser Permanente, Adverse Childhood Experiences Study, Katharine created a booklet discussing the emotional and physical toll Adverse Childhood Experiences can take, and in 2015, imported that content into a Parenting Fundamentals curriculum for Metropolitan Family Services.
Each year, the program serves 425 parents and more than 800 children in seven dedicated locations as well as child care centers and partner schools; all are in low-income, high-risk, multicultural communities.
Katharine says, "Every time I hear a parent say they are no longer hitting or verbally abusing their child, they yell less, they look at and listen to their child when they are talking to them, they are reading to their child, they are proud of their child's improved grades … when they tell me they have learned a new 'language,' a language that was not spoken to them growing up … every day I get up and fundraise for this program because parents change."
Warsheka Griffin, Parent Educator
My name is Warsheka Griffin. I am a parent educator who teaches parenting classes to parents who have children between the ages of 0-8 and 13-18.
How did you get involved in the work you're doing?
I became part of Parenting Fundamentals almost three years ago. I was referred by someone that works with Chicago Public School (Network 11). I've always worked inside my children's school as a parent advocate, chairperson of Local School Council and Parent Advisory Council. I also attended varies of leadership meetings that help me to get involved within the community.
What is the most rewarding part of your work? The most challenging?
The most rewarding part of my work is when I see my parents wanting to do better and be better. In the last session, they're smiling when receiving their certificate of completion. In the work that I provide, there are many challenges, but one challenge is working with parents that suffer from mental illness.
Do you have a favorite client or program story?
I have many stories that have touched me deeply. The majority of my parents always leave me with great memories. One of my parents is known as a "Dreamer", she has been here [in the United States] since she was 10 years old.  She asked me to help her to figure out the process to become legal in the United States. I reached out to people within the organization for help. I was able to pass along the information I received. She then came back to me this year to let me know that it was a big help for her. She was able to get into a work training class, she learned all about different resources and legal work.
How is Parenting Fundamentals making a positive impact in Metropolitan's communities?
Parenting Fundamentals is assisting parents in building the skills they already have as parents. The program provides parents with the tools they need to build their families. It teaches them how to communicate with their children instead of spanking or punishing them when they're upset. One key component of the program is having the parents do self-care each week. If the parents are not mentally, physically, and emotionally prepared they would not be able to take on the challenges of their children.
What does empowerment mean to you?
Empowerment means to know who you are. Being able to have goals, have confidence, and believe in yourself. It also enhances one's ability to receive knowledge. The more you educate yourself the more you know. Being empowered is setting goals and realizing that the sky isn't the limit to your dream.
Coretta "CJ" Pruitt, Parent Educator
Hello, my name is Coretta J Pruitt although I prefer "CJ".  I am a Parenting Fundamentals Educator and I provide parent enrichment to parents/caregivers to help them better understand their child(ren) and to help them strengthen their relationships with their family by focusing on the seven essential principles of P.A.R.E.N.T.S. which stands for Patience; Awareness; Role Modeling; Esteem; Nurturing; Timely and Consistent; Self-care
How did you get involved in the work you're doing?
One day in October 2014 while attending a Parent meeting at Network 11; Katharine was one of the presenters and she showed a testimonial video about the Parenting Fundamentals Program.  Katharine then asked if anyone was interested to learn more to sign her sheet that she passed around the room.  With my being a life-learner, I was one of the first parents to sign the sheet.  The next thing I know, I received a telephone call asking when I wanted to come in for an interview.
What is the most rewarding part of your work? The most challenging?
The most rewarding as well as the most challenging is working with the parents/caregivers of adolescents.  They sometimes think I don't know what they're experiencing; especially when we discuss topics such as NO SPANKING (WHOOPIN') or Communicating to their child as they would their friend or another adult.  It's rewarding when they show up to class 45 minutes early, SUPER excited because they tried a new technique that they swore would not work with their situation or with their child.  The most challenging is breaking the stigma that taking a Parenting class is bad or that to do so, they must have done something wrong.
Do you have a favorite client or program story?
I mean as a parent you may have a favorite child, but you dare not say that you do….so I will resort to a program story: One term there was a parent who was resistant to every alternative solution presented in terms of not hitting/whoopin' and speaking respectfully to your child. They kept saying that it didn't work and that they were going to continue their methods. Well, one of the homework assignments I assigned was to practice communication as well as active listening and to tell everyone audibly "I Love You". In addition, they were to hold a family meeting. The parent did complete the homework assignment. However, by the conclusion of the 8-week session, they were not expecting their grandchild to call an emergency family meeting and pose the question if they were loved, because love is not supposed to hurt and being whooped HURT. I recently saw this parent and they were able to share this story with current participants right at the time we were discussing this topic of No Spanking/Whoopin' which was so powerful and impactful.
How is Parenting Fundamentals making a positive impact in Metropolitan's communities?
I believe the Parenting Fundamentals Program is making a positive impact in the communities of Greater Englewood and Greater Roseland because it's helping parents truly understand their child's development process and that it's not just because their child wants to be disobedient and disrespectful but there are other factors that contribute to negative behavior. And, the positive techniques absolutely do work.  In 2017, we graduated over 400 parents; impacting 1,035 children!
What does empowerment mean to you?
Empowerment means having the POWER to change my situation from within; it means having the POWER to take charge over my life; it means being an overcomer and moving, breathing and living in the LIGHT.
Isabel Wolf, Parent Educator
My name is Isabel Wolf and I am a Parenting Fundamentals Educator. I started the parenting course about fourteen years ago by being first of all, a parent participant. I took all the age group Parenting Fundamentals programs, then I performed as a child care worker for a couple years. Then I became a volunteer shadowing the educators in many classes and finally the opportunity came along, I became a part time parenting educator!
While working in this program, I have found it very rewarding to witness how some parents have made positive and effective changes in regard to the way they talk, teach, and guide their children. However, it has been very challenging at times to make parents trust me and believe that our program works.
I do not have a favorite client because they are all special to me. However, in my classes, when mostly all clients openly share their conflicting and disturbing parenting and personal situations with each other, it leads to a wonderful supportive group.
The Parenting Fundamental Program has a huge positive impact in the community because it provides parents or caregivers with the necessary tools, strategies, and techniques to do a better and active parenting job, so our children have a better response towards the school and environment adversities.
Empowerment means to me relevance, self-trust, self-control, and make-believe that a change is difficult, but not impossible.
Learn more about Parenting Fundamentals here.