WILLIAM H. AVERY AWARD
HONORING …
HUBERT L. ALLEN
Executive Vice President, General Counsel & Secretary
Abbott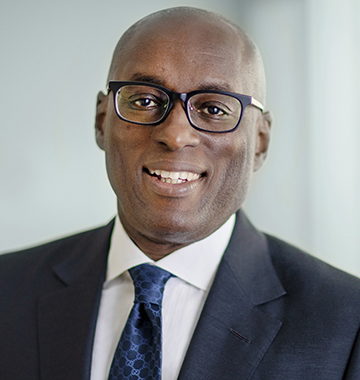 We are pleased to recognize Hubert Allen and Abbott for both the company's outstanding Pro-Bono efforts, and Hubert's personal leadership in Chicago's business, legal and philanthropic communities.
Join us in celebrating Hubert at the Equal Access to Justice Award Luncheon, taking place virtually on October 21! Tickets & information
Since 2013, Hubert Allen has served as Abbott's Executive Vice President, General Counsel and Secretary. Previously, he was Divisional Vice President and Associate General Counsel, Established Pharmaceuticals.
"Working as a lawyer for a company like Abbott is the best option for someone like me, because it marries my interests with opportunity," says Hubert. "We have a pretty large team in terms of geographic spread, and we interact with legal systems in more than 100 countries. Doing the type of work where no two days are the same is very fulfilling."
READ MORE ABOUT HUBERT ALLEN
Prior to joining Abbott in 2006 as Senior Counsel, supporting the company's Pharmaceutical Products Division, Mr. Allen was an Assistant General Counsel for McKesson Corporation. Mr. Allen has held various positions within Abbott's legal department, including Divisional Vice President and Associate General Counsel, Pharmaceutical Products Group; Section Head, Abbott Nutrition; and Division Counsel. Today, he leads a diverse global organization dedicated to supporting Abbott's business all around the world.
Outside of Abbott, Mr. Allen also serves on the Board of Directors of Metropolitan Family Services, and on the Executive Committee of the Commercial Club of Chicago.
He graduated with a bachelor's degree from the College of Social Studies at Wesleyan University in Middletown, Connecticut; a master's degree in Politics from Princeton University in Princeton, New Jersey, and a juris doctorate from Yale Law School in New Haven, Connecticut.
ABOUT THE AVERY AWARD
The William H. Avery Award was established by the Legal Aid Bureau, now Legal Aid Society, in 1985 in memory of William H. Avery, former partner of Sidley Austin LLP, to recognize and encourage outstanding leadership in the provision of legal aid to those persons unable to afford or retain an attorney.
William H. Avery served as Chairman of the Board of Directors of both the Legal Aid Society and of Metropolitan Family Services, and chair of the Legal Services Committee of the Chicago Bar Association. Among Avery's many accomplishments, he authored the "Avery Plan", a Chicago Bar Association dues check-off program for legal services support, which is still in effect.
Originally given only to volunteers, donors, and staff, recognition through the award has since expanded outside the LAS community to honor those who have made an outstanding contribution to the legal community and to equal justice.