Welcome to the Living Room at Metropolitan Southwest
On a stressful day, do you ever need to take a minute to calm down?
That's what the Living Room offers.
The safe, non-judgmental space at Metropolitan's Southwest Chicago Center provides a non-clinical alternative to the emergency room for guests experiencing a mental health crisis.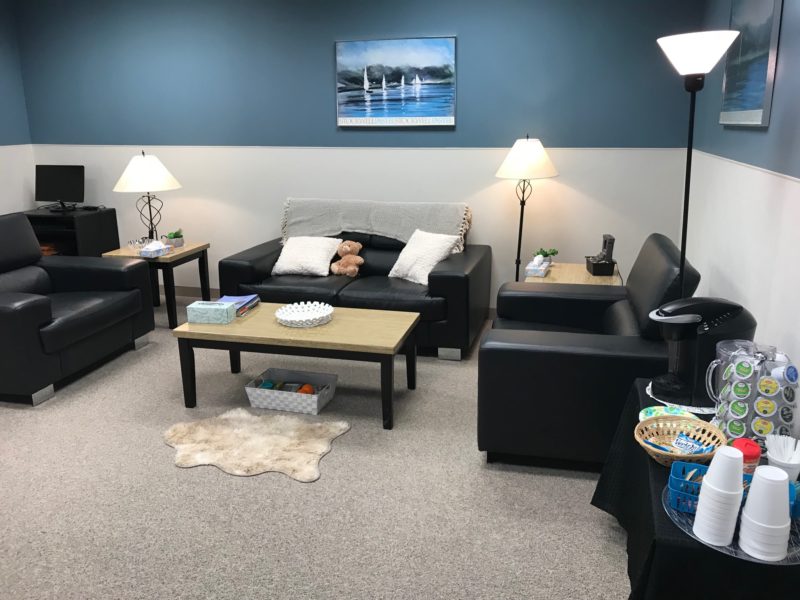 Guests are greeted not by psychiatrists or waiting rooms, which can be intimidating, but by Metropolitan Southwest's Peer Support Specialists, Naoma Dye and Kerry Ryan, who offer non-clinical support. These unique staff members draw on their own lived experience of mental health issues to be there for guests who may just need someone to talk to about their own mental health.

Above: Program Supervisor Ruaa gives a video tour of the Living Room
"We're not an emergency room," says Naoma (now a former Peer Support Specialist). "We're where you can come in, relax, and get what you need at that moment. We meet you where you're at and make sure you're not in a crisis where you have to go to the emergency room."
"Anyone is welcome," adds Kerry.
Kerry stresses that while psychiatrists are important to understanding and treating mental health concerns, a clinical environment like that of an emergency room may not necessary for lower-intensity crises and may actually escalate someone's distress. "This is more of a personal touch," she says. "When someone goes through something traumatic, to have someone say 'I know where you've been,' it's a unique role."
Naoma describes Peer Support Specialists as "relatable;" when guests come in, they're able to open up to Naoma and Kerry, who have experienced – and recovered from – the symptoms they're having.
They're both ready for anything, in the sense that each guest comes from a different place, and are ready to support guests in whatever they need at that time.
"The people here are great," says John, a guest who has been coming to Metropolitan Southwest since 2015. "They're warm, they're friendly … they treat you like you're a person. Everybody is somebody."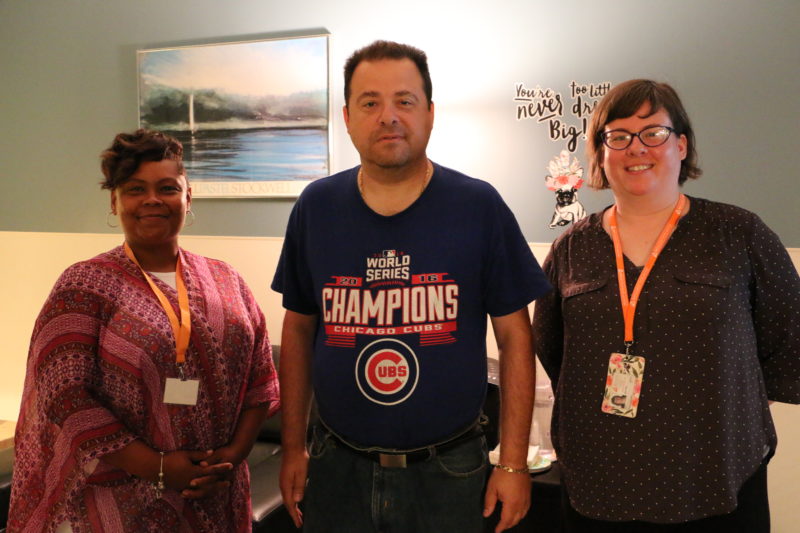 The Living Room offers warm beverages, snacks, calming lighting, and comfortable furniture – even a teddy bear. Program Supervisor Ruaa Jaber says the idea is to "capture that essence of it being like a real living room."
Once guests settle in, Naoma or Kerry get an idea of why they're at the Living Room and what they want to talk about. After a brief mental health assessment to understand where guests are emotionally, they'll give guests room to talk, or offer coloring books or toys if they're not ready to talk right away.
A licensed therapist is available to provide additional support. The Living Room offers free mental health screenings, and refers guests to other resources as needed.
Services are free, with no insurance required.
Perhaps most importantly, "the people are very understanding," says John. Without Metropolitan and the Living Room, he says, "I'd be still trying to find myself, I'd be lost."
What advice would our Peer Support Specialists give to someone considering trying the Living Room?
"We're here because we want to help," says Kerry. "It is nerve-wracking to go into any counseling or mental health setting, but know that we want to hear you, we want to be there for you."
"This is non-judgmental," adds Naoma. "We get you, we understand, we want you to come in."
NO APPOINTMENT NEEDED.
HOURS:
Monday: 1:oo-4:00pm
Tuesday – Thursday: 1:00-7:00pm
Friday: 1:00-4:00pm
What does empowerment mean to you?
"Empowerment means strength, hope, giving you those tools you need, empowering yourself or someone else. Giving the strength someone else needs." – Naoma
"Empowerment for me is helping them find their way to the life they want to lead. When people are struck with mental health problems or are in a crisis, there's a lot of people telling you what to do, how to do it, where you should be trying to live your life, what you should be trying to do … so I think it's really empowering to help people find the path they want their life to be on." – Kerry