Good News: May 31, 2019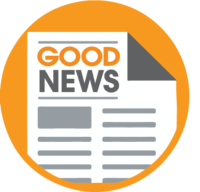 Welcome to Good News! In this space we feature positive stories of community impact and development, relevant to the areas Metropolitan serves or the programs we offer.
A Former Uptown Gang Member Became A Millionaire At Age 26. Now He Wants To Bring Financial Literacy To His Neighborhood
Block Club Chicago
A decade ago, Jeff Badu was in a neighborhood gang in Uptown. He said he felt lost with no sense of direction. Today, he sits atop a series of companies he formed, amassing a net wealth over a $1 million before he hit 26 years old. Badu, an Uptown resident, now wants to leave his mark by promoting financial literacy and independence to underserved communities.
With Black Women In Mind, Sista Afya Aims To Make Mental Health Services More Accessible In South Shore
Block Club Chicago
It's been seven years since six mental health clinics across the city were abruptly closed by now former Mayor Rahm Emanuel, and some of the communities that were most affected are still struggling to provide resources to those in need. Sista Afya, a mental wellness clinic that recently set up shop at 1750 E. 71st St., is an organization looking to fill the gap.
Kitchen incubator helps south suburban businesses cook up success
Daily Southtown
Fershawnda Green's new business is helping other startups. Green is founder of Poppin Plates, a two-month-old business that offers licensed commercial shared kitchen space in Park Forest that helps home-based and other emerging food service businesses move to the next level.
Stateville Prison Holds First Graduation Ceremony In Years
WBEZ
Seven incarcerated Illinois men received bachelor's degrees on Wednesday in a graduation at Stateville Correctional Center, a maximum security prison just southwest of Chicago. The new college graduates completed Northeastern Illinois University's University Without Walls (UWW) and Prison + Neighborhood Arts & Education Project (PNAP), a free program that includes an individualized curriculum.