Calumet Center's Purple Hat Brunch brings awareness and shares support for survivors of domestic violence
Our Calumet Center is committed to a culture where we are all safe, empowered and free from domestic violence.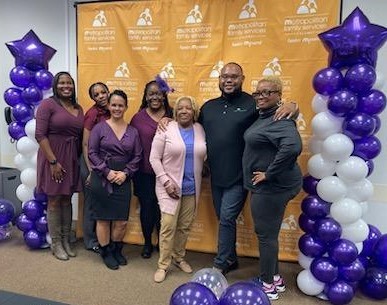 Our annual Purple Hat Brunch is one important tradition contributing to our culture of support, and after two years of virtual events we were excited to come back together in person!
Program Manager Lakisha Hanson shares, "We are grateful for this opportunity to bring domestic violence to the forefront, educate the community, and celebrate survivors."
Special thanks to our keynote speaker, Ellen Singletary, for sharing a very poignant speech to bring awareness of stopping the violence and ending the silence of domestic violence.
We appreciate our staff, community residents, and partners who joined together to acknowledge survivors and support in eradicating domestic violence.
Thank you to our partners, Anew: Building Beyond Violence and Abuse; TCA Health; CPD 5th District DV Sub-Committee; the Chicago Housing Authority Victim Assistance Program.
Domestic violence is prevalent in every community, and affects all people regardless of age, socio-economic status, sexual orientation, gender, race, religion or nationality.