Young Fathers celebrates the program's empowering dads at 4th Annual Awards Banquet
What does it mean to Kyle Craan to win the "Unsung Hero" award at Metropolitan's Gerst Family Young Fathers Program Awards Banquet?
"Everything."
Kyle said he doesn't think about recognition when he does things like change diapers, but that it feels great to be recognized.
The feeling among the staff is mutual; at the 4th annual awards banquet, Program Director Doug Brown shared his admiration for all the fathers in the room for the hard work they put into the two-week program. Doug and Case Managers Nathan Wright and Edgar Barba were joined by Metropolitan CEO Ric Estrada and Young Fathers program benefactor Gary Gerst to present awards for three standout fathers and two community partners.
STEP-FATHER OF THE YEAR
For men who are taking full responsibility and serving as a father and positive role model to their step-children.
UNSUNG HERO
For fathers showing consistent dedication and hard work while overcoming past struggles.
FATHER OF THE YEAR
For fathers who exhibit, in spite of their everyday trials and tribulations, special dedication and commitment to improving the lives of their children.
In his remarks, Stacey spoke of the good people he's met through the program, from the staff to his "brothers" in the program. "I have learned a lot of lessons to apply to my everyday life," he said. "We all have different stories, and positive results." View his speech below.
OUTSTANDING COMMUNITY PARTNERS
For distinguished members of the community who have shared their expertise, time and resources to help our Young Fathers succeed in their endeavors.
Sonny Thatch: Attorney, Legal Aid Society of Metropolitan Family Services
Mattie Bailey: Marketing Coordinator, Near North Health Center
Gary Gerst, in addressing the fathers in attendance, spoke about the challenges of being a father and the respect he has for the men in the room. "To me, this program is vitally important," he said. "If you spend time with your children, you can't help but convey to them the things that you care about, that you enjoy. Invariably, they will adopt those things and you will have a relationship with them throughout your life."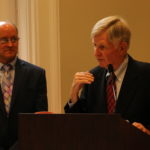 Thank you and congratulations to all our young fathers, and to the community partners who support the program!
ABOUT THE GERST FAMILY YOUNG FATHERS PROGRAM
Young Fathers helps fathers to become employed and financially self-sufficient, and to raise healthy children. The program includes job readiness training and placement, money management training, parent education and co-parenting counseling. Participants are encouraged to actively nurture and financially support their children. Learn more about Young Fathers here.