The State of OUR State
On Wednesday, January 27, 75 Metropolitan clients and staff members traveled to Springfield to join the State of OUR State rally and advocate for critical human services.
"We must stress the need for these programs clearly, distinctively, and in no uncertain terms. We have the right to stand firm and express that we cannot take this lying down," wrote James Jones, a client of Community Integrated Living Arrangement of our Southeast Chicago center, in a moving essay he composed on the bus back home.
"Whether or not [lawmakers] do anything legislatively, they can't say they didn't hear our voices loud and clear." Read Mr. Jones' essay, State of OUR State: Alliance in Action on the Road to Recovery, in full here.
Members of the Responsible Budget Coalition gathered in the Capitol building before Governor Rauner's State of the State Address and urged lawmakers to enact a fair, responsible budget that invests in Illinois families and communities. More than 500 advocates then packed the rotunda, chanting "Budget first!" and "No more cuts!" loudly enough to be heard inside the chamber during the speech.
"I personally felt very empowered yesterday," said Ruaa Jaber, adult mental health therapist at the Southwest-Palos Hills location. "I am so glad I had the opportunity to participate in that experience."
"The opportunity for our consumers and staff to have an upfront experience of the legislative process is invaluable," said Angela Russell, senior case manager for CILA-Southeast. Several of her clients made the journey to Springfield, including Mr. Jones.
One of Ms. Jaber's clients, Enee, found the senator for her district (Sen. Trotter, D-17) and urged him to support funding for mental health services.
"She was empowered by the experience," Ms. Jaber said. "Her young daughter accompanied her too, which I think made their experience as a family even more empowering." Enee and her daughter vowed to follow up with Sen. Trotter when they got home, and took a picture in the Capitol building to share with the girl's social studies teacher.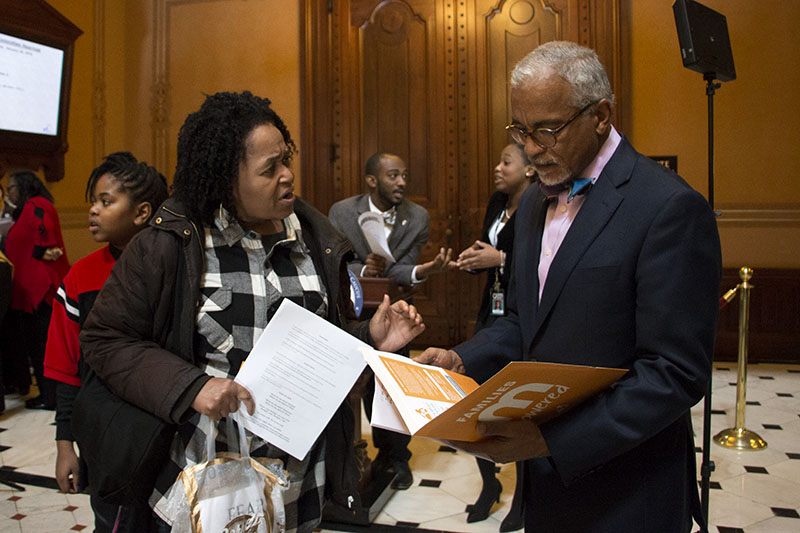 Illinois has been without a budget for almost eight months, meaning the state has not paid Metropolitan and other noprofits for services provided after June 30, 2015 — state contracts constitute 40% of Metropolitan's budget, and the state currently owes our agency almost $3 million. Nonprofits across Illinois have been forced to cut services and lay off staff, damaging the infrastructure that supports working families and vulnerable people.