Southeast Chicago Center honors community partners at its Holiday Luncheon
At Metropolitan Southeast Chicago's recent Holiday Luncheon, the Community Board gathered with staff and partners to celebrate the holidays and the contributions they have all made to make Metropolitan Southeast Chicago's work possible.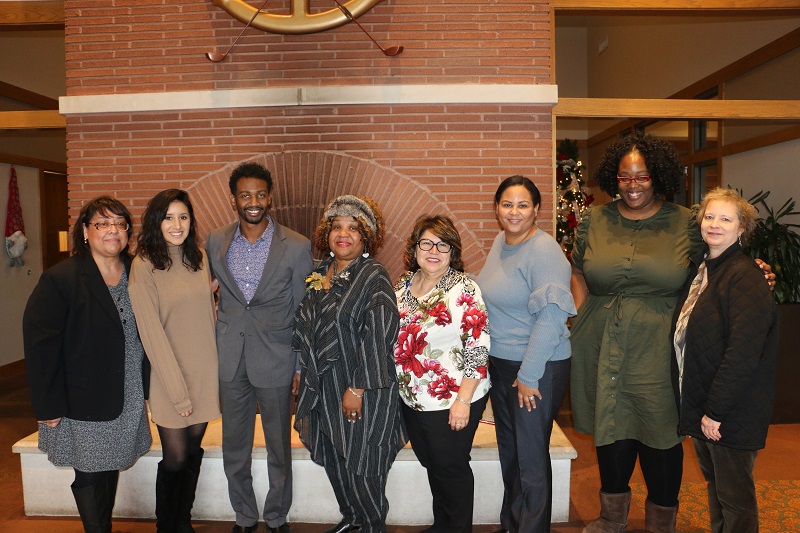 Staff honored community partners in our Adult Mental Health, Community Schools, and Young Fathers programs.
In her remarks, Center Director Vanessa Schwartz spoke about the importance of community partnerships:
"I have been extremely fortunate to observe the growth of Metropolitan Family Services Southeast Center for the past 25 years that I have worked here. Fortunate to witness countless collaborations and partnerships and the one valuable lesson I have learned is the value of collective impact.
The Southeast community has by far built programs and services in a collectively impactful way. This community has weathered its storms such as the seeming disinvestment by large organizations that have been in the community for years. This collaborative spirit in Southeast Chicago is alive and well. Some of the original players may have changed a bit, but the spirit of this community is indomitable."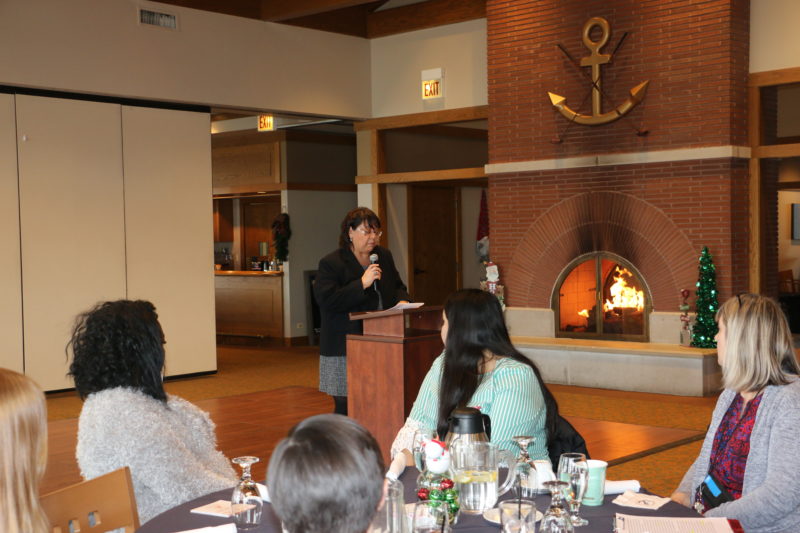 Adult Mental Health Program Supervisor Katlynn Bush presented awards to Leslie Vaughan and Lainie Kast from the Respiratory Health Association, whose partnership on Southeast Chicago Center's smoking cessation workshops has benefited clients from multiple programs.
Irma Saldana presented an award to Nancy Devlin, Children's Librarian at the Vodak East Side Branch of the Chicago Public Library, for her work with our Community Schools programs.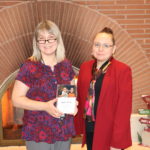 Though Sunni Powell, Englewood community activist and owner of Powell's Barber Shop, wasn't able to accept his award in person, Young Fathers program staff Nathan Wright and Edgar Barba spoke of his invaluable impact for the young men in their program.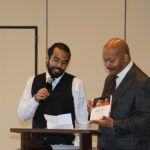 The program collaborations honored at the luncheon demonstrate Vanessa's words about the importance of collective impact. She spoke about the growth these collaborations can spark in our children and families:
"The work is hard. At times it might not even be evident that the work is resulting in any type of remarkable improvement, but I have learned that the collective work of partnerships plant the seed of hope, renewal and growth. It is the small seed that is watered, nurtured and cultivated that can grow into a strong tree with a strong base and multiple branches reaching toward the sun. It is our collective work that breeds hope and prosperity to the host of children and families in our community.
We might not see that the haircut, the attention to detail, grooming and careful touch can provide a young person with a boost of confidence necessary to get that job that will support their family. We might not see that the young person we teach, or provide them with an opportunity to explore a new skill might just become a scientist, doctor, social worker or even President. We might never see that because of a smoking cessation program, a person struggling with health issues can begin to understand that they can have the power and control over their lives and health, that they can make healthy lifestyle changes to benefit themselves and the people they most care about.
The work is about changing the way our children and families feel about themselves to help inspire them to new heights, to explore their talents, understand their value and become empowered to learn, to earn, to heal, to thrive."