Police Appreciation Day: Metropolitan Calumet supports 5th District officers
Over the past year, Chicago Police Department's 5th District experienced the loss of several officers from suicide in the line of duty. As a proud partner of CPD's 5th District, the staff at Metropolitan Family Services Calumet was honored to collaborate with Chicago CRED to support them with a Police Appreciation Day event at our Calumet Center.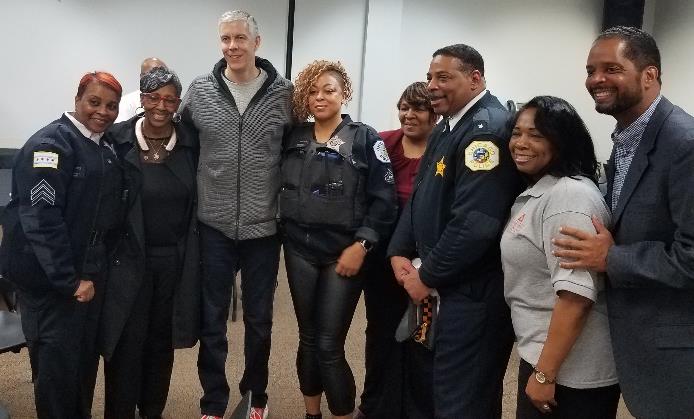 Officers who attended Police Appreciation Day were treated to a hot meal, music, relaxation, massages, and fellowship space, and a gift bag with essentials like hand sanitizer, lidded cups, and pen and pad. Metropolitan Calumet Executive Director Audrena Spence spoke, as did Chicago CRED's Arne Duncan.
We're pleased to share the event was a success. The officers – more than 75 stopped by – were very surprised at the outpouring of support for them.
Quincy Roseborough, Community Development Coordinator at Metropolitan Calumet and an organizer of the event, says the officers were very grateful and even started calling their colleagues who had not stopped by to tell them to come by to check it out.  The CPD leadership was appreciative as well; one officer said they participate in appreciation events often, but rarely to this magnitude.
Quincy on the importance of events like Police Appreciation Day:
"It's important for organizations that are doing violence prevention work and institutions responsible for public safety to have good relationships and work together to create more safe and vibrant communities. Our support for Chicago Police is just as important as their support for us. Collaboration is key in building strong, empowered communities."
Thank you to the officers of CPD's 5th District for all you do!