Metropolitan Peace Academy Graduation honors street outreach workers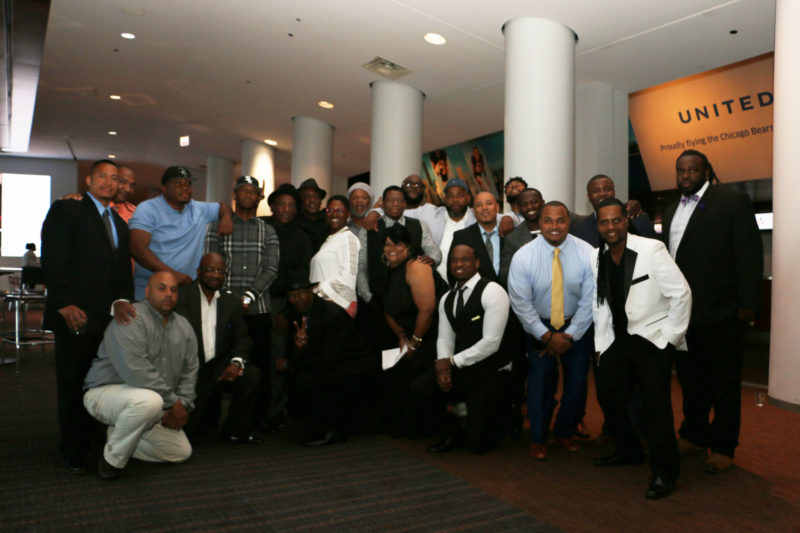 "I have experienced challenges, but most importantly the feeling of accomplishment," Metropolitan Peace Academy Graduate April Morris, from Claretian Associates, said in her reflections at the Peace Academy Graduation ceremony.
"On the first day of class, I wasn't sure what to expect," she continued, "but I kept an open mind, with great energy, every day."
"Yes you did," came a chorus of assent from her fellow graduates in the audience.
April is one of twenty-four of Chicago's top street outreach experts – those specializing in diffusing street violence – who were the first to graduate from the Metropolitan Peace Academy, June 27th at Soldier Field's United Club.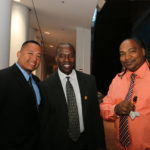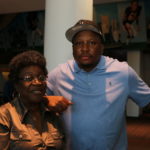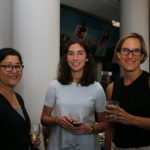 The first of its kind in Chicago, the Peace Academy is a multidisciplinary training platform designed to professionalize and strengthen the fields of street outreach and community violence prevention. Graduates participated in a rigorous 144-hour, 18-week curriculum focused on street outreach, nonviolence, trauma-informed services and restorative justice.
Several of the graduates joined April in reflecting on their experiences going through the Peace Academy, which trains and develops leadership among practitioners to enhance their ability to implement best practices in violence reduction, including collaboration across sectors.
Karl Bullock, graduate from Institute of Nonviolence Chicago (INVC), mentioned the self-care techniques the curriculum offers in addition to the violence reduction best practices he expected. "I began to realize that self care isn't just staying away from everybody and not being bothered. I'd check in with a few people to make sure I was taking care of myself, and taking care of myself helps me help others," he said. "The program didn't just teach me how to put what I've been through all my life in these professional terms, it taught me how to deal with myself."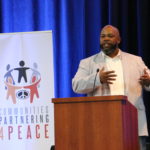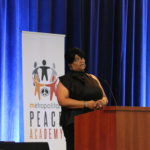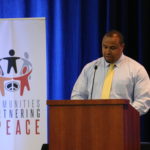 Chris Patterson, graduate from INVC, looked into the past and toward the future: "At some point, all of us have proclaimed, at one point or another, that we wanted to represent an idea. To represent possibilities. Collectively we hunkered down and explored the areas of our lives where once only pain and sorrow lived. We broke out of shells and examined our pasts and current lives so that we could explore uncharted territories, territories that young people across Chicago voyage on a daily basis. We explored our pasts so that we could say to them, 'I went that way.' We explored for 18 weeks what makes us great, so that we could say to those same young people, 'I go this way.'" 
Several speakers commended the graduates for their dedication to the work of street outreach.
Northeastern Illinois University's Dr. Troy Harden, the lead curriculum developer for the Peace Academy, recognized the sacrifice and commitment involved in this work: "The people who went through this academy, they've seen some of the worst our world – our society – has to offer, they've been through some of the worst of that, and they've come through. And in many ways, they are the most resilient we have in our cities. And now, coupled with the work they've come together to do, we're honored to have them as ambassadors, as leaders, in the fight against violence in the city."
Vaughn Bryant, Communities Partnering 4 Peace Program Director, shared his admiration for the graduates: "I want to personally thank you for your level of vulnerability, candor, respect, and grace that was displayed in our classrooms. I am going to follow your lead and commit to bringing that to every table in which I sit. We can't achieve the change we want to see without more people making that kind of commitment. We have a chance to make a generational impact on the city."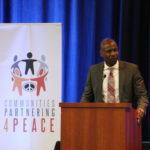 Keynote speaker Melvyn Hayward of the H.E.L.P.E.R. Foundation, spoke to the importance of the mission: "For our people, in the communities that we serve and that we grew up in, they deserve the right to be in peaceful communities, to receive the opportunities that any other communities would receive, and for we to be the best service providers we can possibly be. And for the outreach workers, when we catch ourselves slipping, it's important for us to hold our own selves accountable."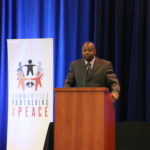 Metropolitan Peace Academy Training Manager Vanessa Dereef awarded several standout graduates for their unique perspectives and contributions, from punctuality to an openness to change.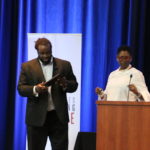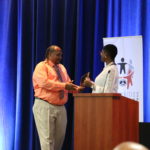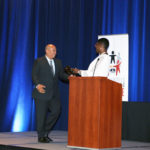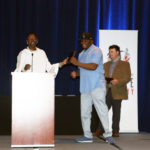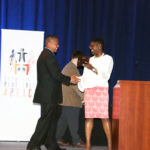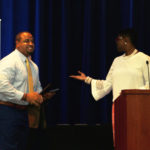 After receiving their certificates, the graduates all stood together while Metropolitan CEO Ric Estrada delivered closing remarks on their superheroic efforts: "When I think about the work we're doing here today, I think about superheroes and their superpowers. And I really believe this humbly that the people in front of us today … are superheroes. Here's the deal with their superpowers: it's the ability to work together collaboratively across community in a meaningful and loving way. The single most important superpower that they have, and I think it's a superpower we want to share with the rest of you, is – our greatest superpower is the power of hope. We have hope that we can bring peace to the communities where we live."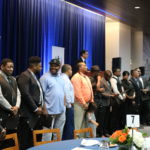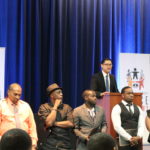 View photos from the celebration here
The Metropolitan Peace Academy is one of CP4P's three program components, which include Violence Prevention, involving outreach workers responding to threats or incidents of violence and mediating using intervention strategies to de-escalate the situations, and Light in the Night, involving partner organizations hosting events and programs in parks and public spaces in an effort to reclaim those areas as safe places for all community members.
Communities Partnering 4 Peace (CP4P) is an initiative that provides a comprehensive, long-term approach to reducing violence and gang activity among the individuals and communities it serves. Organized by Metropolitan Family Services, CP4P features eight of Chicago's leading outreach organizations who have combined their expertise to jointly impact nine Chicago communities most affected by gun violence. Outreach organizations include the Institute for Nonviolence Chicago (INVC), Precious Blood, Target Area Development Corp., Cure Violence, Breakthrough Urban Ministries, the Alliance of Local Service Organizations (ALSO), New Life Centers and UCAN.