#MpoweredToAdvocate: Online Advocacy Week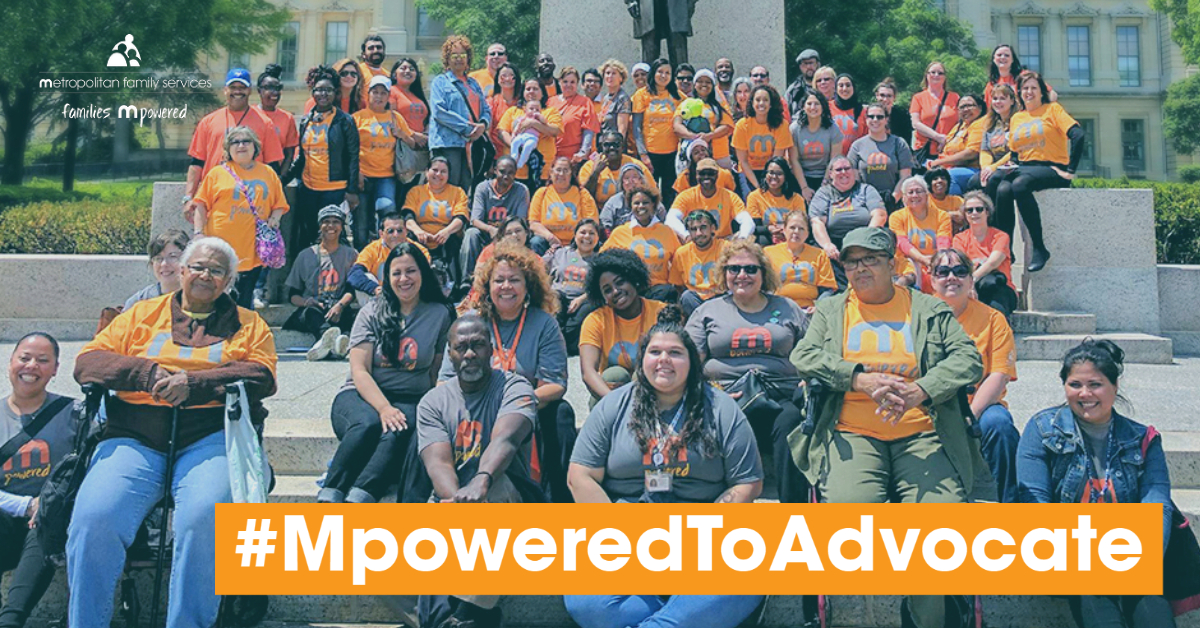 We are Mpowered to advocate for our services that strengthen families and communities!
In lieu of a staff visit to the Capitol for Advocacy Day, we'll be sharing stories all week on our social media platforms to showcase stories from our communities.
JUMP TO: Behavioral Health | Domestic Violence | Early Learning | Workforce Development | Violence Prevention
Metropolitan Family Services strengthens families and communities by focusing on a few key areas: education, emotional wellness, economic stability, and empowerment. An essential part of our work involves communicating our communities' needs, and Metropolitan's impact, to legislators.
Legislative advocacy allows us to:
Address the systemic flaws that create and exacerbate the barriers that impact our families and communities.
Demonstrate how the lives of our families and the overall work of Metropolitan are directly affected by policy.
To join our Online Advocacy Week, use your voice!
Share one of the stories below, or one of our social media posts on Facebook, Twitter, Instagram, or LinkedIn, to your own social media
Add your own perspective: What is your experience with our programs? How does Metropolitan empower you?
Be sure to tag your legislators so they can see what you have to say.
To find your legislators, or to share your story directly with us, visit our Advocacy Action Center.
BEHAVIORAL HEALTH
Spotlight on: Mobile Crisis Response
"MFS Mobile Crisis Response (MCR) stabilizes crisis situations and provides intensive mental health services to adults and adolescents who are experiencing acute psychiatric episodes. MCR uses intensive community-based intervention to limit psychiatric hospitalizations and to support recovery in the least restrictive environment."
– Meghan Kelly, Mpowered as Children's Mental Health Program Director
EMPOWERMENT
Spotlight on: Domestic Violence Services
Amy Milligan, Mpowered as Domestic Violence Services Director, shares her perspective on the important crossover between domestic violence services and public policy:
"Public policy affects domestic violence survivors and programs in countless ways, from how programs are funded and services are provided to how domestic violence survivors increase their safety and self-sufficiency."

Legislation in Illinois impacts how a survivor's confidentiality is protected; how domestic violence is regarded during divorces and custody disputes; what legal consequences and rehabilitative supports a perpetrator may receive; how domestic violence must be considered in relation to gun ownership; and what protections and supports are available to survivors and their families.
Why is it important for legislators to work with community providers to shape public policy?
"Above all, it is of paramount importance that public policies meet the real-world needs of the people they are intended to support and protect. The experiences of domestic violence survivors are varied; what a survivor in Chicago needs most may be vastly different from what a survivor in Cairo needs most.
Without that understanding, legislators may forward policies that don't adequately respond to the issues. Working with community providers allows legislators to know the daily experiences of actual survivors and to consider the potential benefits and the unintended consequences of proposed legislation."
Metropolitan Family Services offers help and hope for those affected by domestic violence, by providing holistic, trauma-informed services empowering children and families to learn, earn, heal, and thrive. Domestic violence programs include counseling and clinical services, court advocacy, legal aid through the Legal Aid Society, and safe connections and supervised exchanges, as well as prevention and supportive services offered by Family Shelter Service of Metropolitan Family Services DuPage. 
EDUCATION
Spotlight on: Early Learning
Dawn Delgado, Mpowered as Associate Director of Early Learning, shares how Metropolitan's Early Learning programs build a foundation for our littlest learners:
"Early Learning services provided to families of children aged 0-5 and pre-natal clients prepare our youngest population for school readiness.

Metropolitan Family Services' early learning programming fosters healthy development, both social-emotional and cognitive, to close the achievement gap and improve health outcomes to our most at risk children and families. 

Public funding from all chapters, local, state, and federal, provides the resources needed to provide materials, curriculum tools and employ exemplary staff to provide quality programming to the young babies and children preparing them for future success."

Early Learning in action!
In the video to the right, Eliel tends to big brother Eduardo's plant, as part of a Life Cycle of the Bean Plant experiment put together by Carmen Toranzo, a Parent Child Educator in our DuPage Center's Home-Based Early Learning program.

Read more about the project by clicking below!

ECONOMIC STABILITY
Spotlight on: Workforce Development
Quincy E. Roseborough, Mpowered as Workforce Development Director, shares the myriad ways Metropolitan's employer partners are essential in community investment.

"At MFS, as we prepare job seekers for careers, our greatest collaborators in this work are our employer partners.

Strong relationships with employer partners are essential to placing job seekers in sustainable employment, supporting employee retention, and creating economically vibrant communities."

Mpowering the healthcare field through job training and placement
The newly-trained medical assistants who graduate from our Calumet Center's Certified Medical Administrative Assistant (CMAA) Training Program are ready to join Chicago's healthcare field at a critical time.
Our graduates work with our job developers, alongside our employer partners, to help place them in settings including hospitals, clinics, specialty medical offices, dental offices, nursing homes, and rehabilitation centers.
EMPOWERMENT
Spotlight on: Violence Prevention
Vaughn Bryant, Mpowered as Executive Director of Metropolitan Peace Initiatives, on Metropolitan's community-driven, trauma-informed, and collaborative violence prevention work: 

"Communities Partnering 4 Peace (CP4P) and Metropolitan Peace Initiatives have a renewed focus on addressing broader systemic issues—which present as barriers to healing and success for our communities—by expanding Behavioral Health, Workforce Development, and Legal Aid, in addition to financial relief for small businesses affected by looting.

We are responding to the needs our partners have told us about, and we are operationalizing those needs."
Billy Moore, Case Manager with CP4P partner organization IMAN, shares how this violence prevention initiative helps with the work he's doing in his community through IMAN's Green ReEntry program: