Upward Bound College Tour: students learn about the Civil Rights Movement, visit HBCUs in Alabama
Students from our Calumet Center's Upward Bound program are spending part of their spring break on a college tour of Historically Black Colleges and Universities (HBCUs) in Alabama! The students are experiencing both education and culture as part of the civil rights-themed trip, as they visit landmarks of the Civil Rights Movement and tour schools across Alabama.
Thank you to the Black McDonald's Operators Association of Chicago and Rainbow PUSH Coalition for making this trip possible. And thank you to Upward Bound students Devin, Miaa, and Journee for sharing their photos!
Thank you for following along as we've shared photos and stories from our students throughout the trip!
DAY FOUR: TUSCALOOSA & TALLADEGA
Day four, the group's last full day in Alabama, began in Tuscaloosa with a visit and tour at Stillman College. After a McDonald's lunch (thanks to Black McDonald's Operators Association of Chicagoland!) it was off to Talladega to experience Talladega College. Dinner at the College's dining hall gave our students a firsthand experience of what it would be like to attend. To celebrate a full week of colleges and culture, the group had a party with bowling and games. Thank you to Journee for the photos!
DAY THREE: TUSKEGEE & SELMA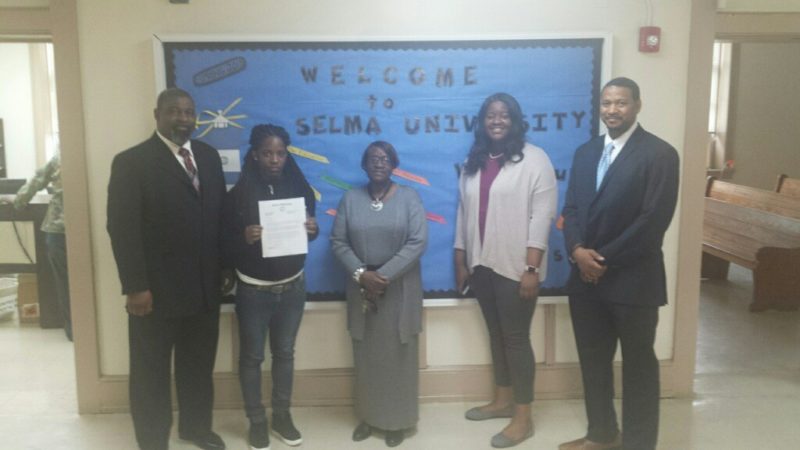 Day three included a tour of Tuskegee University in Tuskegee, then it was on to Selma. One student was accepted to Selma University during the visit and tour there! Our group spent the afternoon walking the Edmund Winston Pettus Bridge, the site of the day in 1965 known as Bloody Sunday, when voting rights marchers on the bridge were confronted by law enforcement; the bridge became a symbol of the momentous changes taking place in Alabama at the time. Thank you to student Miaa for the photo!
DAY TWO: MONTGOMERY
Day Two included tours of University of Alabama and Alabama State University, and a tour of the Equal Justice Initiative with PUSH Coalition. Big thank you to Upward Bound students Devin and Journee for sharing their photos!
Highlights: A student was admitted into Alabama State University! Also, we visited EJI: Equal Justice Initiative and learned about mass incarceration and its connection to the tragic past of African Americans. They also taught us about what they're doing to make a change. Their work was very inspiring to me, to become a leader of my community. – JOURNEE
DAY ONE: BIRMINGHAM
Day One included trips to the 16th Street Baptist Church and the Civil Rights Institute. Read about the experience from students Miaa and Journee.
Today, we went to the Birmingham's 16th street Baptist Church. This experience was very exciting and enlightening. It was nice to know that we were sitting in the same place as influential leaders in the civil rights movement. If it weren't for Birmingham's acts in during the civil rights movement, us kids today wouldn't have the Freedom we have. We also went to the Civil Rights Institute; we got to see the artifacts used when the Jim Crow Laws were around. There were also leaders brought to my knowledge I never heard about. Johnnie Carr was one of them, she played a big part in the Montgomery Bus Boycott in 1955. Today was very fun and I hope tomorrow is the same. – MIAA
Today was our first day in Alabama. We arrived in Birmingham around 5:45am. When we arrived, we had breakfast at McDonald's and had the chance to mingle with one another. Afterwards, we went to the hotel to bring in our luggage and headed straight to 16th Street to the historic 16th Street Baptist Church. This church is a historic landmark because this is where four young African American girls were killed because of a bombing by white Klu Klux Klan members. After taking several photos of the historic statues dedicated to the young girls, we enjoyed an amazing service at the church. The highlight moment / lesson we took away was to "eat well."We then traveled across the street to the Birmingham Civil Rights Institute Museum. This was the most memorable experience. We were able to do a self-guided tour around the museum into the different exhibits. Each exhibit focused on a milestone or obstacle that African Americans had to endure, during the civil Rights movement. My favorite part of the exhibits was being able to see my ancestors overcome such traumas and tribulations to pave the way for me and future generations. It has inspired me to become a better person and leader of my community for change.To end the day we had dinner at the infamous Mrs. B's. The food was great and the vibe of the place was very nice. – JOURNEE
THE SEND-OFF
We gathered at Rainbow PUSH Coalition to hear from Rev. Jesse Jackson and a panel of educators on the importance of education, and joined families in sending off the students.
After a group photo with Rev. Jackson, families joined in a rendition of "We Shall Overcome" while students began to board the buses.
ABOUT UPWARD BOUND
Upward Bound provides educational and supportive services to eligible first-generation, college-bound students to help them successfully complete high school and enter college. This partnership involves the U.S. Department of Education, Metropolitan Family Services Calumet, Corliss High School and Harlan High School.