Employee Recognition Awards honor outstanding Metropolitan staff
Congratulations to Metropolitan's Employee Recognition Award winners!
The five outstanding winners were selected through from a pool of employees nominated by their coworkers, in a process which included a record-high 114 nominations.
The award winners received the awards at our annual Employee Recognition Award Luncheon, which also recognizes staff who have completed 5, 10, 15, 20, 25, 30, and 35 years of service to Metropolitan.
View all our photos from the awards here.
We are pleased to announce the winners of the awards this year are as follows:
Award Winners
Michael Brady Award
The nominee demonstrates a one-of-a-kind ability to connect with their colleagues, encompassing spirit, passion for work, kindness, values, and the ability to bring out the best in everyone.
Presented by Pam Terrell, Executive Director of Metropolitan Southwest Chicago
Winner: Tiara Winston, Adult Protective Services, Midway Center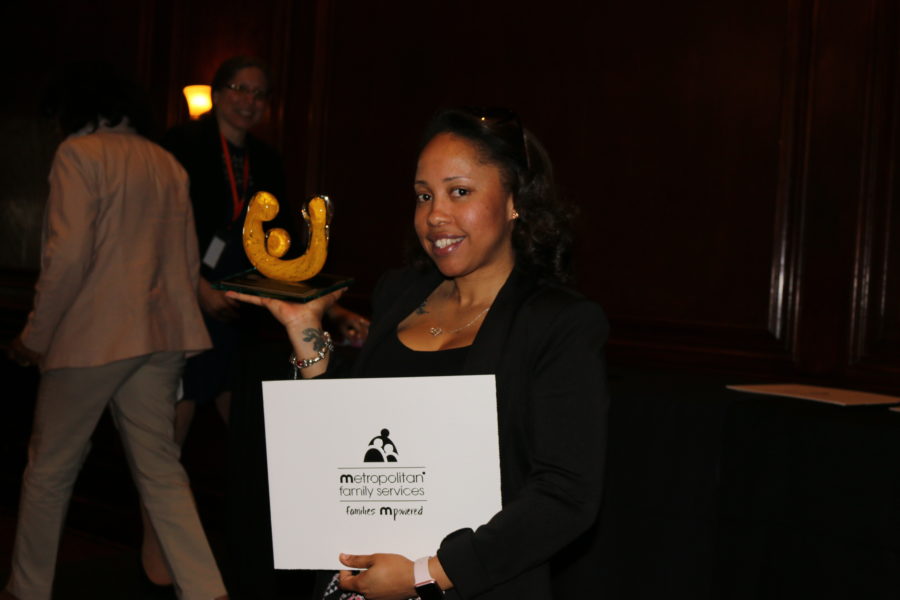 "Tiara Winston has a positive, can-do attitude. She actively seeks opportunities to learn and grow, both as an individual and as a professional. She seeks supervision and guidance, comes prepared with recommendations and is open to constructive criticism when attempting to overcome obstacles, program changes, and center involvement. Tiara goes beyond her day-to-day responsibilities by being an active member of center and agency-wide committees and workgroups. Her high energy and positivity is contagious and draws people to engage. She works well with everyone and demonstrates commitment and respect for her colleagues.
Tiara has been with the agency for about 12 years and is a true example of the agency's mission to provide and mobilize the services needed to strengthen families and communities, not only for the clients we serve through the Adult Protective Services program, but for her staff, her colleagues, and the community at large."
Fetzer Service to Clients Award
The nominee demonstrates excellence in a practice with an individual or group, which resulted in outstanding outcomes at client service levels.
Presented by Kelly Fetzer
Winner: Carol Crews, Senior Caregivers, DuPage Center
Carol Crews has strengthened relationships and shown dedication to expand and improve services. She is always willing to share tips and the work habits she embraces, to make her documentation timely and efficient, with the team and other co-workers. She is a lady of few words, but her actions speak louder than words.
Carol's work ethic and the work she does with seniors and their families is the epitome of empowerment; it is client-driven, with the goal of providing support, guidance and unconditional regard for the client's ability to live a life of quality and purpose, regardless of their circumstances. Carol truly cares about her clients and their families and it shows in their choices: the positive changes they make, the skills they learn, the activities they embrace, and their improved moods. Carol makes a difference in the lives of many seniors and their families in DuPage County."
Carol says, "Winning the Fetzer award is a great honor for me and gives me a sense of validation to the work I do at Metropolitan with seniors. It gives me a boost of motivation to keep providing services the way I do as well as working collaboratively with my team, other team coworkers and the community."
What does empowerment mean to you?
"Empowerment to me means having the trust and confidence of my team that I will provide best care practice and services to my clients and those in the community with whom I interact."
Fetzer Administrative Services Award
The nominee consistently serves our clients and/ or interacts with co-workers with patience and respect, with a firm and unwavering purpose, loyalty or resolve.
Presented by Kelly Fetzer
Winner: Lorena Sanchez, Healthy Families, North Center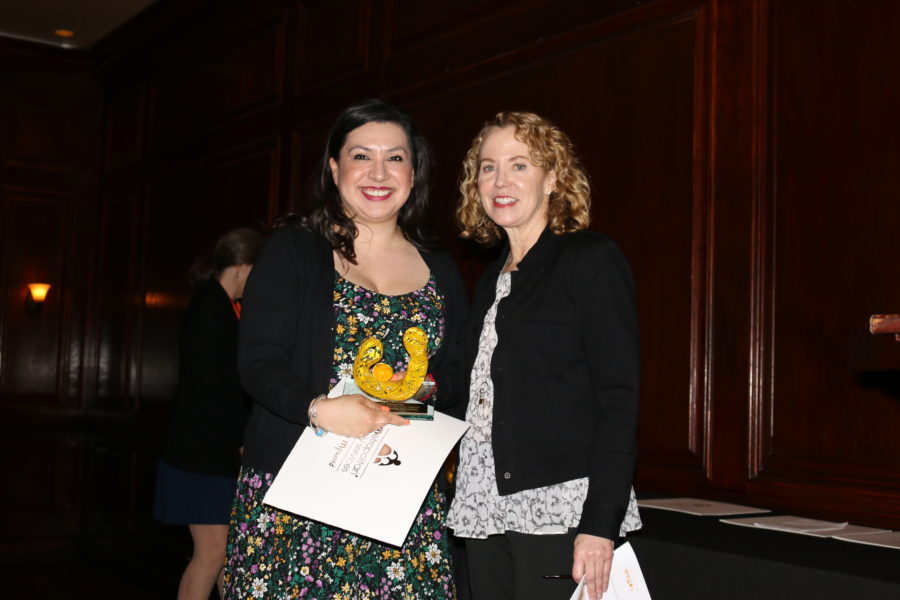 "Lorena Sanchez helped to relaunch Healthy Families in 2017 when the agency received funding to restart services on the North side.
Lorena's initiative, sound fiscal and programmatic decision-making and complete understanding of the program helped keep the program on track. Lorena has taken the initiative to go above and beyond her scope of duties.
Lorena strongly believes in and espouses the empowerment of families and staff. Her goal is to provide all the necessary resources that help families learn and thrive. She works hand in hand with direct service staff, ensuring families are treated with dignity and respect. She is constantly thinking of ways to improve the program and improve the overall experience of the staff she works with and supervises. Lorena is a classic example of making sure that she does her ultimate best for the betterment of all."
Juanita Lepe Support Services Award
The nominee demonstrates excellence in customer service, teamwork and improvements in his/her day-to-day operations; and/or implemented an improvement that substantially enhanced the ability to serve clients and carry out administrative duties of the agency, or contributed to increased productivity.
Presented by Rita Lopez Brosnan, Executive Director of Metropolitan DuPage
Winner: Aida Reynolds, Early Childhood Education, DuPage Center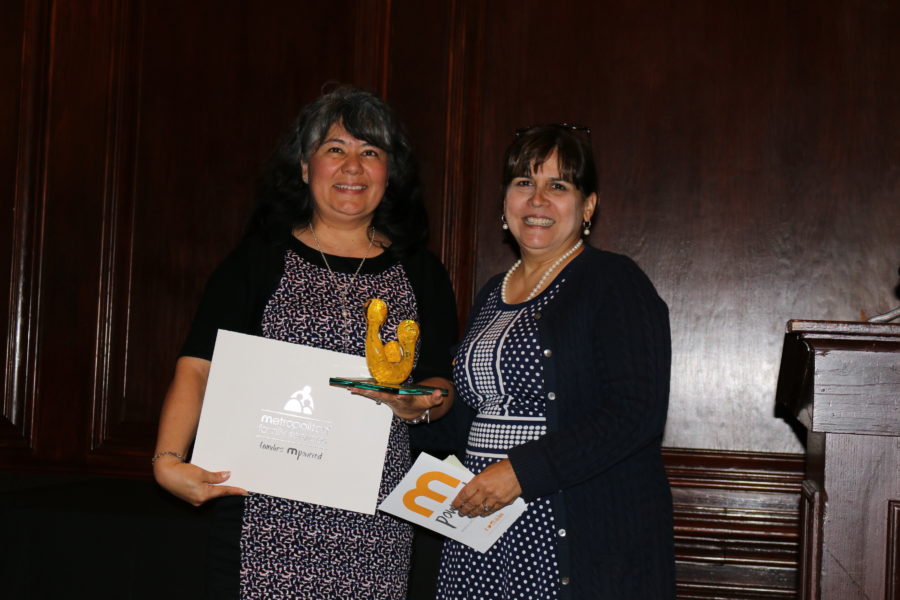 "Aida is a team player, responding quickly and efficiently to any request when asked. Aida is constantly striving to improve systems and save costs for our programs. No matter how busy and full her schedule, Aida is always extremely professional and has a friendly smile for all. Aida is detail-oriented and aims for perfection in every project she completes.
She takes time to teach and train staff on new systems in and easy to understand, professional manner. Aida also assists and empowers families to receive the services needed in a respectful, caring and efficient manner. Her coworkers admire her, and feel she is an excellent role model for the team."
Aida says, "I am flattered and appreciative of the recognition of my work and efforts. I am grateful that I get to work with people who help, by being understanding and respectful no matter the situation or circumstance of the people they are serving. These are important things that are in line with my own beliefs and values."
What does empowerment mean to you?
"Empowerment to me means giving someone the opportunity, guidance and the tools to help them achieve their goals and watching them become the best version of themselves."
Betty Williams Award for Community Efforts
The nominee demonstrates an above the call ofduty performance in dealing with his/her client population which resulted in improved service/systems, community networks or increased community empowerment.
Presented by Audrena Spence, Executive Director of Metropolitan Calumet
Winner: Bianca Clark, Altgeld Gardens/Jobs PLUS, Calumet Center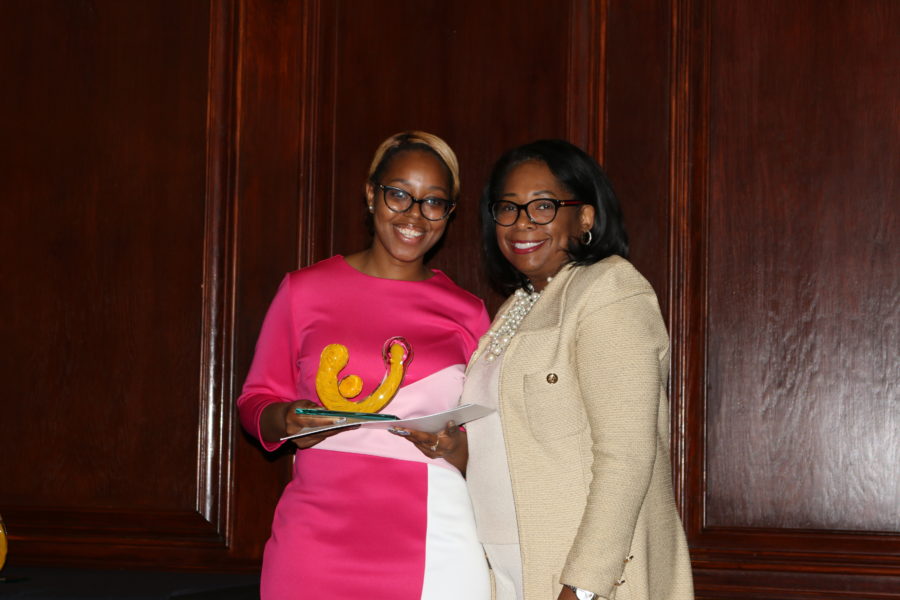 "Bianca Clark has a can-do attitude when it comes to developing our youth into the leaders of today and tomorrow. Because the workload is naturally heavy for supervisor, Ms. Bianca continues to exceed expectations by networking and collaborating with community partners to provide better opportunities and resources for our youth and the entire household.
She always has a positive uplifting attitude and encourages her team members. She has an open door policy at all times and many seek her out for guidance. She has improved outcomes in Altgeld Gardens and is empathetic to the needs of residents and those she serves. She encourages residents and their families and is attentive to the needs of the residents and their families. She strengthens relationships, and creates an atmosphere of trust with those she works with and serves."
Bianca says, "I would first like to thank my colleagues who nominated me for the Betty L William's Award. This was a very humbling experience. To be able to give back to the community and residents I serve is truly an honor. To be able to change lives is a blessing. Working with the youth and families in Altgeld Gardens has been a life changing experience, one that I will take with me forever."
What does empowerment mean to you?
"Empowerment to me is giving others a voice, providing support, power, tools and opportunities to become stronger, self-sufficient, and confident."
Congratulations to our five Employee Recognition Award winners, and to our Years of Service Award winners!