Domestic violence survivors "need an advocate now more than ever."
Metropolitan's Court Advocacy Program is finding creative ways to ensure their clients are still supported
Metropolitan's court advocates constantly rely on face-to-face interaction with and on behalf of domestic violence survivors – to provide information and support, to communicate with the Domestic Violence Courthouse on seeking orders of protection and/or the prosecution of their abusers, to build trust with someone going through traumatic experiences. Now that face-to-face interaction isn't possible while our court advocates work remotely, they're finding creative ways to ensure their clients still receive the support they need.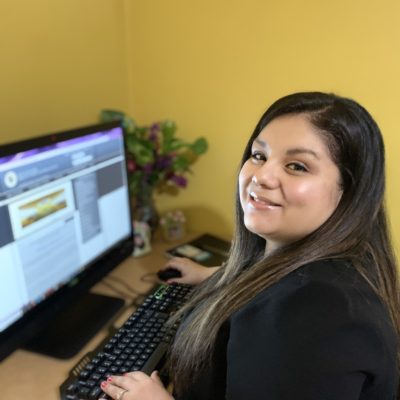 "It's important to find ways to continue to support our clients because they need an advocate now more than ever," shares Court Advocate Nancy Rodriguez.
Because of important client confidentiality guidelines, court advocates have significantly limited access to client files and case information as they work from home. Our advocates will ask clients to read from their orders of protection or send pictures to provide the relevant information.
Our court advocates don't have access to courthouse computer terminals with case status information, so when clients have questions about a criminal case, they need to connect clients directly with the State's Attorney's Office. This means providing not only the correct contact person, but also the context around what to ask and how to interpret the answers; often, Nancy and her fellow court advocates will connect clients via conference call, so they can all talk together. "This is also a creative way around needing a Release of Information, which is often difficult for clients to sign remotely," adds Nancy.
At the Domestic Violence Courthouse, court dates have been changed and Emergency Orders of Protection have been extended; an advocate can follow up with clients to provide them with the new court date and answer any questions about the extensions. Advocates can also provide clients with case information, check if a respondent has been served with an order of protection, check if a defendant is still in custody, and set up a victim notification service – all over the phone.
As both our court advocates and the courts adjust to this new normal, they're consistently adapting to find new ways for clients and advocates to work together remotely during this crisis.
Nancy shares an example of a recent experience, that will hopefully be further incorporated moving forward to better assist our clients:
"Yesterday I helped a client, who is currently pregnant and has other small children at home, to complete the Civil paperwork for an Emergency Order of Protection over the phone. I emailed the paperwork to the court clerks so they can process it, all while the client is safe at home with her children. The client's case was heard via video conference, and I was able to be with her throughout the entire process. The client was granted an Emergency Order of Protection."
As our court advocates and the clients they support adjust to these circumstances, Nancy shares that her work in helping people gives her hope. "What keeps me going is knowing I helped another human in these difficult times," she shares, "and did all I can to make sure that person and their family are safe."