YMCA: Families, Community Service Organizations Praise Mayor's Proposed 2016 Budget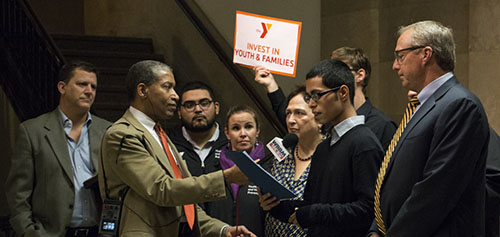 Despite difficult budget choices, Mayor Rahm Emanuel's proposed 2016 budget includes a continued investment in children and youth that will yield strong benefits for Chicago's communities, according to a diverse coalition of youth services organizations. Led by the YMCA of Metropolitan Chicago, the group highlighted the many youth services with continued and increased funding in the proposed 2016 Chicago budget.
"As nonprofit leaders, we understand how challenging it is to maintain mission focus when resources fall short. Like many of us, the Mayor has made some tough decisions, but he hasn't lost sight of the priorities important to our communities," said YMCA of Metro Chicago President and CEO Richard Malone. "This proposed 2016 budget reflects the need to continue to invest in our city's youth, and in programs that strengthen the health and future of our families."
The organizations pointed to Mayor Emanuel's more than $50 million investment in programs including:
Continued expansion of early learning and afterschool programs that will help offset devastating state cuts to child care, preschool, and afterschool assistance funding.
Summer jobs and mentorship for at-risk youth
More support for youth violence prevention
Expansion of YOUMedia digital learning initiative for diverse teen populations with the Chicago Public Library, the YMCA, and other organizations.
The number of families served demonstrates a meaningful impact in our communities. The investment in youth employment will translate into 25,000 summer jobs for youth who might otherwise spend these volatile months on the streets. Afterschool programs will be available for 27,000 students, maximizing their educational experience. Thousands more at-risk youth will be served through specially targeted initiatives such as the nationally recognized mentoring programs Becoming a Man (BAM) and Working on Womanhood (WOW), as well as the YMCA's Bridging the Divide, which fosters positive interactions between youth and Chicago Police officers.
"We appreciate that Mayor Emanuel has put forward a budget that prioritizes young people and their families," said Metropolitan Family Services Vice President of Strategy and Communications Andrew Wade. "Investing in youth and families is a powerful statement about what matters for our city and our state."
The groups also expressed appreciation for the City's Aldermen who are supporting youth programs as part of the proposed 2016 budget.
Coalition organizations include:
Boys & Girls Club of Chicago
Casa Central
Erie Neighborhood House
Metropolitan Family Services
The Kitchen Community (learning gardens)
YMCA of Metro Chicago