Volunteer superheroes: Debbie and her family in Blue Island step up to make protective masks for home visitors
As our Southwest Chicago Center's Blue Island Robbins Neighborhood Network works with the Blue Cap (Blue Island Citizens for Persons with Developmental Disabilities) Food Pantry, staff and volunteers have been going above and beyond to ensure our community residents receive the food they need.
"We have many people who are depending on the food pantries for food," says Kentric Benson, Neighborhood Network Program Coordinator. "We work exclusively with Blue Cap Food Pantry to try to get as much healthy food to our residents as possible."
In these times, getting that food to the Southwest Chicago communities means transitioning to rely more heavily on home visits, which can mean our home visitors putting their own health at risk.
One volunteer, Debbie, saw a need to equip home visitors with protective masks, as there are none to be purchased in the area. So, she started making them herself, using a pattern she found online and the elastic from scrunchies her kids donated to the effort.
Getting her kids involved in helping others during this crisis, Debbie set up a production line with freshly-laundered materials, and they have been so helpful that BIRNN is connecting them with others in need throughout the community.
"In these scary times with so many unknowns it is important that we come together and serve in whatever capacity that we are able to," says Debbie.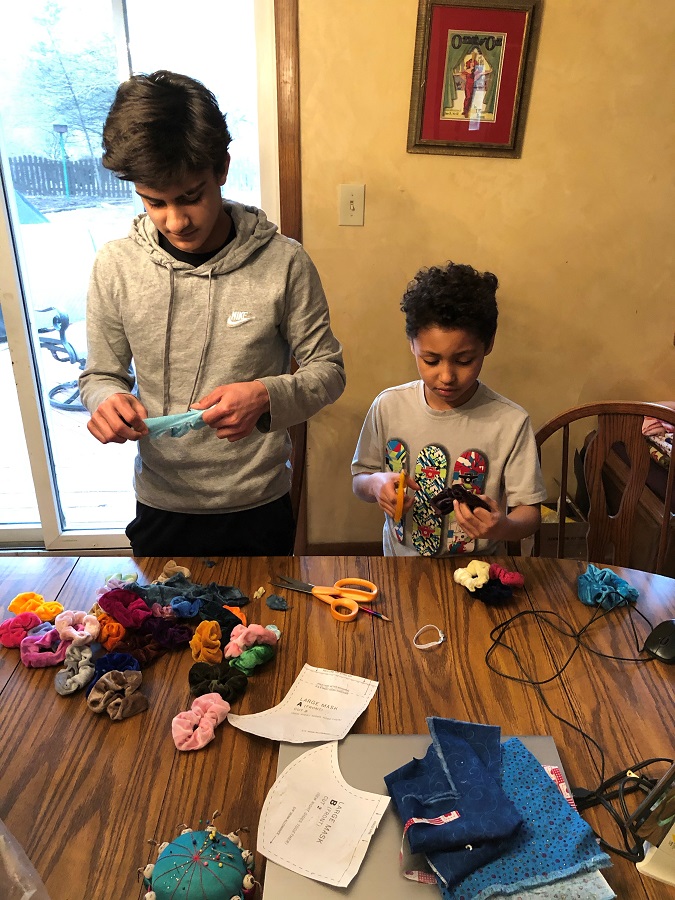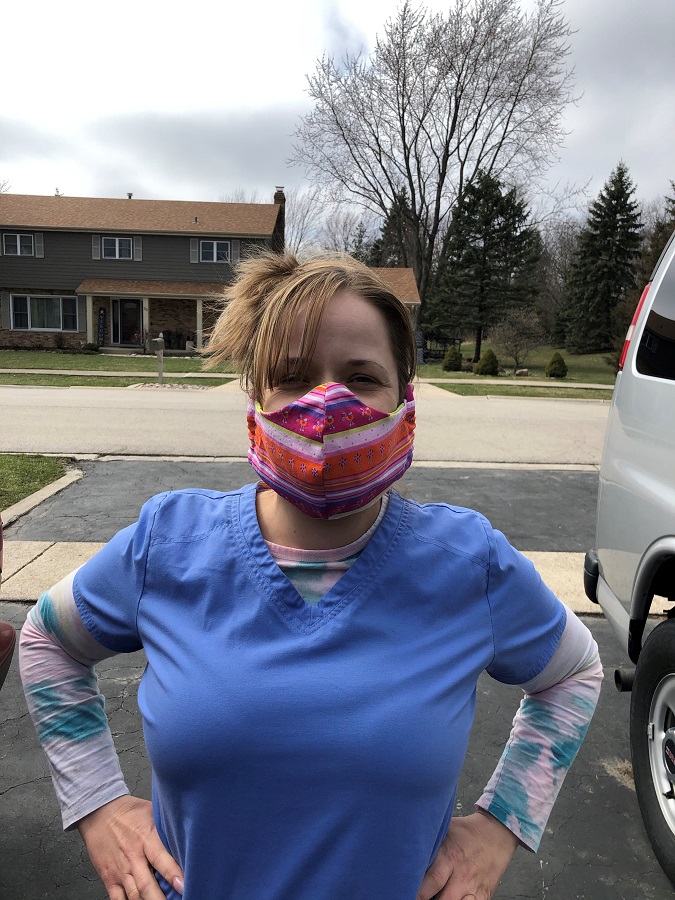 Hear from Debbie about the project's impact, in her own words:
How did you get the idea to make masks for the Blue Cap volunteers?
My mom received a video in her email and asked the facility that my dad did physical therapy at, if they would like some masks, and they said yes, is how the whole thing started.  My daughter is a home health worker and asked me to make a few masks for her, so I made her a few.  When I saw Kentric's email asking for donations, I did not see anyone responding that they had the equipment needed so I reached out and offered to make some for them, if they would like.
How did it come together – how are you making the masks and getting them to the volunteers?  Being a crafter, I have a lot of materials at home that just need something to be done with them. I have four children at home and wanted them to be involved with helping others in our community during this crisis. We laundered the material, cut up the fabric using a pattern that was online, and we set up a production line for sewing. We didn't have too much elastic at home, so my kids donated their scrunchies and cut them open and we re-purposed the elastics in them. My daughter said the ones that I made her with hair ties were the perfect size. We hope they will fit the people who have to use them.
What has the response been like?
Pat [Thies, Executive Director of Blue Cap] was very happy to know that we were working on making some gear for her people.  The Neighborhood Network is also connecting us with others in our community who are in need of masks.
Why do you think it's important to support our community now more than ever?
In these scary times with so many unknowns it is important that we come together and serve in whatever capacity that we are able to. You hear so many negative stories on the news, and we need to let people know that there are positive things going on as well. Many people are not connected with a support group either through their church or family and we need to keep an eye out for those unconnected people in whatever way we can. As former foster parents and Christians, we believe it is important to serve others at all times, but particularly in times of need.
What gives you hope as we all navigate this new reality?
This is a new time and I know for myself, it has given us as a family time to slow down, not be so "busy" and to reconnect with each other. I have heard the same thing from many of my friends. It is serving to drive home the core values, God, Family, and Community. I feel like many people will realize that as a society for many of us, our priorities have been pushed aside in the pursuit of careers and financial prosperity. In the end the most important things are family, and raising the next generation of servants. We thank Metropolitan Family Services for the work they are doing and for allowing us the opportunity to serve the servants.