The DuPage League, longtime supporters of Metropolitan DuPage, host annual Jingle & Mingle event
The DuPage Family Service League, a group of women whose support of our DuPage Center spans decades, hosted its annual "Jingle and Mingle" Holiday Dinner & Auction to benefit Metropolitan DuPage recently at the Red Oak Room at Cantigny Golf Club.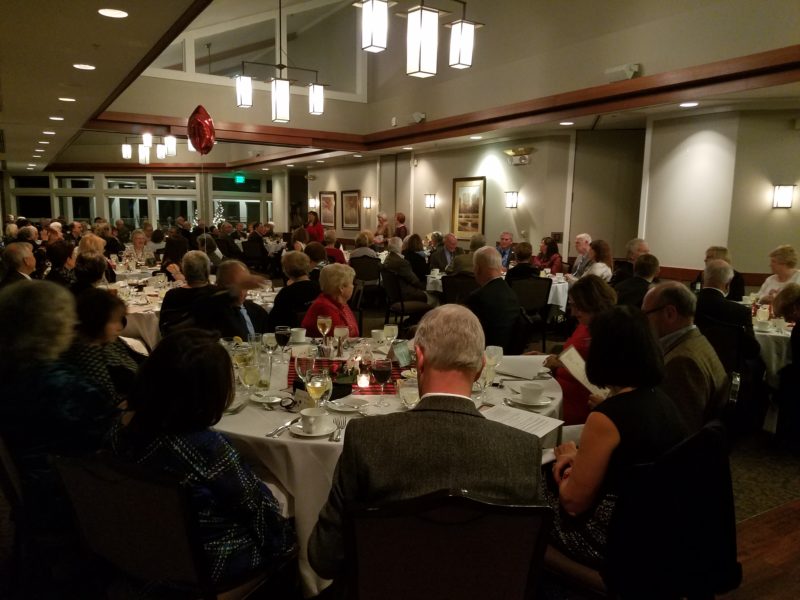 Organized in 1964 and known as the DuPage League, the group includes more than 100 women from across the county. In addition to Jingle and Mingle, its main fundraiser, the League hosts meetings, programs, and events throughout the year in support of Metropolitan DuPage, including volunteering at our Treasure House resale shop.
"It never ceases to amaze me when asked how many people will step up to help the people & families of DuPage County," says Mary Ann Carignan, DuPage League Secretary and Mingle and Jingle Event Chair. "For myself to take part in an annual fundraiser so this good work can continue, humbles me & makes me truly blessed to take part in helping so many & have a wonderful time doing it!"
In sharing accomplishments across Metropolitan DuPage from this year and looking forward to next, Executive Director Rita Lopez Brosnan highlighted the community partnerships that make the Center unique. From Behavioral Health and our work with Family Shelter Service, Catholic Charities, and Bridge Communities, to Early Learning and exciting collaborations with school districts in Addison, Bensenville, Wheaton Warrenville and Marquardt, community connections enhance our ability to serve children and families throughout all 33 DuPage County communities.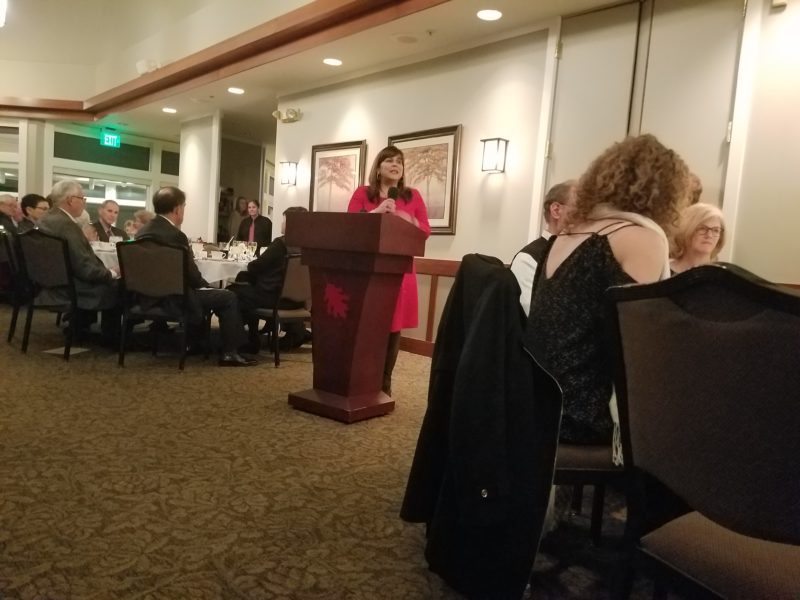 The DuPage Board Chair Bill Jenrich and Board Members Pat Alstrin, Mike Skarr, Maryellen Klang, Jim Carter, Sara Clark, Sharon D'Alessandro, Beth Johnson, and Leslie Wilson were among the 100 supporters who attended in support of the DuPage League. Metropolitan DuPage staff members Allison Griffin and Reenie and Steve Meyer also attended. Retired Metropolitan staff member Pat Mathis came back to share great memories with the League.
Mary Jane Banta, DuPage League Treasurer, shared why she believes this event is a win-win situation: "Our community benefits by all the good work and programs that Metropolitan DuPage provides. I think the volunteers benefit as well because we not only gain a sense of satisfaction and community spirit, but we develop true friendships and get to work with and know an amazing group of women. Win, win."
"So many worked diligently, under Mary Ann Carignan's leadership, to make our Dinner/Auction the success it was," added DuPage League Co-President Jocelyne Raahauge. "It was so gratifying to see the fruits of our labor and know that we can contribute to Metropolitan DuPage's mission."
The DuPage League welcomed everyone with over 95 silent auction items and a 50/50 raffle that generated $2,500 with two winners including Charles McKenna, a previous recipient of the Roger K. Johnson Leadership Award given at our annual DuPage Gala, who donated his winnings back to Metropolitan DuPage.
Thank you to all who contributed to the event's success in supporting Metropolitan DuPage and getting everyone in the holiday spirit!
Special thanks go to the DuPage League for its hard work on behalf of Metropolitan DuPage. Judy Nahumyk, DuPage League Co-President, shares, "How blessed we are to have so many members of the DuPage League who are willing to give of their time and talents to make our annual Holiday Dinner & Auction a success in raising money to help our neighbors in need."
Event Chair: Mary Ann Carignan
Auction Committee Chairs: Ester Bryan, Sandy Shepard, Joan Skodol, Sharon Chipman, Mary Jane Banta
50/50 raffle: Sharon Chipman, Marilyn Karim
Invitations: Joan Skodol
Centerpieces: Sandy Shepard
Solicitations/Donations: Joan Skodol, Maureen Bellock, Judy Nahumyk, Jocelyne Raahauge, Anne Samsami, CeCe Higgins, Barbara DiGuido, Leslie Kretchmar
Floral/Plant Arrangements: Linda Malecki
Table assignments and place cards: Marilyn Lesak
Bid Sheets and Program: Mary Perona
Registration and checkout: Mary Jane Banta, Mary Perona, Mary Ann Carignan, Sandy Shepard