Miracle on 103rd Street event highlights Metropolitan Calumet
On Thursday June 14th, the Metropolitan Family Services Calumet Center celebrated its "Miracle on 103rd Street" Investment Appeal.
With over 100 people in attendance, Investment Appeal Co-Chairs Eric Thompson of Pullman Bank and Trust, Jorge Farr Aguilar of Antek Madison Plastics USA, London Rakestraw of SCR Medical Transportation, and Derrick Taylor of BMOA recognized the Center's investors that donated more than $38,000 to Roseland Area programming.
Executive Director Audrena Spence provided a "State of Miracle on 103rd Street" and program highlights for the community, sharing how more than 9,803 families were served.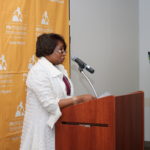 She introduced youth that benefited directly from the programs; Journee spoke about the power of Upward Bound, while Tatayana shared the impact of Youth Build USA.
Mrs. Spence also thanked Board of Director Co-Chair Lendell Edwards, of Edward Fashions, and Rudy Larkin, Rosemoor Community Resident, as well as Vice Chair Jennie Betton. Then the Center was open to community for a tour of Metropolitan's dynamic programs.
Board Member Dr. Ollie Knight of Knight Educational Consultants raved about the food from local business leaders, Exquisite Catering and Events and Laine's Bake Shop. Board Vice Chair Jennie Betton was thrilled that Dr. Pepper Snapple Group donated the beverages to share with the community. Rodney Gipson Music provided the welcoming jazz entertainment.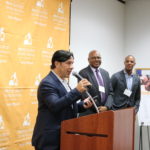 London Rakestraw thanked VIP Event Sponsor Pullman Bank & Trust. He also recognized veteran Board Members Ms. Bettye Baker Houston and Ruby Larkin for their 37 years    of dedicated service. Ms. Bettye Baker Houston thanked community leaders and guests from as far away as Milwaukee, Wisconsin and even South Africa.