Metropolitan celebrates our Young Fathers at the program's annual awards banquet
At its recent Awards Banquet, the Gerst Family Young Fathers Program celebrated the achievements of all the dads in the program. Metropolitan board members and program benefactors Gary and Graham Gerst joined program staff Doug Brown, Nathan Wright, and Edgar Barba; partners, including Power of Fathers Director Ed Davies; and alumni of the Young Fathers program for a dinner and awards ceremony at the South Shore Cultural Center.
Ivan did more than show up every day for the Young Fathers sessions. He picked up two other participants at Haymarket Center (an addiction treatment center) and brought them with him, to ensure they made it to each day's session.
Hector needed to find a job in order to help his family, and saw the way to do that was to surround himself with like-minded people with a positive mindset. He's now employed full-time and active with his church, and most importantly, helping his family.
Justin was skeptical of the Young Fathers program at first, but wanted to do everything he could to get back into the life of his daughter and land on his feet. He judged himself harshly, but as he learned the importance of being there for her, his frame of mind changed.
The men in the Gerst Family Young Fathers Program all have stories similar to those of Ivan, Hector, and Justin. The places they came from – homelessness, treatment centers, incarceration, unemployment, self-doubt – are less important than the places they are now, and the work they put in to get here.
"I've been a part of the problem for a lot of years in the city," Ivan says, "and I just want to give back as much as possible to try to help our kids out, and anybody else out there, because I love this city."
Accepting his Unsung Hero award, Ivan shared:  "This program gave me a hand up and not a handout. They demonstrated the proper tools in order for me to become the man I am today."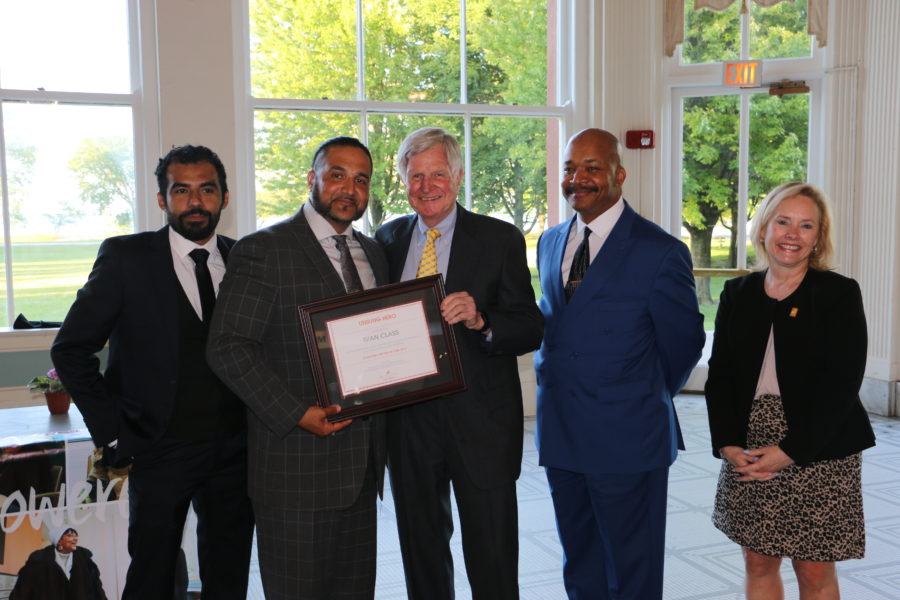 Hector, the Stepfather of the Year Award winner, spoke about the importance of his past in improving his future. "I try to lead by example in order to demonstrate to my children what it means to be a good man," he shared. "I have made some mistakes in my life, and been in places that people shouldn't be. But I am thankful for being put in those places, because if I hadn't experienced what I did, then I wouldn't be the man I am today."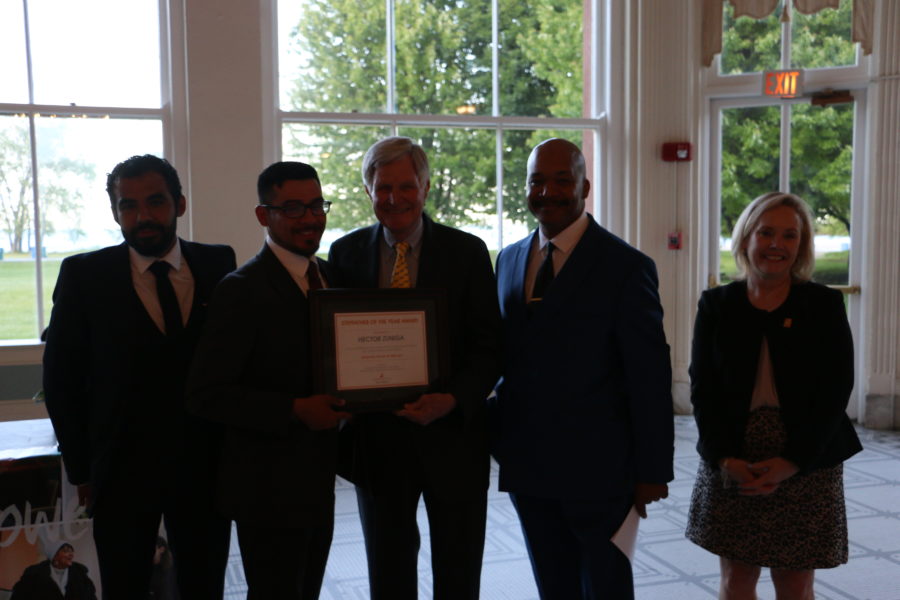 Justin went from skepticism about the program to accepting the Father of the Year award. "I had done job readiness programs, day labor, temp agencies, but none of these efforts put me a position to earn enough to support myself, let alone my child," he said. "The Gerst Family Young Fathers Program prepared me for a career-level position and helped me learn to be a better father and understand the true needs of my child."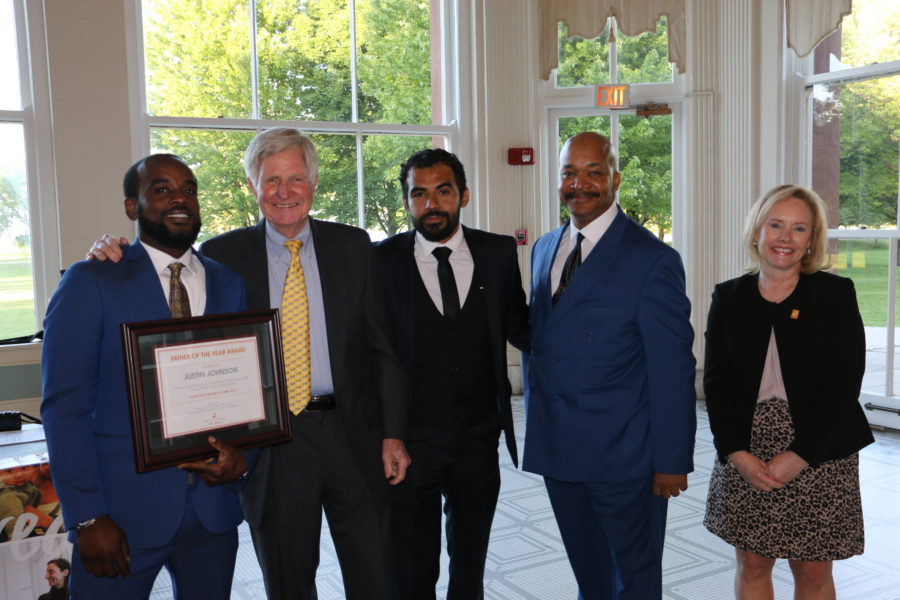 Each award winner received a $1k scholarship for his children's college fund, thanks to the Gerst family. Southeast Chicago Community Board member Xavier Thompson works with the program to set up the scholarship accounts through his employer, US Bank.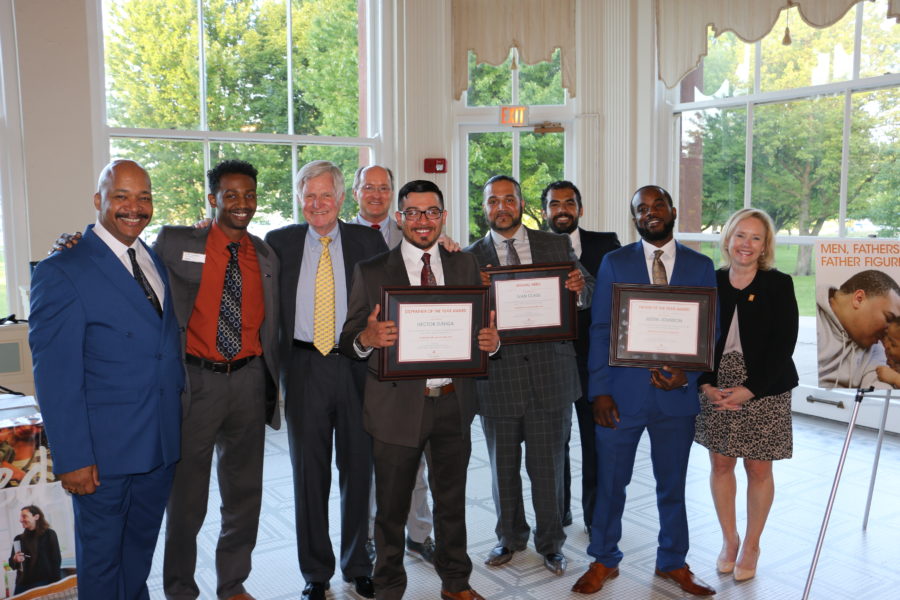 The Young Fathers program supports dads through a two-week session; one week for parenting education, one week for job readiness training. The dads receive haircuts and new suits, linkage to health insurance, bank accounts, even job interviews. They're encouraged to actively nurture and financially support their children, and given the tools to do so.
Another honoree during the Awards Banquet, Marcus Gill, exemplifies this aspect of the Young Fathers program. Marcus, as the owner of Dust Em Clean Maintenance Company, Inc., has hired three of the program's dads and consistently participates in the program's hiring events.
"Mr. Gill is a true community activist and example of what it means to pay it forward," said Nathan as he presented Marcus with one of the evening's Community Partner Awards.
Marcus shared his own message of encouragement with the dads, stressing the importance of education and hard work. "It's a relentless pursuit for what you guys have got to do," he said. "It's non-stop work, and ongoing work. But always know that you are unstoppable."
To close out the evening, Gary Gerst spoke about his family's involvement with the Young Fathers program, speaking about its impact on not only the fathers, but also the mothers and, most importantly, the children.
"I never really thought about being a father until I was one," he shared. "It's made a great deal of difference to me. It gave my life meaning that wasn't there before." He spoke about seeing his own son – Graham, who also attended the banquet – as a father. "Being a father is something extremely important to me, and it's the reason why I chose this program of all the programs that Metropolitan has to support."
Gary joked that his family had been thanked more than they deserve by the evening's speakers, but the influence of the Young Fathers program is clear in the words and transformed lives of the dads who benefit.
"Stay strong, watch out for your kids, stay in their lives," Justin said. "Be a good role model – be a good positive role model, not only to your kids, but to the world out there."