Legislative wins for our Mpowered families
At the close of the spring legislative session, our Advocacy Task Force is celebrating the passage of several of its legislative priorities that will expand access to behavioral health, substance use and domestic violence services as well as strengthen the human services workforce.
We're pleased to share the following priorities for Metropolitan and the families we empower passed the Illinois General Assembly this session: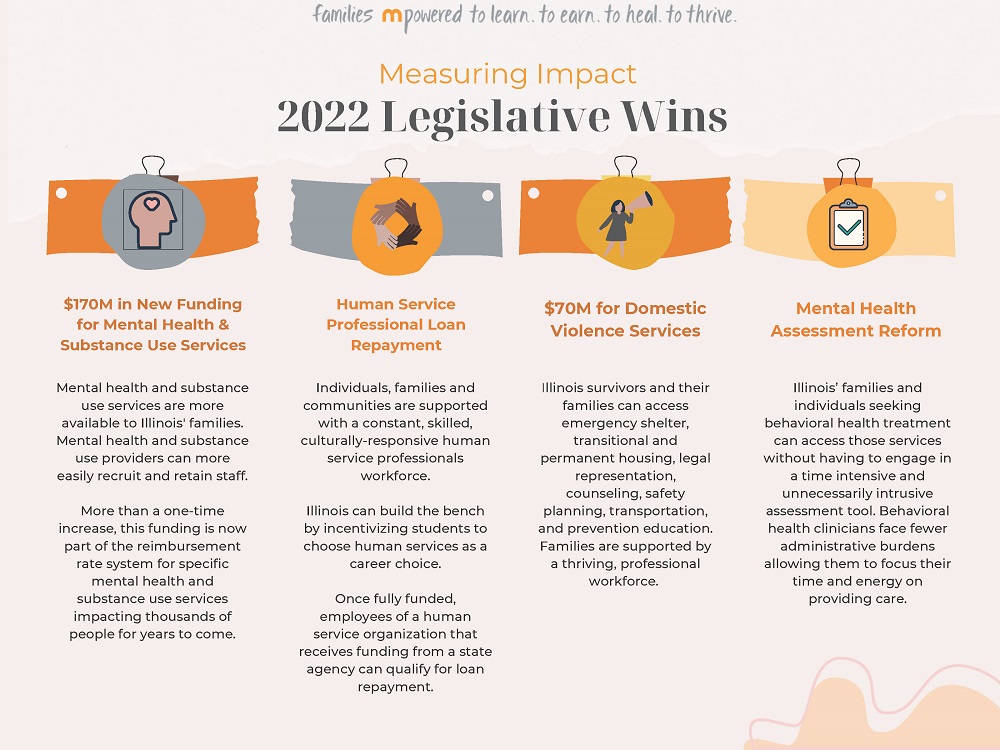 Learn more about each of these legislative wins:
$170 Million in New Permanent Funding for Mental Health and Substance Use Services
This year's budget includes Medicaid rate enhancements for mental health and substance use services. This legislation will modernize Medicaid funding in Illinois, drive down waitlists, and allow community mental health service providers like Metropolitan to retain and recruit staff.
SB3935, incorporated into the final FY23 state budget, creates a $170 million infusion in new funding, 60% of which is paid with federal Medicaid dollars. Rate add-on and directed payments will have an immediate impact on the provision of individual therapy, case management, community support individual services, assertive community treatment services, and community support team services. What's more, this funding is now part of the reimbursement rate system for these specific services ensuring this is more than a one-time rate increase.
Metropolitan worked with the Rebuild Illinois' Mental Health Workforce Coalition, including partners Community Behavioral Health Association and Thresholds in generating support for this legislation.
We would also like to thank House Majority Leader Greg Harris and Senator Elgie Sims for championing the rate increase along with countless other legislators who understand the value of behavioral health services for their constituents.
This measure will impact thousands of individuals and families for years to come!
$70 Million in Funding for Domestic Violence Services
Originally slated for what amounted to a $7,000 increase for domestic violence providers across the state, the Domestic Violence general revenue line was finalized at $70,910,100. This is the first significant increase in domestic violence funding in Illinois since 2009!
Working closely with the Illinois Coalition Against Domestic Violence and other advocates, Metropolitan advocated for this increased funding to ensure Illinois survivors can access emergency shelter, transitional housing, legal representation, counseling, safety planning, transportation and prevention education. Additionally, providers like Metropolitan are better able to support its professional workforce to ensure the continuity and availability of these services.
Metropolitan sends an enormous thank you to all who raised their voices in support.
We are grateful for the leadership of Majority Leader Greg Harris in shaping a state budget that invests in the lives of survivors.
Advocacy from the Women's Caucus and the Illinois Department of Human Services (IDHS) Secretary Hou in making sure services are move available across the state for the foreseeable future.
Mental Health Assessment Reform
Illinois' families and individuals seeking behavioral health treatment can now access those services without having to engage in a time intensive and unnecessarily intrusive assessment tool.
The Department of Healthcare and Family Services released new guidance for Community Mental Health Center behavioral health professionals in the use of the IMCANS assessment tool. This guidance provides clarity as to the information that must be completed on the assessment before engaging in therapeutic treatment so that individuals and clinicians can work towards identified treatment goals more quickly than before.
This alleviates some of the significant administrative burdens placed on behavioral health staff working at Community Mental Health Centers allowing them to focus their time and energy on providing care and reducing waitlists.
Thanks to the advocacy and dedication of Metropolitan's behavioral health workforce, legislators were educated on the details and limitations of the assessment process and became advocates for change.
Thank you to Representatives Gabel, Conroy, and LaPointe and Senators Feigenholtz and Fine for their support.
Metropolitan also thanks Thresholds and the Healthy Minds Healthy Lives Coalition for their leadership in generating impact and the Illinois Department of Healthcare and Family Services, led by Secretary Eagleson, for responding with new guidance.
Human Service Professional Loan Repayment Program
Metropolitan knows its greatest resource is its talented workforce. Recognizing many staff have taken out significant debt to pursue their mission and obtain the education needed to be the accomplished human service professionals they are, Metropolitan joined Illinois Partners for Human Service and Illinois Collaboration on Youth in advancing the Human Service Professional Loan Repayment Program.
Once fully funded, human service professionals employed by a human service organization that receives funding from a state agency can qualify for loan repayment under the provisions of SB3925. Illinois can build its bench by incentivizing students to choose human services as a career choice.
Most importantly, individuals, families, and communities are supported with a constant, skilled, and culturally responsive human service professional workforce.
Senator Fine and Representative Robinson, Jr. shepherded the legislation through final passage.
They secured the support of many other legislators, including Senators Villanueva and Hunter and Representatives Costa-Howard, Buckner, Conroy, Hernandez, Mussman, and Harper in recognizing the value and importance of the human services workforce.