Hour of Power at Metropolitan Calumet raises awareness for domestic violence and breast cancer
Our Calumet Center community got in step for an Hour of Power! Partnering with the Far South Chicago Coalition, we gathered at Gately Park Indoor Track and Field for this important event to raise awareness about domestic violence and breast cancer, and provide a forum to discuss these topics.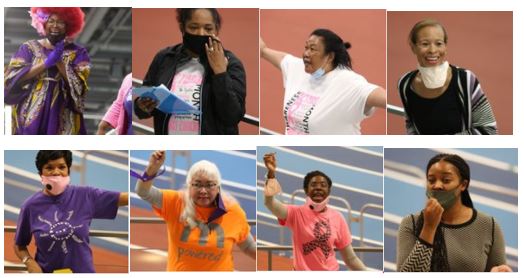 Staff, families, and community members walked the Gately track, in unison, to show our support for both of these crises.
Several speakers shared their personal stories and discussed the impact on our community, including members of the our Domestic Violence and Clinical Staff, and breast cancer and domestic violence thrivers (not just survivors).
During a heartwarming pinning ceremony, called "My Sister's Keeper," each attendee pinned themselves with a pink and purple ribbon. The pink ribbon is a symbol of hope for the future for those affected by breast cancer, and represents the charitable goodness of people and businesses who publicly support the breast cancer movement. The purple ribbon is a symbol of hope for those affected by domestic violence, and lets those affected know someone cares about them and wants to help end domestic violence.
Additionally, resource information and reference material were available for distribution.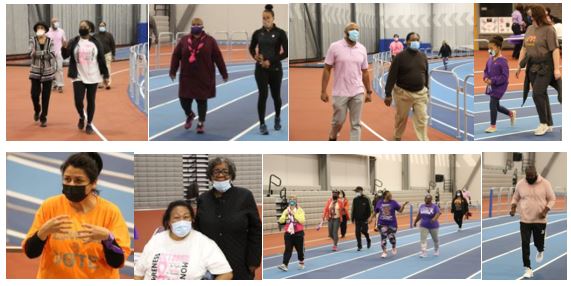 Collaboration from our Far South Chicago Coalition members and community partners helped Mpower this event! Thank you to all who participated and volunteered, including Rosemoor Community Association, Blue Door, and Phalanx Family Services. Their support came in various forms – joining us in person, participating virtually, providing resources – but we felt their kindness, generosity, and hard work all the same.
Together our steps were LOUD. Together our steps were EMPOWERING. Together our steps COUNTED.