Good News: March 2, 2018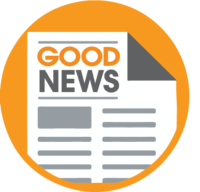 Welcome to Good News! In this space we feature positive stories of community impact and development, relevant to the areas Metropolitan serves or the programs we offer.
Happy Women's History Month! 10 Photos Of Powerful Woke Women
Chicago Defender
The community organizers, online influencers, educators, and lawyers on this list have one thing in common: activism.
A Symbol of Hope
Lawndale News
The Eternal Flame of Hope, a permanent, 30-foot monument celebrating the 50th Special Olympics, will serve as a symbol of inclusion and will honor the spirit and determination of children and adults with intellectual disabilities.
Taft principal making good on promise to usher in new era
Chicago Sun-Times
The principal of Taft High School near Metropolitan's North Center has worked to improve the school's "less-than-stellar reputation" by tackling major challenges to change the school's culture, a key aspect of which was engaging with students in a respectful way.
Immigration judge grants asylum to Honduran teen-activist who fled gang violence at 13
Chicago Tribune
Against the odds, a teen who sought asylum in the United States is now on the path to becoming a citizen. The judge told Urbina-Contreras she was a "heck of a determined young lady."