Good News: June 1, 2018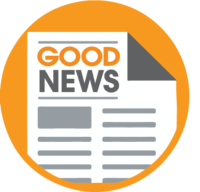 Welcome to Good News! In this space we feature positive stories of community impact and development, relevant to the areas Metropolitan serves or the programs we offer.
Midlothian library to offer free lunches for all kids
Daily Southtown
The Midlothian Public Library long has provided its patrons with food for thought, but now it has signed on to a Greater Chicago Food Depository program that will enable it to provide area children with sustenance for their bodies as well.
CPS high schoolers to learn investing, saving for retirement in new course
Chicago Sun-Times
High school juniors in the Chicago Public Schools will get a crash course in personal investing starting next fall thanks to a $1.5 million donation from Citadel. "It's good to learn about stuff that's going to happen in the real world, so it doesn't just explode in your face later when you don't know what's going on," said one of the students who has been through the course.
Skokie 7th grader wins national prize for designing space station for travel to Mars
Skokie Review
"Here were these seventh graders just awed. They were so excited for her but also inspired — like they could do something like this, too." – the teacher of a Skokie student who won the won the national Discovery Education Lockheed-Martin Beyond Challenge.