Gardening Group at our Southeast Chicago Center offers health & wellness benefits, develops skills
For two hours each week, clients and staff at Metropolitan's Southeast Chicago Center garden together.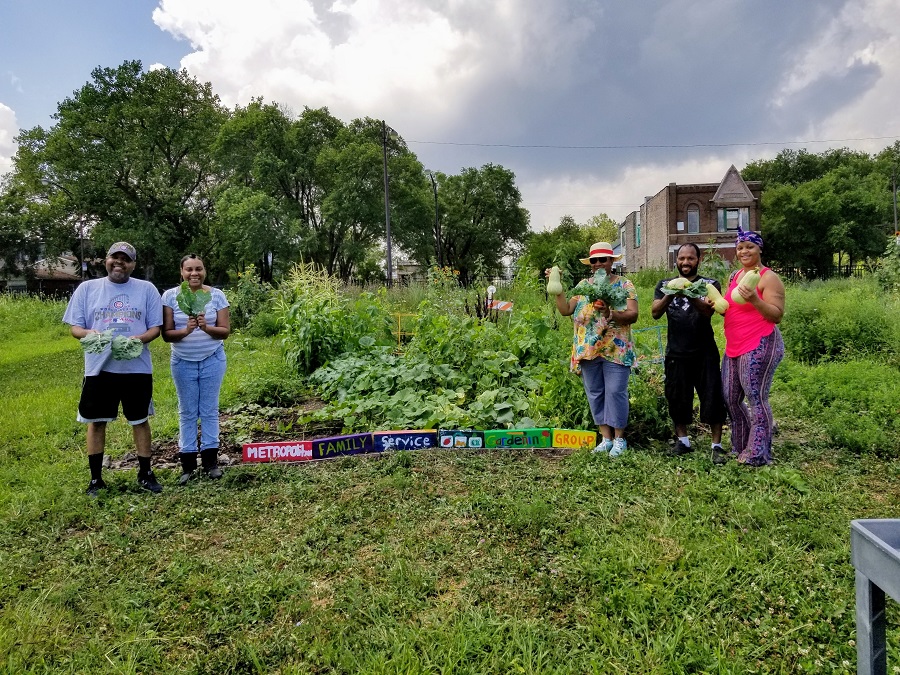 The "Grow Where You're Planted" program, or Garden Group, began four years ago, and has been expanding as gardening and food growing for health and wellbeing gain in popularity.
"I get happy when Wednesday comes along because garden group is coming" says Tameka, one of our Garden Group members.
At the start of each spring, group members are busy preparing cool crop seeds for transplanting into a plotted area. Once the plants begin to take shape and grow, the group members transplant them into the ground they've tilled ahead of time. Throughout the summer months, group members continue caring for the garden to ensure the vegetables, herbs, fruit and flowers grow to their capacity.
Adult Mental Health Program staff Rosa King, LCPC, and Rushini Jayawardena, LSW, facilitate the group, which runs from March through September and this year includes fifteen people.
Carolyn shares, "the Garden Group relieves me and clears my head of thoughts I should not even consider."
"There are many benefits to gardening, as our clients are learning," says Adult Mental Health Program Supervisor Ralph Pollaro. Developing both hard and soft skills, gardening decreases stress, provides physical exercise and exposure to Vitamin D, develops eye-hand coordination and team-building skills, and improves communication and coping skills as well as overall mood. It also offers gratification, Ralph notes, because clients are growing something; they can see how their fresh organic vegetables grow.
"What I learn from gardening is not to give up and keep going even if it don't look right," says Tania. 
Besides the health and wellness benefits of gardening, Ralph says, clients are learning. The group teaches about different seeds, cool and warm crops, zoning and climate, gardening terminology, transplanting, companion planting, and journaling to track progress, as well as harvesting, maintaining and nurturing.
"I learned about companion planting, when to harvest the veggies at the right time, learned when to transplant certain veggies or not and how to maintain a gardening plot," says Cheryl.
The Garden Group evolved from a single container garden. At that time, staff worked in collaboration with a local church. Another container garden, this time in the Southeast Chicago Center's back parking lot, followed.  The group outgrew that container the next year, and began ground planting in a small plot at the Center.
This year, the group learned of the Urban Growers Collective, a community garden on the Southeast Side. As since Metropolitan services many individuals with limited income, Urban Growers Collective offered our Garden Group three 10×10 plots at a discount.
Did You Know?
To improve mental health, for people with acute or persistent mental health problems, or especially difficult personal circumstances, regular involvement in gardening or communing food-growing projects, or formal horticultural therapy, can:
Contribute to improved social interactions and community cohesion.
Reduce the occurrence of episodes of stress, and the severity of stress and associated depression.
Reduce reliance on medication, self-harming behavior, and visits to psychiatric services, whilst also improving alertness, cognitive abilities and social skills.
Alleviate symptoms of dementia and alzheimer's disease, such as agitation and aggressive behavior, which can in turn improve circumstances for careers.
Provide productive manual activity and beneficial social interaction for people tracking drug and alcohol dependency.
Help people manage the distress associated with mentally challenging circumstances, such as making the end of life more peaceful, sociable and enjoyable for hospice patients.
Davies, G., Devereauz, M., Lennastsson, M., Schmultz, U. and Williams, S. (2014) Garden Organic and Sustain.