Congratulations to Metropolitan's Employee Recognition Award winners!
Metropolitan recently honored our employees across programs and centers at the annual Employee Award Luncheon. Through a nominations process, we selected the winners of our five awards, in addition to recognizing staff for their years of service to Metropolitan at 5, 10, 15, 20, 25, 30, and 35 years.
View a slide show below, and read on to meet our award winners!
Board of Directors chair Michael Vardas and Metropolitan CEO Ric Estrada welcomed guests, followed by remarks from COO Theresa Nihill. Kelly Fetzer presented her family's Fetzer Awards for administrative and direct service.
Congratulations to all our awardees and nominees, as well as our Service Award recipients, for your hard work on behalf of Metropolitan Family Services! Your inspiring efforts empower our entire agency to provide the best possible service to children and families across Chicagoland.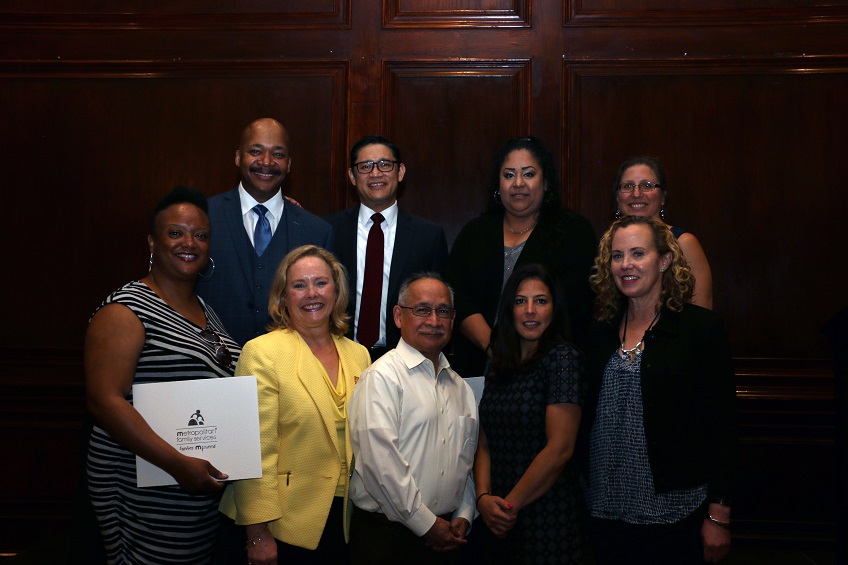 (Top row, left to right: Nathan Wright, Ric Estrada, Sandra Avitia, Vikki Rompala; Bottom row: Leslie Chestnut, Theresa Nihill, Benito Garcia, Nikki Cameron, Kelly Fetzer)
Michael Brady Collegial Support Award
The nominee demonstrates a one-of-a-kind ability to connect with their colleagues, encompassing spirit, passion for work, kindness, values, and the ability to bring out the best in everyone.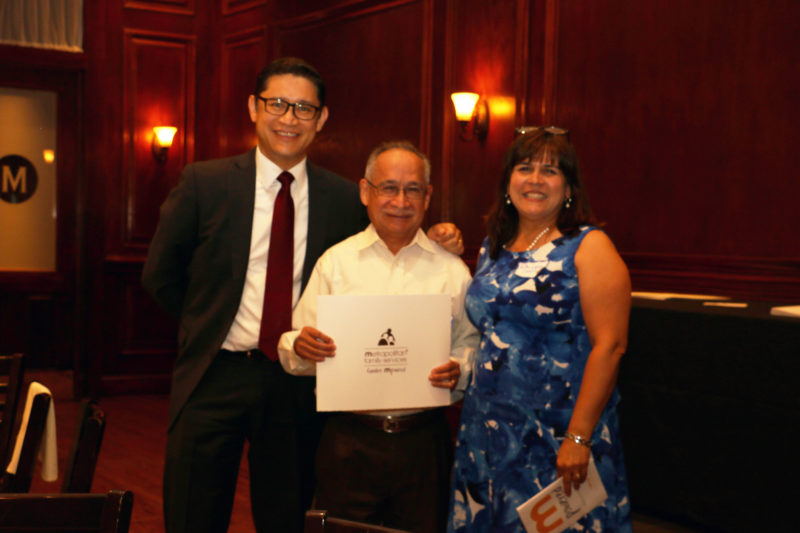 Presented by Rita Lopez Brosnan, Executive Director of Metropolitan DuPage
Benito Garcia, Palos Hills
Program Supervisor: Pre-Admission Screening and Resident Review
Benito Garcia has been with Metropolitan Family Services for six years. In that time, he was instrumental in starting and developing new programs, managing relationships, bringing in new business, and expanding visibility for the agency. As Ben has a background in substance abuse treatment, he aided MFS in obtaining our Division of Alcoholism and Substance Abuse (DASA) certification. He has also provided training and consultation to staff on the subject to enhance their work with dually diagnosed clients. In addition to his administrative and supervisory duties, Ben takes time to participate in other on-site and agency-wide events, such as the United Way Campaign, Health & Wellness program, Holiday parties, and retreats.
In addition to all his accomplishments, Ben has demonstrated concern and caring for his co-workers. He is always upbeat, personable and eager to help in any way he can. In the past few years, Ben has suffered from the significant loss of his parents and his wife. Even during such difficult times, Ben continued to ensure the needs of his staff were met, the program billing was
managed, and data entry complete. You don't see this level of dedication often. Ben is truly one of a kind.
Juanita Lepe Support Services Award
The nominee demonstrates excellence in customer service, teamwork and improvements in his/her day-to-day operations; and/or implemented an improvement that substantially enhanced the ability to serve clients and carry out administrative duties of the agency, or contributed to increased productivity.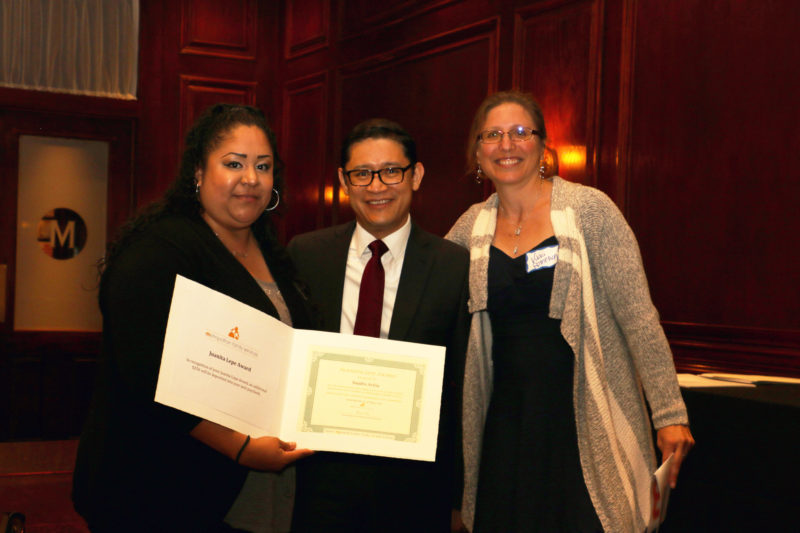 Presented by Vikki Rompala, Director of Quality & Outcomes
Sandra Avitia, DuPage
Intake Coordinator: Support/Intake
Sandra has made a smooth transition from support staff to Intake Coordinator in the past year. She is often the first person our clients share very personal and private information with, and she quickly puts them at ease. She has good instincts and is able to reach out to supervisors quickly when a client is in immediate need of services.
Sandra works closely with the program to keep its wait list up to date and provide copies at monthly meetings. Sandra has demonstrated an intellectual curiosity about the various cases that come through intake with the intention of improving her knowledge about mental illness.
Sandra is dedicated to Metropolitan Family Services and is the first contact in helping individuals in their journey to heal, learn and thrive.
Fetzer Service to Clients Award
The nominee demonstrates excellence in a practice with an individual or group, which resulted in outstanding outcomes at client service levels.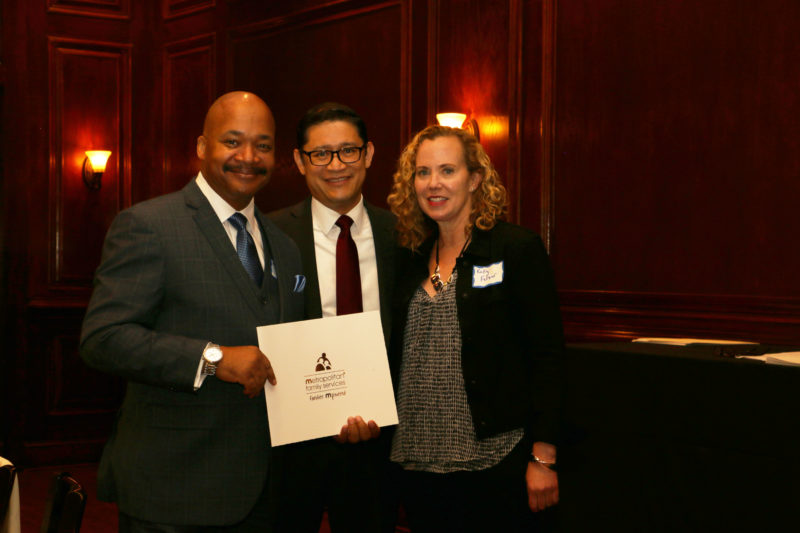 Presented by Kelly Fetzer
Nathan Wright, Southeast Chicago
Case Manager III: Young Fathers

Nathan Wright exemplifies strong leadership, inspirational teamwork, and contagious positivism, in addition to being a highly successful recruiter and program developer. He is a tenacious advocate for our young fathers in dealing with various barriers, and instills his own initiative to problem-solve in everyone around him from clients to co-workers. Nathan is a "yes" person, always willing to go the extra mile.
Under Nathan's leadership, enrollment in Young Fathers has increased by 84% over the past 2 years. He has been a key element to the program's success; not only in increasing the program's job placement rate, but also in utilizing agency resources, partnerships, and networking opportunities to enable client and program successes. Nathan's involvement in our young fathers' lives, from mentoring to diligence in pursuing family and career opportunities, empowers them to become self-sufficient and to contribute to their children's development.
He has helped change the lives of many young fathers in the Englewood and Southeast Chicago communities.
Fetzer Administrative Services Award
The nominee consistently serves our clients and/ or interacts with co-workers with patience and respect, with a firm and unwavering purpose, loyalty or resolve.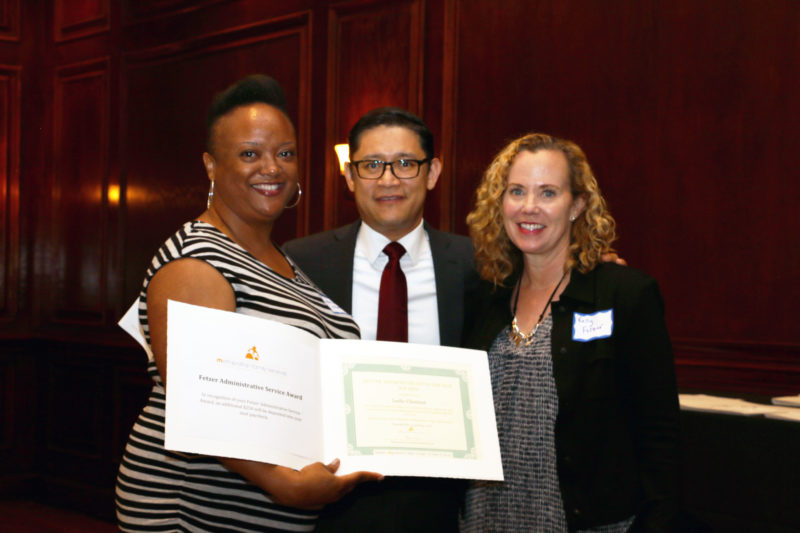 Presented by Kelly Fetzer
Leslie Chestnut, Midway
Senior Program Supervisor: Community Schools
"My overarching goal in work and life is to leave this world better than how I found it; I've always believed that. No matter how small or large my impact, I want to empower those around me to be the best version of themselves. Empowerment is giving people the tools to realize their fullest potential, help them find their loudest voice, and provide them the opportunity to capitalize on their greatest strengths." – Leslie
Leslie Chestnut is currently a Senior Program Supervisor for Community Schools out of the Midway Center. She began her role during a time of extreme turmoil in the Community Schools program, and graciously accepted the task of rebuilding our program. She hired and trained new Resource Coordinators (RCs), supervised three sites (Midway, Southeast and Calumet), served as acting Coordinator for schools that didn't have RCs, maintained relationships with all 22 schools and Principals, prepared all school billing and vouchering, and developed a summer training boot camp for all new and returning RCs. This year, Leslie took on a greater role in the Midway 5K Summer Dash, leading RCs in coordinating school participation, planning events, and developing flyers and promotional activities.
Leslie has taken on complicated tasks throughout her career at Metropolitan. She is outstanding in her ability to take on multiple tasks and excel in making them work for the benefit of the agency, program, staff and children we serve. Leslie is a strong advocate on behalf of her staff and
programming, and an empowering voice within the agency.
Her goal is to support staff, programming and coworkers for the betterment of programming – and especially for the children served by the Community Schools programs. She consistently seeks ways to improve processes to eliminate additional stressors on staff and co-workers. Leslie is a mentor, innovator and advocate for everyone under her purview.
Betty Williams Award for Community Efforts
The nominee demonstrates an above the call ofduty performance in dealing with his/her client population which resulted in improved service/systems, community networks or increased community empowerment.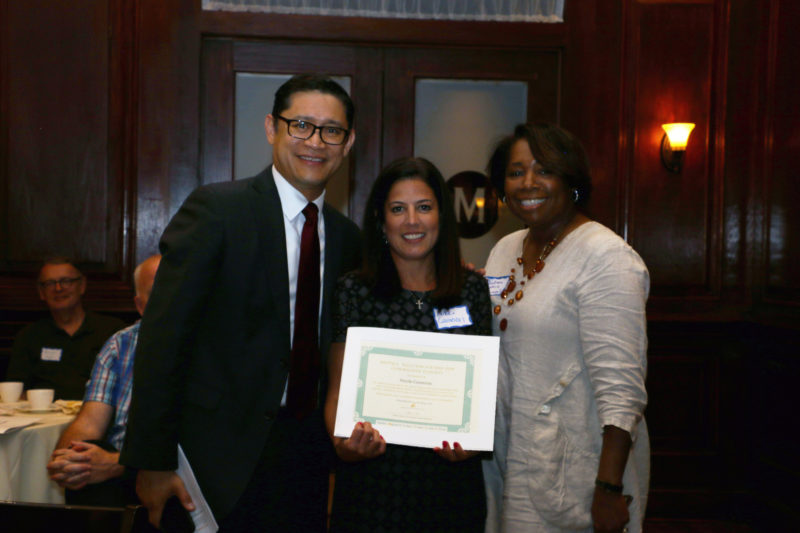 Presented by Audrena Spence, Executive Director of Metropolitan Calumet
Nicole Cameron, DuPage
Director of Early Learning: DuPage Early Head Start, DuPage Head Start, Wheaton Warrenville ECE Collaboration, Addison ECE Collaboration, Learning Landscapes, Preschool Expansion Grant, Prevention Initiative, Preschool for All

"Empowerment, to me, means providing someone the knowledge, opportunity, support, or whatever it is that they need to gain the confidence to advocate for themselves and control their life decisions." – Nikki
Nikki Cameron has demonstrated exceptional leadership and strategic vision through her work to advance and grow the amount and quality of early learning services in DuPage County. From the moment Nikki joined Metropolitan approximately 5 years ago, Nikki has demonstrated a proactive, strength building, problem solving, collaborative approach to making Metropolitan's Early Childhood Education (ECE) services the thought leader, the go to organization, the leader in quality and outcomes.
Nikki has reached out across the county to bring community partners together to raise the visibility and importance of ECE services in DuPage and to build a collaborative system of services for young children and families. She has built a strong ECE team that provides exceptional educational services with better than state/national averages on a number of measures of ECE success, and she works to proactively support the professional growth of her team. Nikki has expanded the number of children served, sought and received more diverse and sustainable funding streams, and integrated ECE services with a number of other client needs. The Metropolitan DuPage ECE programs are so highly regarded, as is Nikki's leadership, that several school districts in DuPage have asked that we expand or take over providing their ECE services.
Nikki is highly respected by internal and external constituents and is often sought after to participate in Boards, committees, and problem solving groups across the county.