C is for … Community! Cookie Monster, Mayor Lightfoot, and Governor Pritzker help kick off another summer of Light In The Night with Breakthrough
"Welcome to the corner of St. Louis and Carroll," announced Bill Curry, Chief Program Officer at Breakthrough Urban Ministries, as he began the speaking program at our Light In the Night kickoff event.
VIEW OUR PHOTOS FROM THE EVENT HERE
East Garfield Park is one of the nine community areas where CP4P operates, and St. Louis Park is where Breakthrough hosts Home Court, a weekly youth basketball tournament and community event, now a part of CP4P's Light In the Night initiative. Children and families come together for basketball, grilling, face painting, music, games, and community – reclaiming safe spaces with positive activities.
During last week's Home Court, Bill welcomed not only the children and families who, but also a few special guests:
Governor JB Pritzker, Mayor Lori Lightfoot, Sesame Street's Senior VP for Social Impact Dr. Jeanette Betancourt, PBS's VP of Community & Engagement Timothy Russell, Communities Partnering 4 Peace (CP4P) Program Director Vaughn Bryant, and Cookie Monster himself.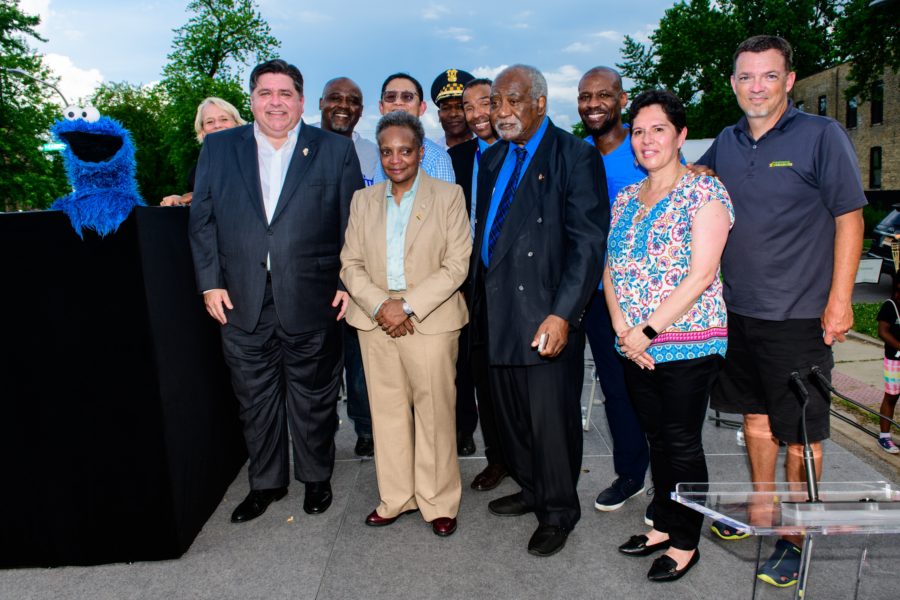 Celebrating its 50th Anniversary, Sesame Street brought Cookie Monster to Chicago as part of a 10-city tour. The day after singing the 7th-inning stretch at a Cubs game, Cookie Monster visited East Garfield Park to sing "C is for Cookie" with Vaughn Bryant and learn about Light In the Night.
"So, where the light?" asked Cookie Monster.
"The light is you and it's me, it's everyone here," Vaughn answered. "Everyone is part of the light that brings community together, brings positivity together, and when there's positive activity going on, it drives out the negative behavior."
Both Governor Pritzker and Mayor Lightfoot proclaimed the day – Friday, June 28 – as Sesame Street Day, each sharing their experiences with Sesame Street growing up.
"Like Sesame Street, Illinois is making historic investments in our children's future," Governor Pritzker said, speaking about his own passion for the importance of education and the work his administration is doing to increase accessibility.
Thanking Sesame Street, Mayor Lightfoot spoke about the basic lessons it taught her: "Not only how to read and write, but to be a good person, a good friend, a good colleague, a good neighbor," she said, "and that's what Sesame Street at is core is all about, is reinforcing those values we need to teach our young people and that we need to exhibit every day."
"You look around on a great day like this, and you see our young people playing and enjoying the summer. This is a scene we need replicated all over the city," she said, "and the way we get there is by building safe and healthy communities."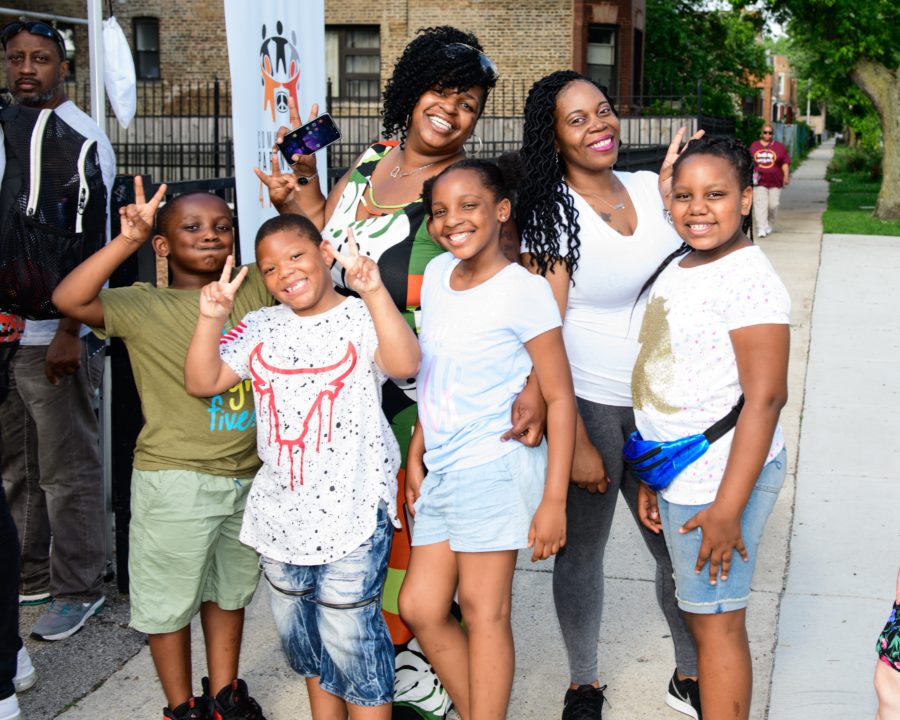 Metropolitan CEO Ric Estrada praised both Governor Pritzker and Mayor Lightfoot in his remarks, highlighting their support of the work Metropolitan does even before taking office. Before he was the Governor, Pritzker visited our Midway Center to learn about early childhood development. Before she was the Mayor, Lightfoot attended a session on building peace in the city and recommended Ric keep the questions people asked; he did, and those questions built the foundation for CP4P.
Ric also put the event in the context of the rest of the Light In the Night activities happening across the city.
"Over the past two summers, we've seen 165,000 people come to these events, and not one single incident of trauma happened at these events," he shared. "And I don't want to jinx us, but let's keep it going."
LEARN MORE ABOUT LIGHT IN THE NIGHT
Scroll through for our favorite photos and even more photos from our event partners, and watch the entire speaking program courtesy of Mayor Lori Lightfoot:
W is for WATCH: Mayor Lightfoot joins @SesameStreet to kickoff Communities Partnering 4 Peace's Light in the Night event. https://t.co/HNmI4QcMxb

— Mayor Lori Lightfoot (@chicagosmayor) June 28, 2019